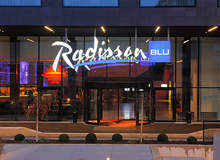 Creating an innovative loyalty programme that delivers true customer satisfaction while providing tangible business benefits can be a challenge, but Rezidor believes its new Club CarlsonSM loyalty scheme does just that.
Developed in association with Carlson, the programme launched in March promises a host of improved benefits for repeat customers, including earning more points for Park Inn by Radisson and Country Inns & Suites. There will also be a reduction in the number of points required for a free night. Olivier Jacquin, senior vice-president of sales, marketing and distribution, thinks the scheme will prove to be an important tool in the company's future development plans.
The new Club Carlson programme enables members to earn points for every eligible stay at more than 1,000 hotels within the group's portfolio.
"We have redesigned the loyalty programme, giving it a new look and feel," says Jacquin. "We have improved the point earnings for all members, and have launched a concierge tier at the top, with exclusive benefits."
The concierge elite tier provides members with extra privileges, including complimentary room upgrades, early check-in and late check-out, as well as a 75% point bonus on stays. In addition, from mid-2011 there will be a dedicated concierge service line for theatre and sports tickets and restaurant reservations.
"It is an opportunity to reward our customers," adds Jacquin. "This is a basic but core point to remember when considering loyalty."
Club Carlson's added benefits
"Programme members stay more often, for longer periods of time and spend more money."
While guests will undoubtedly appreciate the additional perks, Club Carlson will also generate benefits for Rezidor.
"It gives us a chance to engage with new customers and gain a greater share of their future business," explains Jacquin. "We can encourage them to be loyal to our brands."
The scheme will also allow Rezidor to keep guests informed about new developments within the group.
"We are able to communicate our brand in a targeted way, through newsletters and special promotions," he explains. "We want to tell our customers about new hotels and resorts worldwide."
The programme's website is a key booking channel, making it easier for guests to reserve rooms or redeem points. Not only will the scheme provide added customer value, it will also present Rezidor with extra revenue earning opportunities.
"Programme members stay more often, for longer periods of time and spend more money," says Jacquin. "This gives us an increased share of occupancy and loyalty. It also helps the guest to enjoy a wider variety of opportunities within the hotel."
One of the group's aims is to encourage more business from small and medium-sized corporate clients, and the loyalty programme has been designed with this in mind.
"It's important that we reach and engage with small and medium-sized businesses and this can be very difficult for any hotel group," explains Jacquin.
Club Carlson will allow companies and individual travellers to earn points for stays, and business owners will be able to use their points to reduce future travel expenses or, alternatively, offer them as employee rewards. Club Carlson for Business has already been rolled out in the US and will begin in Europe later this year.
Promoting Rezidor's leisure business is another focus point for Jacquin.
"We have to remember that our corporate customers are also our leisure customers," he says.
"For 11 months of the year they may be corporate clients, but we want them to stay with us on the leisure side, too. We must show them that we have a product for that – we have fantastic resorts."
Forging ahead in a downturn
Despite the difficult trading conditions over recent years, Rezidor has continued its fast-paced development plans and in 2010 it added 7,200 new rooms to its operations, making it the third consecutive year of record openings. In the same year, the company also signed 8,100 new rooms, all under managed or franchised contracts.
"In 2010, Rezidor reported an increase in volume across all segments compared with 2009."
"We have a great business development team and widespread satellite organisations that are constantly finding new hotels and opportunities," he explains. "We are an efficient organisation with whom it is easy to do business."
Jacquin believes it is this flexibility that has helped the company to continue with its ambitious expansion in spite of difficult economic conditions.
"We are close to our owners and make decisions quickly," he adds. "These qualities are an advantage for us, particularly in a time of crisis."
By playing to these strengths, Rezidor has been able to keep sales buoyant throughout the downturn.
"We never panic and we always have confidence in our product," says Jacquin. "In a difficult time, you have to anticipate and deviate from the segmentation where necessary. We have flexible guys on our team and we pushed ahead where we thought it was important to do so. In addition, leisure remained positive during the crisis."
In 2010, the company reported an increase in volume across all segments compared with 2009, and occupancy grew by 6.3%. Western Europe was the first to recover, with significant revPAR increases in Germany, France, the Benelux countries and Sweden.
"The recovery was faster and stronger than we were expecting," says Jacquin. "This is a very short-term business, but I am confident that we can be optimistic for 2011 and 2012."
The group is also turning its attention to new technology in order to expand its global reach.
"We have great brand websites which we enhanced and relaunched in 2009, making it easier for us to do business online," adds Jacquin. "We have also implemented a meetings and events booking tool, improvements in flash media and a photo gallery."
The company has also developed a Club Carlson smartphone application to help reach its mobile audience. Available for iPhone and Android devices, the app features express booking, personalisation options and GPS mapping. Users will have the ability to redeem points and take advantage of more than 4.4 million points of interest, including local restaurants and tourist attractions.
Market expansion plans
"Rezidor's loyalty scheme membership grew by 24% to 6.3 million in 2010."
Back in 2010, Rezidor and Carlson announced plans to increase the size of the group's loyalty programme to ten million members by 2013, and last year membership grew by 24% to 6.3 million members. Now, the group plans to further develop the scheme by increasing the number of redemption partners globally.
"We want to build our social media presence, and we are doing quite well at the moment," says Jacquin. "We also plan to look into more markets, including Russia, Africa, South America and China."
Looking forward, Rezidor remains focused on its two core brands, Radisson Blu and Park Inn by Radisson. The company also plans to enhance brand awareness by aligning itself more closely with Carlson, who at the start of this year it announced an ambitious $1.5bn investment programme to upgrade the existing Radisson portfolio and establish flagship hotels across the US.
"We want to continue the pace of our success, especially in new markets," says Jacquin. "Our aim is to stay ahead of the competition."
Indeed, with 40 hotel agreements signed last year, 70% of which are located across the emerging markets of Eastern Europe, the Middle East and Africa, the Rezidor success story shows no sign of slowing.