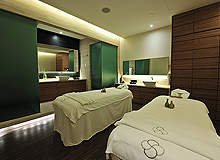 Despite spas having long been annexed to the luxury hotel industry, a growing number of guests are looking for more than a massage and a manicure to enhance their stay. As a result, some hoteliers have recently turned their attention to medical spas in a bid to boost revenue, particularly from high-end clientele.
Marrying elements of the traditional spa and a medical clinic, medical spas appeal to a considerable demographic, delivering a range of treatments from sclerotherapy and eyelash extensions to more preventative and integrative specialities, such as general check-ups and more specific screening tests.
Administered by licensed medical professionals, guests also seeking diagnostic testing and outpatient surgery can do so within the opulent and spacious surroundings of a fine hotel as opposed to the impersonal confines of a hospital ward.
The great Malo empire
There has perhaps been no greater proponent and pioneer of this recent trend than Dr Paulo Malo, a world-renowned dental surgeon. In the three short years since launching his first clinic, his luxurious medical spas – where patients can receive everything from dental treatment and medical screenings to Botox injections and pedicures – have been popping up all over the world, including clinics in New Jersey, Sao Paulo and Milan.
Malo's empire is spreading hard and fast. Recently, his flagship medical spa, located within the Venetian Hotel, Macao, won Best Medical Spa at the Asia Spa Awards. At 250,000ft², it is by far the largest in the world and is something of which its owner is very proud.
"Everything we do is about quality of life, not about treatment."
"It's a resort, basically," says Malo, referring to the Venetian. "It has one of the largest shopping malls in Asia, the biggest casino in the world, and now it has the largest medical spa on Earth."
My first experience of a Malo spa was the stunning 3,000-square-metre space he occupies below the Corinthia Hotel in Lisbon.
Epitomising its creator's well thought-out, beautifully designed creations, it is replete with sweeping marble corridors leading to endless, apartment-sized treatment rooms. Highly skilled therapists are also at hand, ensuring guests float out of the spa physically de-kinked and mentally recharged.
On the back of a significant career in dentistry – he is credited with pioneering the revolutionary 'All-on-4' dental implants, which replace teeth without the need for bone transplants in just a day – Malo branched out into luxury medical spas in 2008, combining his medical background with a keen entrepreneurial eye.
"As it had never been done before, it was a dream because it obviously needed a lot of investment, "he says. "So, at a certain point, about three years ago, I decided I had enough money to risk it and I built the first medical spa in the world."
A more hospitable environment
Understandably, Malo is quick to differentiate between the purpose of a medical spa and a hospital. A large chunk of his reasoning behind the concept stems from a strong belief that hospitals are places for treatment and not for check-ups or preventative medicine.
"A spa is a safer and less contaminated environment than a hospital."
"My strategy involves prevention through screening, that is only performing medical work and surgery that is non-invasive," he explains. "Everything we do is about quality of life, not about treatment. My dream was always to integrate specialities. I believed that full body screenings and check-ups should not be done inside a hospital. Why? Because in hospitals there is always the danger of cross-infection and the spread of bacteria."
Having said that, Malo confesses that some of the services provided in his spas aren't too dissimilar to the kind of clinical treatment you would expect to receive in a hospital; however, he is unswerving in his argument that a spa is a safer and less contaminated environment than a hospital.
"In some cases, I suppose you could say there is something of a grey area," he admits. "For example, we can actually treat conditions such as cataracts, but don't consider it to be invasive – instead, it boils down to well-being and quality of life."
The aesthetic sterility of hospitals also offends Malo's sensibilities; he believes clients enduring full body screenings should be able to spend a day in a relaxed atmosphere rather than enduring the "psychologically upsetting" mood of a hospital waiting room.
"They're [hospitals] not made for healthy people and certainly don't make you feel at home," he says. "Instead, our spas allow clients undergoing full body screenings to be able to spend a day in a relaxed atmosphere. I wanted to develop a mega-spa with facilities for full screenings where guests could also enjoy hair salons, massages and a swim or Jacuzzi, as well as the medical services."
Naked ambition
Despite his considerable success in a professional capacity, life for Malo hasn't always been defined by luxury and privilege. Born in Angola in 1961, he was forced to move to South Africa at 14 years old due to the outbreak of civil war. Having already demonstrated a natural aptitude for the sciences, he was initially attracted to the idea of studying nuclear physics before turning to medicine. Outside the classroom, he also excelled at sport, playing professional basketball and later becoming a member of the Springbok rugby team. To make a bit of extra money he also modelled on the side with enormous success.
As South Africa underwent considerable political upheaval, culminating in the end of apartheid, Malo moved to Coimbra in Portugal, where an uncle was based. It was there that he decided on dentistry as a career, safe in the knowledge that he could work for his family's dental clinic upon graduation. Thanks to his previous medical degree, he was able to complete dental school in just three years.
"I have created something from scratch that has been valued at $500m."
Twenty years on, Malo's ambitious nature has not waned. Over the course of our meeting, the way in which he talks of his success and the string of events that led to it makes such a path sound simple; he has a positive, quietly determined nature that no doubt seduced those around him. For example, when asked about other medical spas in the world, he is almost dismissive of them – there really are none as large in structure or as extensive in scope of treatment as Malo's.
"A medical spa, like ours in Asia for instance, has six operating rooms completely equipped with general anaesthetics, a full image centre with scanners, 36 consultation rooms, 16 dental rooms and a spa with over 100 treatment beds, " he says. "That is a medical spa. One is not a medical spa because it offers Botox. We brought a totally new concept to the table."
It is this indefatigable and youthful vigour that seems set to drive Malo in the coming years. When asked where he sees himself in ten years' time, the answer is typically sanguine.
"There is no reason to stop," he tells me. "I have created something that has just been valued at $500m and was created from scratch. There is still reason to grow and, as long as it's profitable and fun, we will succeed."
Peace of mind
While being on course to have 20 clinics by the end of 2011, including a new spa in London – although he won't tell me where – Malo has also somehow, incredibly, found the time to launch a successful wine franchise, producing around a million bottles a year; however, it is only within the confines of his adopted homeland, Portugal, that he finds total peace of mind. Lisbon has remained his home since his early career, despite whimsical fancies of moving to New York as a younger man.
"I live on a plane, but Portugal is home," says Malo. "It is comfortable – it has great food, security and a good climate. Thousands of people here have second homes – that has to mean something, right?"
"Malo will have 20 clinics by the end of 2011."
That he thinks in such a way, in spite of his insurmountable success, is telling. He is extremely confident as a man, but still considers his quality of life, which would surely be good anywhere considering his business. Something tells me he'll have several second homes if he continues at this rate.
Where his explorations will take him next remains to be seen, although it is clear he's nowhere near satisfied just yet.