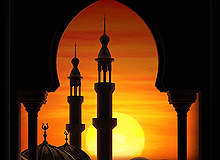 The Middle East's tourism and hospitality sector has experienced a strong economic recovery. The region currently leads the world in terms of investment in hospitality infrastructure, with new and innovative attractions such as the Burj Khalifa in Dubai and the Ferrari theme park in Abu Dhabi.
The region also boasts the world's highest air passenger growth, which is expected to continue as the main hubs increase capacity and Qatar Airways , Emirates and Etihad Airways take delivery of aircraft already on order.
In addition, high oil prices and resultant increases in regional government revenue are set to boost infrastructure expenditure and investment, and fuel stronger domestic tourism demand.
Therefore, an increase in value tourism is expected, as countries affected by the recent political unrest attempt to entice international visitors back.
Overseas tourist arrivals
Analysis of data released by the World Travel and Tourism Council shows strong, positive growth in international tourist arrivals in the Middle East in 2010, reflecting the world economic recovery.
Growth is expected to normalise from 2012 onwards, reaching a stable long-term rate of approximately 4%; however, 2011 is tipped to exhibit a considerable drop in international arrivals as a result of regional instability, most notably in Egypt where occupancies are currently around 15% in Cairo and 20% in Sharm El Sheikh.
The duration of this dip will depend on how quickly the region regains its stability, and how effective and coordinated efforts are in attracting tourists back to the affected markets.
"WTTC data showed strong, positive growth in international tourist arrivals in the Middle East in 2010."
Once travellers believe it is safe to travel once more, market regrowth can be induced via aggressive pricing.
Dubai, the biggest destination in the region in terms of room supply, continues to provide an outstanding tourist experience with world-class infrastructure, hotels and conference facilities.
This market has experienced an excellent recovery and is expected to take the regional lead in terms of both domestic and international arrivals.
The Middle East's air transport indicators, such as revenue passenger kilometre (RPK) and available seat passenger (ASK) growth, continue to fly high. International Air Transport
Association data reveals that in 2010 RPK growth in the Middle East was 17.8% compared with the industry average of 8.2%, while ASK growth was 13.2% compared with the industry standard of 4.6%. This is set to increase in line with the region's expanding airport capacity.
Understandably, the majority of this growth relates to transit passengers, but it does highlight the potential to increase tourist arrivals by tempting these passengers to stay a few days in transit cities before continuing their journey.
Positive indicators
The Economist Intelligence Unit forecasts that the Middle East's gross domestic product (GDP) growth will remain stable for the next five years at over 4% – exceeding the world average of 3.1%. GDP growth, hotel occupancy and revPAR rates look positive. The anticipated regional GDP growth should increase hotel occupancy and revPAR through domestic demand, improving overall hotel performance throughout the hospitality industry.
Additionally, as European economies return to positive GDP growth and Asian travellers venture further outside of their region, this can only prove positive for the Middle East. Heavily dependent on oil exports, oil prices play a key role in Middle Eastern economic growth. During the forecast period of 2012-15, data from the Economic Intelligence Unit reveals a major increase in expected oil prices to $101 per barrel in 2011, followed by a decrease to around $80 per barrel thereafter. Saudi Arabia has traditionally been a major contributor to domestic tourism throughout the Middle East; thanks to the above, this trend is expected to continue.
Potential investment activity
The global hotel real estate market saw total transaction values exceeding $24bn and transaction volumes 60% higher than 2009. Transaction levels across the Middle East region, however, have remained relatively subdued and the majority of M&A capital flows involve regional capital being directed towards non-Middle Eastern targets.
"The EIU forecasts that the Middle East's GDP growth will remain stable for the next five years at over 4%."
Middle-Eastern interest in assets such as Hotel de Crillon – reportedly sold to a member of the Saudi royal family – illustrates the preference of many opportunistic high-net worth individuals for European properties, which was reinforced in 2010 by the depressed value of the British pound and the euro relative to the US dollar. This pattern of cross-border capital flows is likely to persist as cash-rich Middle Eastern investors continue to seek prime assets in gateway cities.
M&A activity in early 2011 has suffered predominantly as a result of regional tensions and, consequently, many investors are adopting a wait-and-see approach to regional targets.
Supply has been a concern in Dubai, but there are opportunistic buys for distressed-type assets and openings to acquire equity or hybrid stakes in late-stage developments that require 'last-mile' financing. In Saudi Arabia, development capital is more accessible, but legal ownership challenges and the bridging of pricing expectation gaps are more likely to suppress M&A activity. Overall, however, the investor landscape is improving: more creative and sophisticated solutions are being introduced to meet capital requirements, structure deals and stimulate M&A activity.
On the regional front, the focus is likely to be on development, with approximately 40,000 rooms under construction in the Gulf Cooperation Council area. The current psychological trend among investors is to invest more defensively than three years ago; the current
Demand / supply dynamics in some parts of the region, however, do not complement this more cautious approach.
In spite of this, Deloitte is optimistic that deal volume will gradually pick up in the Middle East over the next two years, particularly if prices in other global locations continue to rise and the dollar depreciates against other major currencies, enticing non-dollar-denominated investors into the region. The company foresees an upsurge in M&A interest in the economy and mid-market sector where the fundamentals are typically more attractive, particularly if portfolio deals are available.
At the opposite end of the spectrum, trophy assets such as the Ritz Carlton Dubai are also likely to attract interest.
Regaining stability
"Deal volume will gradually pick up in the Middle East over the next two years."
The political unrest that began in Tunisia in December 2010, and which has now spread to many parts of the Middle East and North Africa, is a major economic concern. While the affected countries work hard to regain their share of the tourism market, other unaffected destinations will continue to experience a mini boom.
On a regional level, the continuing investment in world-class infrastructure, buoyant local economies and strong domestic demand bode well for the local hospitality industry.
The strategic focus on travel and tourism to deliver future revenues to the region is certainly sound. It is believed that the changes within the region will only aid its long-term growth and development, proving a catalyst for the progression of the hospitality sector.