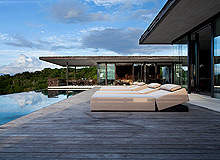 Sustainability is fast becoming one of the hospitality industry's chief concerns, with hotel companies worldwide implementing new technologies and practices to help minimise their carbon footprint. In addition to basic energy-saving and waste-cutting measures, companies are adopting increasingly ingenious solutions to meet their environmental targets.
At InterContinental's Bora Bora Resort in French Polynesia; for example, a 7,874ft-long pipe has been lowered into the ocean, providing a renewable supply of deep sea water that chills the property's air conditioning system and saves 2.5 million litres of fuel oil each year. Likewise, guests at Francis Ford Coppola's Blancaneaux Lodge in Belize can rest safe in the knowledge that the electricity they use has been generated via the hotel's own hydroelectric scheme.
Many hotels are also supporting projects and initiatives that benefit nearby communities and habitats, such as the Tivoli Ecoresort Praia do Forte in Brazil, where a programme of reforestation is underway to help preserve the local landscape.
Sustainability offers a chance to boost profits, too, with travellers increasingly favouring hotels that demonstrate a clear sense of environmental responsibility over those that don't.
Slow living – lavishly
For Sonu Shivdasani, chairman, CEO and founder of the luxury spa and resort group Six Senses, eco-awareness has been at the heart of his business from the word go.
"Sustainability is at the very core of Six Senses and has been since we opened Soneva Fushi 16 years ago," he says, referring to the company's original resort in the Maldives.
"All Six Senses spas recycle, reuse and manage waste."
"All of our 14 resorts have been designed and built using only natural materials, locally sourced where possible. The resorts are operated with a passionate adherence to ecologically sound principles – we recycle, reuse and manage waste. Food is sourced or grown locally, always from sustainable sources, and each resort has its own organic garden of herbs, vegetables and fruit."
The Six Senses portfolio is renowned for its stunning locations and luxurious accommodation, and has a number of segments including resorts, boutique villas and residences. The company also has several spas offering a programme of holistic healing, body and beauty care that has been designed with all five senses in mind.
Intelligent luxury
Each of the Six Senses group's properties is run according to Shivdasani's 'Slow Life' ethos.
"Slow Life is an acronym that stands for: sustainable, local, organic, wholesome, learning, inspiring, fun experiences," he explains.
Shivdasani also believes that luxury and sustainability are ideal partners. "The two principles make a marriage," he says. "It is the only choice. We must be sustainable to support and protect our planet, but this should not mean a loss of luxury to our guests.
"Six Senses promotes the idea of 'intelligent luxury' – that is, offering guests space, privacy and comfort, together with fresh and delicious food and wine, in areas of outstanding natural beauty."
Claus Sendlinger, CEO and founder of Design Hotels, agrees that nowadays being ecologically minded is a necessity.
"It's the new luxury," he says. "It is one of our criteria for new member properties and should be a scaled part of any hotel operation."
"Luxury and sustainability are ideal partners."
In addition to outstanding architecture and design, many properties within Design Hotels' growing portfolio have embraced new technologies and initiatives in order to become more eco-friendly. At the Alila Villas Uluwatu on the southern coast of Bali, for example, guests can stay at one of 84 green villas designed by award-winning architects WOHA.
The resort was the first in Bali to achieve Green Globe building, planning and design certification and was constructed using locally sourced building materials, including volcanic rock. Heat generated by the property's air conditioning system has been rerouted to heat water throughout the resort and there is a greywater recycling system in place to irrigate the hotel's gardens.
Addressing air miles
Of course, no matter how green a hotel becomes, guests will still contribute to carbon emissions when flying to and from their destination. Shivdasani is only too aware of this contradiction and has taken a number of steps to counteract the effects of guest's air travel.
"It is inescapable that our guests travel to reach our remote yet accessible locations," he says. "We include this as part of our carbon footprint and have developed many projects to mitigate it."
"Sustainability offers a chance to boost profits."
Six Senses is currently working in association with Plant a Tree Today and plans to reforest a large part of northern Thailand.
The group is also supporting and funding a windmill in India that supplies power to a large impoverished area.
"One of my favourite initiatives is Six Senses water," he continues. "Nearly two years ago we finally banned imported water from our resorts and we now bottle our own, using recycled bottles and adding minerals at source. Not only does this save on food miles and the use of plastic, but profits from its sale are donated to three separate water charities. As a result, more than 300,000 people who did not previously have access to clean water now do, and over $250,000 has been raised."
The company also puts 0.5% of its revenue into a fund that is specifically designed to support local communities and projects around its resorts. These schemes take many forms, and include planting mangrove forests, educating locals in waste management, supporting orphanages and helping with marine conservation. Guests are also given the opportunity to teach in local schools, help build homes in villages and assist with cleaning coral reefs.
Green favourites
Green means mainstream travellers are also recognising the importance of sustainability, with many favouring hotels that can demonstrate a clear commitment to environmental policies.
"Each of the Six Senses group's properties is run according to Sonu Shivdasani's 'Slow Life' ethos."
"Polls show that nine out of ten consumers prefer to stay in a sustainable property over one that is not," says Sendlinger. "I think the whole tourism industry needs to become more eco-friendly – it is no longer a niche issue. Sustainability is very aspirational and we see a lot of initiatives happening on all levels around the world. In the past, the term 'eco-friendly' conjured up visions of an unstylish, bare experience, but this is no longer the case."
Shivdasani agrees that environmentally friendly tourism has moved to the fore and is rapidly becoming mainstream.
"Eco-technology is increasing and moving forward every day, and Six Senses continues to invest in order to meet our goal of becoming carbon neutral by 2020," he says. "We have a high proportion of repeat guests – higher than the industry standard. Our sustainability is an increasingly important factor for guests to take into account when choosing holiday destinations, given all else is comparable."
What's more, in an increasingly competitive marketplace, Shivdasani believes it is the group's focus on life's simple pleasures that strikes a chord with customers.
"A fresh rocket salad, picked moments before it is served and eaten in the fresh air, with one's feet in the sand, looking at the Indian Ocean," he muses. "These are rare luxuries in today's world."