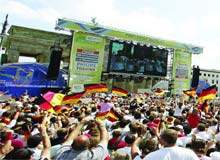 Football fans kick-started a surge in German tourism during the World Cup in 2006, and research has shown that the feel-good factor is lasting long after the final whistle.
During the first eight months of 2007, overnight stays in German hotels were actually up by three per cent on the same period in 2006 to 247 million. Cultural and political events, such as Kassel's Documenta 12 modern art exhibition and the G8 Summit near Rostock, have proven just as magnetic as the beautiful game.
"Munich enjoyed a 6.1% increase in revPAR in the year to September."
Data from the Hotel Benchmark Survey by Deloitte shows that, despite more demand for hotel rooms, overall hotel performance for the year to September has fallen only marginally, with average room rates dropping 1.6%, pushing revenue per available room (revPAR) down 0.4%.
This slight drop in hotel performance is not surprising given the absence of the World Cup and VAT increases at the beginning of the year, which has hampered hoteliers' willingness to push up room rates.
Many may have expected losses in 2007 to have been greater but overall performance has held up well, buoyed by strong economic growth, forecast to reach 2.7% this year.
AWAY SUPPORT
Germany's successful hosting of the World Cup lifted the country's tourism business and gave hoteliers, restaurateurs and bar owners the opportunity to extend a warm welcome to millions of football fans.
During the first half of 2007, across the country, more than 150 million people booked in for the night. This included an increase of two per cent in overseas visitors and four per cent in domestic travellers. Overall, the number of people booked into hotels overnight was up three per cent to 97.1 million. Interestingly, more people were booked into a hotel or a tourist campsite in June 2007, the busiest month in 2006 for the World Cup in terms of the number of matches.
Even without the sport, tourist numbers keep rising due to increased business demand from the improved economic environment, and the fact that taking a break in Germany is still a popular option – particularly for the 'locals'.
CULTURAL REVOLUTION
This year, it seems that culture and politics are making more of an impact on hotel performance than football. Kassel, Rostock and Munich are among only a handful of German cities that have managed to increase the revPAR over the first nine months of the year – despite an overall increase in the number of tourists looking for a bed.
Kassel benefited hugely from the world's most important exhibition of modern and contemporary art, staged in the city every five years. Documenta 12, which ran from June to September 2007, attracted thousands of visitors, enabling Kassel's hoteliers to increase average room rates by 12.5% in the year to September 2007, and drive up revPAR by more than 27%.
"Rostock, close to the site of the G8 Summit in June, saw hotel occupancy rates go up by 20%."
Meanwhile, Rostock, close to the site of the G8 Summit in June, saw hotel occupancy rates go up by 20% during June. This has helped the city enjoy an excellent performance year to September 2007, with revPAR up by more than 16.4%. Munich is one of the country's most popular destinations and second only to Berlin in terms of overnight stays.
Almost half the people staying in Munich tend to be international visitors, making it less reliant on the price sensitivity of its own population. Munich enjoyed a 6.1% increase in revPAR in the year to September, with a 3.7% rise in occupancy and a 2.3% lift in room rates.
Two major events in the building and construction industry were mostly responsible for this excellent performance. First was the renowned BAU construction industry trade fair, which focuses on the future of building and is held every two years. Statistics for 2007 reveal there were more than 2,000 exhibitors from 44 countries and more than 209,000 visitors from 146 countries.
Then, in April, more than half a million visitors attended BAUMA, an international event and the world's largest and most important trade show for the building industry. Held every three years, the 2007 event broke all records, with half a million visitors – 20% up on 2004 – and more than 3,000 exhibitors – an increase of 8%.
CONSUMER CONFIDENCE
Germany is currently enjoying a strong economic period, with the latest projections indicating a 2.7% growth in GDP for the year. In addition, the general government deficit is likely to move into surplus between 2008 and 2009, thanks to strict management of the public purse and solid revenue growth. However, GDP growth across Germany is expected to slow slightly to 2.1% in 2008 and then rise back to 2.3% in 2009.
Business surveys suggest the long-term outlook is good. Like other global economies, Germany has been affected by the US sub-prime mortgage business and the credit crunch. Two financial institutions, SachsenLB and IKB had to be rescued mid-summer, although economists expect further fall-outs to be limited.
Forecasters suggest that growth in employment and consumer confidence will enable Germany to shake off the impact of its VAT increase, while the meetings and conventions market will remain stable. Going into 2008, although the country's economic performance is expected to slow slightly, the fundamentals remain strong; without any other changes, revPAR should start to move into positive territory.