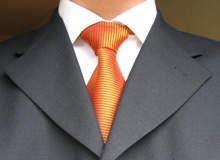 Michael Gray
Hyatt Regency London – The Churchill, UK
Despite having just overseen a 16-month renovation programme, Michael Gray, the general manager of Hyatt Regency London – The Churchill, could not be in more effervescent form. "I've never seen London so vibrant and exciting," exclaims Caterer and Hotelkeeper Hotelier of the Year 2007.
"20 minutes with one's guests is worth two hours behind a computer screen."
"There's been an enormous amount of investment and remodelling around existing properties and the quality of what is on offer has risen accordingly."
Nowhere is this more evident than at The Churchill. Purchased from Intercontinental almost four years ago, the hotel Gray inherited was rather frayed around the edges. "It's a great hotel and location," he begins, "and we inherited fantastic staff. But it did look very tired. My goal was to bring it back to its 70s and 80s heyday."
Between April 2006 and August 2007, The Churchill underwent a complete overhaul. For large parts of 2007 it operated at under half capacity. "We have 444 rooms," Gray explains, "and, at times, have only had 220 to sell. It's been a bit of a rollercoaster but the occupancy of our available rooms has been very high and the room rate has increased as new rooms have come on line."
There has been little time for celebration, however, and Gray insists that the journey has only just begun. "Now it's a question of injecting a new soul and spirit into the property," he explains. "As I've told the staff: the honeymoon period is over. Now you're selling 444 rooms and it needs to be done right."
While Gray is trying to restore his hotel to its former glory, he also accepts that some things have changed forever, and feels slightly nostalgic for former aspects of the job. "The word 'compliance' features very heavily in a GM's vocabulary these days," he says.
"It's a lot more financially driven and no longer purely a question of swanning around the lobby. I do still swan – 20 minutes with one's guests is worth two hours behind a computer screen – but you can feel tied to the desk. Are my departments having as much fun today as we did in the 70s? Probably not. It's still a great industry to be a part of, though."
But he does worry whether that message is getting across. "Thank goodness for staff from the Eastern bloc countries," he says. "Otherwise, we wouldn't be able to survive. It is vital for the future of this industry that we get people properly trained and enthused with the idea that hospitality is a noble place to be."
For now, though, things couldn't be better. "I am excited about stamping my personality on the hotel and am lucky to work for a group that allows me to do that," he says. "We have to meet certain brand standards, but they are not so set in stone as to take away any of the character of the hotel itself. Now that the builders are out, the real work can begin."
Jean-Louis Leimbacher
Hotel du Palais, Biarritz, France
He may have been crowned EHMA's Hotel Manager of the Year 2006, but Jean-Louis Leimbacher will not be letting it go to his head. "I don't know if I earned it," the Hotel du Palais general manager shrugs, "but it was a nice moment."
While such modesty is admirable, Leimbacher is far more forthcoming once the conversation moves on to his last 12 months in Biarritz, where the Hotel du Palais is located. "The best year we've had in the 20 I've been manager," he exclaims. "Occupancy, room rates, turnover, everything. The only drawback has been the weather."
Since the opening of the hotel spa in August 2006, even rain clouds can't dampen Leimbacher's mood. "When the guests are stuck inside they're likely to pack their bags and head south for Spain," he says. "The spa has kept occupancy high throughout."
The Hotel du Palais is owned by the city of Biarritz and Leimbacher feels that this counts enormously towards both his and its success. It's a question of confidence, he explains. "If I had a little man always behind me with a calculator, it would not do. I feed on the responsibility of delivering a vision. There must be mutual respect."
Leimbacher worries that not all general managers are as fortunate as him, and fears that the industry might suffer as a result. "Who are the people behind the big brands?" he asks. "They are not hoteliers and forget that making money at any cost is not a sustainable approach. This business is about investing in people and gaining the respect of the client. It's about passion."
"Service is like a good wine: even if it's from a great region, you can't mature it artificially."
He also worries that finding and retaining the right staff has become more difficult. "When the youth start in the business now," Leimbacher explains, "they want everything today. Kids graduate from hotel school and, within a year, want to be GMs. Service is like a good wine: even if it's from a great region, you can't mature it artificially. There needs to be more respect for those who've been in the industry many years."
He may describe himself as "an old idiot who's always picking fights", but Leimbacher acknowledges the need for general managers to stay on top of the latest trends. "The upcoming issue is the cost of labour," he says.
"How can you run a hotel with people only working 35 hours a week? In summer, we have over 300 staff for 150 rooms. The money taken by the government should be less for us than a budget establishment; they are the real capitalistic enterprises."
Anxious about the future of the European luxury market, Leimbacher does see a silver lining on the horizon. "The Russians!" he exclaims. "I've never seen a market become so big so quickly."
Michel Nader
Hotel Marqués de Riscal,
The Luxury Collection, Spain
Overseeing the launch of a hotel is never straightforward. When that hotel happens to have been designed by one of the world's leading architects and the King of Spain has already RSVPed for your opening night, it cranks the pressure up a bit.
"The past year has been pretty hectic," Michel Nader admits. "We had the hotel fully booked for the first three months. There was no opportunity for a soft opening."
The Marqués de Riscal general manager had overseen the launch of Beirut's Sheraton Coral Beach, as the food and beverage manager, but this was his first experience in the driving seat. "There were structured guidelines to follow along the way," he says, "and with this particular building there were obviously particular issues to address."
It takes 50 days just to clean the canopy and windows. Needless to say, Frank Gehry's creation is rather high maintenance; but Nader believes it is well worth it. "One of our main attractions is singularity," he says. '"When a guest arrives, they don't head straight into the lobby. They stay outside for an age exploring the exterior."
"The level of competition means luxury is no longer about delivering something that is as good as home."
One of the real surprises has been the guest demographic. "50% are Spanish," Nader reveals. "The Spaniards are not known for such a high degree of domestic tourism at the luxury level. France is only two hours away by car and we have had many French visitors; American as well. We expect to see more of the emerging markets over the next couple of years."
Wine lovers have particular needs and Nader is keen to stress that the hotel is just a small part of the overall city of wine resort. "There's the vineyard, winery, spa, a Michelin-starred chef," he explains.
Another secret is dialogue. Nader admits to contacting other general managers for advice throughout the run up to the launch, and says they have been extremely generous with their time and suggestions.
"There are strict guidelines in terms of branding, collateral and vision, but we're encouraged to interpret and exceed them as we see fit. It's a real help."
With the luxury market booming, Nader's only concern is having enough people to staff it. "It's no longer good enough to rely on the English alone," he says. "We need people speaking Russian and Mandarin. With all these openings, the only answer is training.
"The level of competition means luxury is no longer about delivering something that is as good as home. You have to surpass all expectations and the right people need to be found to deliver that."
Luc Delafosse
Burj al Arab, Jumeirah, Dubai
One hotel that spends very little time outside the public eye is Dubai's Burj al Arab. The 'most luxurious hotel in the world' is much more than a high-end five-star; it has become a landmark, synonymous with the growth – and excess – of the UAE's most feted emirate.
"We feel that pressure," reveals the general manager Luc Delafosse, "but it is a responsibility that stimulates us. Even with the highest staff-to-guest ratio in the world, we're constantly reviewing the standard of delivery. It's about more than maintaining standards; one must never be fully satisfied and always be looking at potential areas of improvement."
This has been another record year for the Burj. "We have seen an increase in occupancy," Delafosse reveals, "and, because of the overall increase of visitors to Dubai, our restaurants have never been fuller. What has been particularly noticeable is the slow disappearance of a low season. Before, the summer months in Dubai were relatively quiet. Now, it is booming throughout the year."
Another change has been the emergence of new markets. "Asia has become increasingly important," Delafosse says, "particularly the Koreans and Chinese. The level of American guests is up and we are even seeing potential in Australia."
"Even with the highest staff-to-guest ratio in the world, we're constantly reviewing the standard of delivery."
Unlike some other general managers operating branded hotels, Delafosse makes no effort to separate the goals and operations of his hotel from those of Jumeirah. "It is stimulating to be part of a larger structure and I have learnt so much over the past four years," he says. "The London Ritz [Delafosse's previous employer] was privately owned and that was a very different relationship. In this environment, you learn to listen and I also know that I'm being listened to. We never forget what an integral part of the group we are and it is massively important to know what is going on elsewhere."
One Jumeirah-wide initiative that Delafosse feels has made a real difference over the past year is VOICES (very original ideas can enhance success), a staff innovation programme where colleagues can put forward their ideas, then see them implemented and converted into cash rewards.
Unlike his European counterparts, Delafosse does not see future staffing as a potential problem. "We have a fantastic training scheme in place," he says, "as well as the advantage of status and being tax-free. Colleagues find the hotel a very attractive prospect."
Delafosse makes it clear that he will not be resting on his laurels over the next 12 months. "A lot is written about the Burj, but the same rule applies here as anywhere else: it all comes down to the quality of service you can deliver."