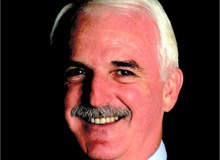 History teaches us that building a luxury brand is meant to take time. Four Seasons, with 55 properties, dates back to 1961 and Shangri-La Hotels and Resorts, which now operates 49 properties, was founded in 1971; even the Ritz Carlton, which has established its portfolio of 63 properties at a comparative gallop, has a quarter century's experience to fall back on.
The Jumeirah Group, however, currently operating eight hotels and resorts – only three outside its domestic base of Dubai – seems concerned with setting precedents rather than following them, with plans to have 57 hotels in operation within three years. With such ambitious global expansion plans – Asia, the Americas, Europe and the Middle East are all being targeted – come fears that the brand might be undermined, especially at the luxury end of the market where exclusivity and authenticity are so fundamental.
If such concerns play on the mind of Jumeirah's executive chairman Gerald Lawless, he does a convincing job of concealing them. "The very nature and philosophy of Dubai is expansion at an astronomic rate," he counters. "We're addressing the challenge through the understanding that we've cut our teeth on a great base of luxury properties already; it's our culture, our skill set."
STAY DIFFERENT
The genial Irishman, who founded Forte Hotel's Middle East office prior to joining Jumeirah, seems amazingly relaxed at the prospect of such rapid growth. The importance of global recognition in order to feed the expansion has already seen the group expand to two of what the 55 year-old likes to call 'letterhead cities'. Jumeirah took over management of London's Carlton Tower in 2001. They added another London acquisition, the Lowndes Hotel, in 2005, and – in what might be its greatest statement of intent thus far – assumed management of New York's landmark Essex House in January 2006. A $90m refurbishment of the property was completed in October 2007.
"These moves lend us massive credibility," says Lawless. "Emirates Airline now has three flights a day into New York and awareness of Dubai in the US has increased dramatically." But it is not only into gateway cities that Lawless is looking to push the brand. The group has recently signed the lease on a new project in Majorca, recognising that it is just as important to establish Jumeirah in the global resort sphere. "We are an operator of both high-end city centre hotels and luxury beach operations," he begins. "It makes life simpler if Emirates – a great example of another Dubai-based company becoming known as an international brand – is already servicing the destination in question, but we need to look for recognition in all spheres. That sometimes means going elsewhere."
The company tagline underpinning this rapid growth is 'Stay Different'; a promise to recognise the distinctiveness of luxury travellers and offer them experiences that are suitably distinctive and innovative. "Our standards of service, company culture and hallmarks are not necessarily unique," says Lawless, "but the way they're articulated makes our approach far more definable."
This carries particular resonance when discussing the company hallmarks: three simple measures Lawless asks his employees – referred to as colleagues in the Jumeirah mantra – to adopt at all times. The first is the understanding that staff will always greet guests before being greeted themselves; secondly, the first response to a guest's request must never be 'no'; and finally, colleagues are asked to treat one another with respect and integrity.
It is in the enforcement of these measures that such an approach particularly stands out. "We have communicated these hallmarks to the guests," Lawless explains. "So, as well as our colleagues being committed to them, the guests become their custodians. If a member of staff fails to spot a guest, or a request is met with a 'no' – even if 'no' might be the right answer – they are never slow in calling us up on it."
This enfranchisement of clients within the brand has won Jumeirah a high degree of repeat custom. What may prove slightly trickier, however, is retaining this approach across a portfolio set to expand so rapidly. "The secret of success will be how we communicate the culture of Jumeirah to those who work for us," Lawless believes. "Senior management needs to lead by example and cannot be seen as Dubai-centric. Staff must be as affiliated to the brand as they are to the individual hotel. We are driving our business through our employees; our success will come down to the level of talent and commitment we can bring in on a human capital basis."
"The very nature and philosophy of Dubai is expansion at an astronomic rate."
In order to illustrate the point, Lawless turns to the opening of Essex House. On the first morning of operations, he and his entire Dubai team were there to hand out name badges and business cards, welcoming each member of staff to the company personally. When the Carlton Tower was still Jumeirah's only property outside the UAE, Lawless flew members of staff – "from waiters to restaurant managers" – over to Dubai for a five-day workshop-come-holiday. "These people should be our best ambassadors," Lawless exclaims. "You need to engender a sense of pride and loyalty."
While it is important that the brand message remains consistent, Lawless is keen to emphasise the importance of each hotel retaining a distinct identity, with general mangers empowered to operate with a degree of autonomy. "If you take the Madinat Jumeirah, Carton Tower and Essex House as examples," he begins, "they all have a particularly distinct décor and feel. Guests are becoming ever more sophisticated, particularly at this end of the market, and they are looking for spaces that reflect architecture and location, preferably both. We encourage management to innovate within the property, from the shampoo you find in the bathroom to the food that arrives on your plate."
The importance Jumeirah puts into finding the 'right people' is underlined by its Emirates academy of hospitality management, founded in 2001. "The goal was to place it among the top ten hospitality universities in the world," Lawless begins. "Over the years, it has established itself as a centre of excellence for third level education in hospitality management, with more than 50% of some 400 students coming from outside the Middle East. All the major hotel groups are able to come in and interview our students, but it would be fair to say that we have an inside track on the best ones."
GLOBAL EXPANSION, LOCAL CONNECTION
The international nature of employees and students alike should hold Jumeirah in good stead as it expands its geographical remit. In Dubai alone, the group employs 11,500 people from 110 different countries.
HanTang Jumeirah Shanghai will be the group's next launch and Lawless as excited about it as he was about New York: "We'll have a landmark hotel at both ends of the earth." He also highlights One Blackfriars, set to open in 2011. This 175-metre high tower, housing 261 rooms and suites on London's South Bank, will be, in his eyes, "a unique, landmark destination". There are further projects underway in Abu Dhabi, Jordan, Qatar, Thailand, Bermuda and "at least eight developments on the table for Dubai".
"What we want to provide for our guests is luxury without any sense of guilt."
But is such growth realistic? As the global economy seemingly enters a period of uncertainty, and with the emphasis upon sustainable tourism gathering pace, one might be forgiven for assuming that the boom in the luxury market has already peaked.
This is not an argument that carries much weight with the Jumeirah executive chairman. "The world has become a wealthier place and people want to spend some of that wealth exploring the world," he says. "What we want to provide for our guests is luxury without any sense of guilt."
On the environmental front, Lawless and his team are looking at ways of measuring the carbon footprint of individual guests, rewarding those who have been 'good corporate citizens'. The group is also examining how best to forge links with local communities before the foundations of the hotel have even been laid, incorporating the domestic concerns, requirements and populace into the very fabric of any new development. Lawless hopes the scheme will be formalised within the next six months.
The idea of the hospitality sector as a force for good is clearly one that Lawless holds dear. "This industry has grown up a lot in the last ten years," he explains. "Travel and tourism should look at itself as an industry of choice. We must ensure that remuneration is fair; that we're building careers rather than merely filling posts, and that working in this sphere is something to be truly proud of. From the first day I started in hotels, I never thought of going anywhere else."
With at least 49 of them set to open over the next four years, it is certainly too late for Lawless to find anywhere to hide.