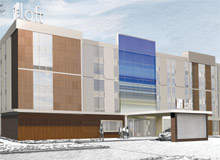 With the democratisation of design, thanks to Ikea and even Walmart, you can buy inspired design now that you never would have been able to in the past," explains Brian McGuinness, the vice-president of aloft hotels. "People are starting to live with design day-to-day and require it on the road." This now even applies to the mid-market sector, albiet the upper tier. Starwood's answer is aloft, one of the most eagerly anticipated new brands in years – and one that offers "intelligent design, accessible technology and a social atmosphere of comfort and convenience", according to the company spiel.
Starwood is putting a lot of faith in aloft. The first 155-room aloft hotel is scheduled to open in the first quarter of 2008, in Minneapolis. In its wake are plans to open 500 by 2012, that will span the globe from Manchester to Montreal and Santiago to Shanghai.
INTELLIGENT DESIGN
Starwood requested the service of Nobu designer David Rockwell, and his company Rockwell Group, to design aloft. Each hotel has 90 to 180 rooms and features urban, loft-like public spaces and nine-foot high guest rooms, with exposed ceilings, oversized windows and modern design.
"Design is becoming an essential component in nearly all new-builds."
Rooms come equipped with state-of-the-art technology, modern amenities and signature beds. Guests can read the paper; work on their laptops with hotel-wide wireless internet access; play a game of pool or grab a drink with friends at the re:mix communal lobby area and the w xyz bar.
Starwood obviously wants to grab a piece of the lucrative design hotel market, by repackaging it and making design more accessible. "We always say we are on-trend but not trendy," says McGuinness. "I think we have the ability to embrace a trend but not take it too far."
Starwood decided to create aloft after examining all their brands, particularly their designer W. "We found that there was a certain amount of white space in the market that would compete against brands such as Marriot Courtyard here in the US and Xing Xang and others in Asia Pacific," explains McGuinness.
A decade ago, design hotels were a novelty. Today, design is becoming an essential component in nearly all new-builds. Even Claus Sendlinger, the founder of Design Hotels (an online resource that represents 150 hotels worldwide) said, at the hotel design event Sleep 2007, that top design was essential for success today, whatever the market. In June 2007, JW Marriott announced that it was collaborating with design god Ian Schrager to create 100 new lifestyle hotels. Considering that Schrager had designed ten hotels in as many years, the news represented a dramatic shift in the industry's attitude towards design hotels.
While Starwood's ambition to build 500 aloft hotels by 2012 sounds impressive, it may leave little room to create the quirks and eccentricities that make the best design hotels such fun. It also comes as a disappointment that the design for all aloft hotels will be pretty much identical, bar a few regional changes to include, for example, wallpaper that deals with humidity.
"There are built-in options to have the brand grow and change."
One of the most celebrated design hotels is Semiramis in Athens. It looks great but Karim Rashid's colourful approach to design also has some fantastically eccentric elements, such as providing a bikini in every bathroom that dissolves in water. It is hard to imagine Starwood daring to do such a thing, yet daring and design have traditionally gone hand in hand. Starwood have opted, instead, for a cosy, rather than sexy, look that guests can recreate at home.
But will the guests like aloft? McGuinness thinks so – a view backed by Starwood's extensive homework in creating the brand, that included setting up focus groups in six major markets. What kind of person will want to stay at an aloft hotel? According to McGuinness, he or she is "forward thinking and likes the next new thing", before adding, "they are tech-savvy and nomadic, in the sense that when they get to a hotel they get settled quickly and head out to explore the town." Starwood's trump card is the facilities – aloft oozes exhaustive gadgetry, from iPod docking stations to 42-inch flat screen televisions.
Surprisingly, Starwood preferred to study its own brands, rather than look to other hotel groups for inspiration. "We looked to W, particularly from a service culture standpoint," says McGuinness. He explains that Starwood was interested in how people interacted, and congregated in lobbies and designed around it. Designing was made easier by the fact that aloft is a purpose built product that incorporates textbook design hotel characteristics, from high ceilings to big windows.
McGuinness sums up the aloft concept as a "nice residential-type component that we have made commercial"; yet you are left with the impression that the "aloft isn't just a hotel, it's a way of life" jargon may not run as deep as Starwood would like us to believe.
ECO CONSIDERATIONS
Starwood has created a 'see green' program for guests staying at aloft, the idea being to introduce and promote ecologically friendly products and services. "Guests will notice the elements of the program before they even enter the hotel. The aloft landscaping plan takes what used to be the standard parking lot and re-imagines it as an outdoor park-like environment, with a variety of deciduous trees and shrubbery," says McGuinness.
All aloft guest rooms feature eco-friendly dispenser units in the oversized showers; guests can conserve water by indicating whether they want to re-use their towels and linens; and environmentally friendly construction materials, like recycled teak wood, are used throughout the properties.
CHOOSING A DESIGNER
The choice of Rockwell was not surprising. The designer worked on the first W in Union Square, New York, alongside Starwood; his portfolio also includes the Kodak Theater in Los Angeles, as well as the acclaimed Nobu restaurant chain.
McGuinness explains, "We did an exhaustive exercise on which designer to pick and David Rockwell hit all the notes." He adds, "We did not want to tighten the brief so much that Rockwell felt they were developing a select service hotel. We wanted them to think about building a wonderful loft space for someone in NYC."
"Aloft incorporates textbook design hotel characteristics."
"I was intrigued by the notion of aloft and had been doing some independent work and research before Starwood contacted us, looking at the select service model," explains Rockwell from his New York office. "This was an area where there had been very little real invention, in our opinion. We thought there was something wonderful about the love of travel and the compression of having less public space and having the public spaces do more work and be more transformable."
Inspiration for aloft's design came from a variety of places. "The best design comes from keeping your curiosity about the world around you open," explains Rockwell. While the design was clearly inspired by loft spaces, Rockwell looked to other, more intriguing, areas for creative stimulation. "We looked at the case-study houses in California, Charles Eames's work, the romance of raw materials and to Japan, to try to find ideas to learn from."
One of the most striking features of Rockwell's design is its transformability and the way the scale of the interiors has been broken down. "In the lobby, the breakfast table, computer desks and game areas are all mixed and transformed during the day," says Rockwell.
These elements give the design attitude; yet also draw attention to the craftsmanship. "We wanted the wood grain as real wood, the concrete bar top to have glass in it, to achieve a visible sense of craftsmanship," he explains. This is crucial, given how people are bombarded by design today.
"The aloft design will be refreshed every six to ten years, but its core will remain the same."
Comparisons between aloft and Rockwell's most high profile project, Nobu, are unavoidable. "The intersection between this and Nobu starts with an emphasis on flow and choreography," says Rockwell. "How a space unfolds, welcomes you, teases you into the space and sets up a relationship."
Rockwell believes the key to aloft's success will be its ability to adapt to different environments. "There are built-in options to have the brand grow and change," he says. According to Rockwell, the aloft design will be refreshed every six to ten years, but its core will remain the same – or as he puts it: "The bones stay the same and only the clothes will change."
The aloft group currently has over 50 projects underway, with more than 30 developers contracted to build aloft hotels around the world. While the debate over aloft's design credentials is likely to continue, doubters may be silenced when the first hotel opens in Minneapolis. Starwood has been undeniably astute when it comes to deciding in which cities to open first.
"Markets are chosen for feasibility, what makes sense to us and what we consider to be leading markets globally," explains McGuinness. "We open in Beijing in June, just before the Olympics, and in Bangkok late next year."
McGuinness tells me that Starwood has turned down locations because they weren't in the right part of the city. However, make no mistake, aloft is coming to a city near you.