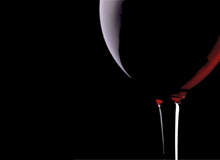 "Wine experts are of two kinds," the medical historian Thomas McKeown once observed, "gastronomic and intellectual, distinguishable according to whether on sight of the bottle they reach for their glass or their glasses."
Enrico Bernardo could not agree more and knows which camp his foot is firmly planted in. "Wine guides and journalists are over-intellectualising the pursuit of good wine and turning it into a competition," the restaurateur, consultant and former 'world sommelier of the year' observes. "When you move onto star ratings and points, you move away from the very essence of the product: pleasure."
The Italian-born, French-based sommelier was voted 'Meilleur Sommelier du Monde' in 2004, aged just 27. He opened La Villa Madie just outside Marseille in early 2007 and, in November, launched Il Vino in Paris' smart seventh arrondissement.
"The principle is a simple one," he says of Il Vino, "you choose the wine and then we will suggest a dish to accompany it: a risotto of cepes for a glass of Pelissero Barbaresco Vanotu; a glass of Austrian Gobelsburger Reisling 2006 paired with oysters poached in seaweed bouillon."
If putting wine so centre stage reveals his fanatical zeal, Bernardo does have his fair share of experience operating in rather more standard surroundings; while head sommelier at Paris' Four Seasons George V, he oversaw the creation of a wine cellar boasting 60,000 bottles and 1,800 labels.
"It was a very traditional French gastronomic operation," he recalls. "There was a lot of faith in me and an encouragement to go out and seek new wines and experiences."
Not everybody has been so lucky. Jean-Luc Naret, the director of Michelin Guides, recalls working on the launch of the One & Only Le Saint-Géran in Mauritius: "The owner was Chinese and didn't fully appreciate the importance of the wine cellar at a luxury resort. He thought we could bring in bottles in the same way we sourced ingredients for the kitchen. I needed to cultivate an understanding of the significance of a good cellar at as early a stage as possible."
Such understanding makes a real difference with Naret's team of inspectors. Despite Michelin now recognising a wider array of cuisines than ever before, many with little or no wine culture to speak of, the guide still puts great stock in the cellar. "It remains a central part of the meal and an intrinsic aspect of the inspection process," Naret says. "There are examples of new cuisines and experiments with wine – Il Vino is an example – but the most important thing to see is that time and thought has been invested into what is on offer."
Bernardo has gone to great lengths to do exactly that. "You must never stop looking for the right wine makers. It is not about having the right label – the winery and terrain is far more important. As a consultant, I work with a winery, they then find themselves with more customers, the price goes up and the availability goes down. This is an ongoing cycle. The smaller houses, so long as they produce quality, should never struggle. Quality will always find a buyer and the promise of something new will always find an audience."
Naret agrees. "With the increase in popularity in wine, particularly in the northern hemisphere," he observes, "there is a real opportunity for new players to come to the fore. Sommeliers need to hunt out these people and encourage their vineyards to grow."
QUALITY BY THE GLASS
The Michelin director has observed a trend that is strengthening that relationship and bringing the restaurant cellar closer to its locale. "It has become increasingly fashionable for chefs to source their ingredients as locally as possible," he says. "This is something we're also witnessing with sommeliers."
Pressed for what he sees as the tell tale signs of a lovingly crafted wine list, Naret replies "diners should not be encouraged to read a list from left to right or vice-versa, depending on the money they have to spend. I particularly like to see wine grouped by the food types it suits. A good sommelier should care far more about the food you've just ordered than the price on the label."
Bernardo feels the same way. "A list of 50 bottles is fine," he says. "For a restaurant of 100 covers or so, you do not need to spend more than €50,000 on stock. Balance is the key. I don't have a philosophy on French being better than Italian or Australian over Californian; this is about the culture of the world. The 'old' vineyards of Europe were all replanted 100 years ago anyway; it's all New World wine now!"
"A good sommelier should care far more about the food you've just ordered than the price on the label."
One thing Naret and Bernardo both stress is the increased importance of serving quality wine by the glass. "That old fashioned notion of only doing bottles is dying," the Italian restaurateur argues. "A serious restaurant serving serious wine still needs to offer the diner variety. Guests are not encouraged to make new discoveries if they are being forced to invest in the entire bottle." reasons Naret.
"It used to be that wine served by the glass was a byword for mediocrity," he continues. "With the crackdown on drink driving and people generally drinking less at lunch, you now have restaurants serving glasses of 1990 Grand Cru; this is a wonderful development. So long as you know how to sell wine quickly and well, avoiding spoilage, such offerings give your restaurant a real boost."
The relationship between food and wine is reflected in the relationship between chef and sommelier. "It is so important," exclaims Bernardo, "there must always be dialogue. The sommelier is front of house, seeing what guests want, gauging what pairings they particularly enjoy. If he and the food are good, he should have no problem making pairings."
But what if the chef has a very clear idea of the wine he wants served? "The sommelier is like a chef," Bernardo responds. "If someone buys all the ingredients for him and says, 'cook', it is impossible. You need somebody out there advising diners who has a real investment in the cellar and is able to convey the reasoning behind it. Yes, it's a large investment, but one should also look at the revenues a carefully constructed wine list can generate as well; a 300 per cent mark up is big money."
The intellectuals might make the world of wine a seemingly perplexing one, but, as arguments go, one cannot get simpler than that.