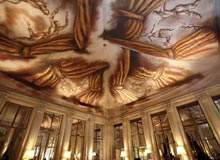 On 12 December 2008, legendary French designer Philippe Starck completed the renovation of the public spaces of Le Meurice in Paris, the Ier arrondissement's top address since 1835.
Starck, the design guru whose style virtually defined the 'boutique hotel' concept of the 1990s, has reinvigorated Le Grand Foyer, Le 228, Le Meurice restaurant and a new restaurant, Le Dalí, in homage to one of the hotel's most famous guests, an artist who once requested a herd of sheep to be brought to his room and then proceeded to fire a pistol at them. The bullets were blanks.
"If you ask Philippe to do a project, he brings a special idea and fascination for it and then he goes."
Starck's redesign of the lobby and restaurants mixes the romantic, the surreal and high rococo with sculptures made of huge candles and an altar-like tableau with fantasy over-sized mirrors to chairs with four different high-heeled legs.
The moody Le 228 keeps its famous walls and ceiling but gets the Starck treatment with new seating and a Dalí-inspired glass display cabinet. Le Dalí itself is a revelation, the restaurant is dominated by a gargantuan Sistine Chapel-like ceiling canvas hanging above it, designed by Starck's artist daughter Ara.
While Starck did not touch the ornate walls and paintings, he did choose the new furnishings in homage to Dalí; traditional furniture is juxtaposed with surreal touches, with chairs in the shape of tree branches or covered with animal skins.
CK: Why did Le Meurice go for the Starck treatment?
FH: I knew Philippe from the past. He is the most famous and prolific designer right now with a lot of experience with hotels. I thought he was the only person able to transform a hotel like Le Meurice, which is an institution, and wake it up. He respects heritage but is able to transform it with his famous twist.
CK: From Miami's Delano Hotel to the St Martins Lane hotel in London, Starck has worked on several very high-profile hotels. What makes Le Meurice different?
FH: There are some hotels who say to Starck: "Please go ahead and make a project." But it was different with us. When he came onboard it was a weird challenge for him but I know he loves challenges. I said to Philippe: "I have to tell you, I know you know how to do everything and I have no doubt in your ability but do you feel it?"
I thought he had to be in love with the project. So he said to me: "Let me see it." We were standing in the middle of the restaurant, where you have such interesting volumes, perspectives and proportions as well as the light streaming in from all sides. And I said to him: "You can't change the mosaic or the columns but we have to make it more glamorous, much more sparkling and livelier." He told me there and then that he felt it.
CK: What do you think of the finished project?
FH: I am totally happy. It is a bet to work with Philippe Starck. He loves cultural and aesthetic provocation but he is also a composer as you can see with the Baccarat mansion in Paris. If you ask Philippe to do a project, he brings a special idea and fascination for it and then he goes. In this case he was obliged to compose. If he didn't love the project he would not have done it.
Today, new guests arrive and old ones return, many of whom have been coming here for 20 or 30 years and they say: "You know what, it has really changed but when you walk in you feel that it always should have been like this." That is a great complement.
CK: How closely did you work with Starck?
FH: You don't work with Philippe Starck and give him instructions! You have to be very clear in your first brief. Then you have to trust him.
"Salvador Dalí stayed here for 30 years so we wanted to allude to his life at the hotel."
Philippe was always there when we had to look over his plans. For me he has a great sense of humour. If you want to give a buzz to a palace, which has everything except liveliness, then you have to take on somebody like him.
Starck creates something which turns it on immediately. He has another vision of things. He is a visionary.
He is very open-minded. Throughout the entire project there were only two or three points where we did not agree. He was very open to change if I said: "Philippe, we better do this." On other points he was certain of what he wanted. If he was absolutely sure I didn't discuss it with him anymore. It was a very interesting collaboration.
CK: What was it like working with both Philippe Starck and his daughter Ara?
FH: It was more intense. They are quite different. Ara is a visual artist who very much has her own style. She is very independent and not influenced by her father but she worked together with him in a very constructive way. She is the pure artist while Philippe has nothing to prove.
Philippe was very sure of his choices. In the early stages he told me something about the light, ambience and the volume. When you see the result it is exactly how he described it on that day.
People want an ambience and a distraction and this was not happening in the heart of the Le Meurice. Philippe understood this. He does little spots. Salvador Dalí stayed here for 30 years so we wanted to allude to his life at the hotel. When he worked on Le Dalí restaurant, he put some things like the lobster on the telephone and the Leda chair with the high heels for legs. He got immediately into this.
He has a very good understanding of surrealism. That was good because we wanted to tell a story. It became a consistent new idea. It matches and works. That why people like it. It really is the history of hotel. It is not something we invented. We just woke it up again.
CK: Starck is a very iconic designer. Did his status ever overshadow the project?
FH: Not at all. I was very happy with this collaboration. He said he had nothing to prove anymore and said that it was his pleasure to step behind Le Meurice to make it vibrant and wake it up. That was what he was really like the entire time we worked together. He never tried to get to the front of the scene. He knows who he is. I know who he is.
Before we chose Starck, I saw other designers to see what they were thinking about the space but it just reconfirmed that the right one was Philippe.
"For Starck, it's easier for him to create rather than compose."
Our two teams all got on well and the result counts. The rest of the team is happy. Yannick Alléno (head chef at Le Meurice) is proud and it gave him inspiration to create new food concepts with 'sans' (fat-free) or '100%' (the works) dishes.
CK: What do you think of the eccentric touches he has brought such as the Pinocchio chair?
FH: It makes me laugh. One day I asked him. "What would you like our clients to feel once you have done your work?" And he said to me two very interesting things: "First of all I would like them to feel some gratitude because people should come and see the painting and the lobster on the telephone and smile and be happy."
And then he said: "I tried to be like a guest when I worked on this to feel what a guest would feel. I might want to come to Le Meurice with my mother for tea, the next day I might come on business and the next time I might meet my girlfriend here for a glass of champagne. In each circumstance I want to feel like you are in a place where you have this wellbeing. I want the guest to feel the same way each time."
For Starck, it's easier for him to create rather than compose. What is really rewarding is when people who know the hotel by heart and liked what it was then call me now to tell me how happy they are with what we did.
CK: What is your favourite Starck space at Le Meurice?
FH: Well I would say Le Dalí. It really is the heart of the hotel. For me it was the most audacious bet. It is not usual to see a huge painting that is 145m² above your head. It is a huge place where if you don't have the right atmosphere it would feel like a lobby and we wanted to make it a restaurant for breakfast, lunch and dinner but also a place to be in between.
CK: Would you work with Starck again?
FH: Anytime.
Ara Starck is Hotel Management International's current Insider