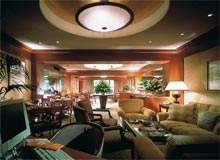 Internet kiosks, games and power snacks are just a few of the incentives hotel groups are introducing to lure lucrative conference and meeting guests through their doors.
The market, where turnover can account for at least a fifth of business, is in a constant battle to offer seamless service, competitive prices and the latest technology.
Starwood Hotels & Resorts have a host of new initiatives in the pipeline, including Links@Sheraton, meeting kiosks, green meetings and signature food and beverage breaks.
Links@Sheraton provides an area in hotel lobbies with free internet access and televisions where guests can check emails, research attractions and interact with guests.
Sheraton brand manager Angelique Beziel told HMI the brand is also piloting meeting kiosks in select hotels in the UK, Germany, US and Thailand. The kiosks offer standing space with internet access, computers, connections and printers for use during meetings. Green meetings, tailored to reduce environmental impact, and signature food and beverage breaks, are also in the pipeline. Meeting planners can also create their own customised website with direct booking capabilities, details for the event and a conference logo.
Herta Hieslmair, the senior director of field sales, Europe Middle East & Africa, Starwood Hotels & Resorts, says: "Meeting organisers are focusing more on getting high levels of service for their events and are prepared to pay that extra price premium for it. Excellent food and beverage quality and choice are ranked as the number one satisfier among conference guests, followed by Wi-Fi access and work desks in the room."
Hieslmair believes the key to success is a combination of offering a good service, allowing guests to conduct a productive meeting and having a 'work and play' experience. An example of this is offered at W hotels. W sensory meetings deliver mood music, aromatherapy scents, thought-provoking place cards and retro sweets. There are also fitness centres or RunWestin – morning runs with neighbourhood maps.
HI-TECH SOLUTIONS
For Patrizia di Patrizio, the director of group and incentive sales at Rocco Forte, technology is critical for guests.
"The new live, interactive tools are allowing conference participants and audiences to engage almost instantaneously, which paves the way for more productive and effective discussion," she explains. With events tending to run on shorter lead times, di Patrizio says that conferences have changed to meet this increasing pressure, resulting in shorter and more focused meetings.
Karine Pavia, the marketing director for the Italian-based Royal Demeure Hotel group agrees that priorities have changed: "Conference guests operate in a hi-tech world and need state-of-the-art, on-the-pulse equipment to meet their needs.
"They have also changed their food and beverage habits. As recently as two or three years ago they would take a couple of hours for lunch, nowadays they have 40 mins."
"Networking is still the number one reason for conferences."
In addition to providing technology such as Wi-Fi, conference calls, video conferencing and simultaneous translation, Pavia says they can organise all the staff a client may need, from IT managers to translators and waiting staff to magicians. In a recent successful meeting for a pharmaceutical company at the Hotel D'Inghilterra in Rome, the hotel provided simultaneous video links to rooms at the historic Palazzo Torlonia to facilitate the event.
The four-star Europa Hotel, in Belfast, Northern Ireland, part of the independently owned Hastings group, is opening its dynamic new conference and exhibition centre in March 2008. With a ballroom, rooftop banqueting facility and Eurobusiness centre, with high-tech facilities, events manager Rosalyn Goldsbrough believes networking is the biggest selling point.
"Although technology is important for the delivery of an event, not much has really changed over the last 20 years – apart from offering ISDN, Wi-Fi and up-to-date equipment," says Goldsbrough. "The most important point of a conference is not only for delegates to hear the latest policies and information – networking is still the number one reason for conferences."
Meanwhile, conference venues like the five-star Hyatt Regency La Manga Hotel in Spain are focusing on this sector as a way of combining business and pleasure. The resort boasts extensive sports facilities and a recent event to launch a new product for Adidas included the construction of new football pitches overlooking the sea.
In addition to the year-round Mediterranean climate, delegates can opt for the Regency Club (a hotel within a hotel) for personalised check-in, access to the club lounge and boardroom, free internet access, LCD televisions and VIP spa access.
GETTING PERSONAL
Andrea Zeidler, the event sales director at the Hotel Adlon Kempinski in Berlin, believes that business people want to further combine their work and private life. With more business conducted at the weekends and with delegates bringing their families along to events, the hotel has improved its relaxation areas and added a day spa, as well as WLAN.
"Meeting organisers are focusing more on getting high levels of service for their events and are prepared to pay that extra price premium."
Meanwhile, the Princesa Sofia Gran Hotel, Barcelona, recently chose a heaven and hell theme as a way of promoting its meeting facilities, highlighting the versatility of its 850-capacity rooms. Equipped with wireless microphones, LCD projectors and plasma screens, the rooms can be transformed to suit any event.
Furthermore, business travellers have four floors of dedicated rooms, a personalised check-in and a private club lounge with refreshments on offer.
The Crown Plaza in Brussels also aims to appeal to the senses of delegates with its 'balanced senses' package. The aim is to optimise the feel good factor, with meals designed by a Belgian nutritionist, break times spent playing chess or backgammon, a touchscreen used to organise the sound, light and air-conditioning and free Wi-Fi.
Further leisure options include massages on ergonomic chairs, breathing workshops, Tai Chi and laughter yoga. It has been an exciting time for delegates, since flip charts and stale sandwiches were replaced with a blend of high-speed business and deluxe leisure facilities.