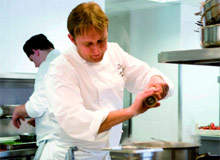 The hype surrounding the latest 'must see' designer restaurant can be inescapable. Projects undertaken by the Philippe Starcks, David Collins' and Patrick Jouins of this world run into the millions of euros, garnering mass media coverage before the critics have had so much as a bite to eat. Ambitious restaurants need established designers in the same way that landmark hotels require destination restaurants.
However, much of the money spent on achieving this – upwards of £2m in some cases – will be hidden from view. It is the most vital component and the most overlooked expense. Spend as much as you like on the dining room, but, without a functioning kitchen, all you are left with is a fancy lounge.
With so much money at stake, who or what should drive the design? Is it the F&B director, looking to make a long-term investment, but with little or no recent kitchen experience? Is it the chef, who has to make sure that everything perfectly caters for his or her modus operandi, but works in a profession not renowned for prudence? Or could it be the food itself, the true star of the show, but liable to change as soon as the punters stop flowing through the door?
"It is the chef's job to let the design team know exactly what is required."
"Having had 25 years experience working in kitchens," says Andrew Turner, "I know the pressure and tensions that can be caused between someone's design and the practical considerations of having adequate access and space to be able to cook."
The head chef at the Landau, the Langham's landmark restaurant in central London which opened late last year, was involved in the multi-million-pound refit from an early stage.
"I like to be extremely hands-on and it's a question of getting kitchen designers talking you through it," Turner explains. "It is the chef's job to let the design team know exactly what is required – water baths, grills, a fryer, brat pans – and where it should all be going. Different chefs have different flows and they should always be encouraged to picture themselves in the designer's plans."
At least Turner can be completely focused on a single project. Ask James Clark how many kitchens he has under his charge and the Grosvenor House F&B director takes a long pause. "Even I can't think of them all off the top of my head," he chuckles. Eventually, he settles on eight, with a ninth arriving later this year in the portly form of Richard Corrigan. "That's the next project," Clark says with an exaggerated sigh. "I have not had time to become fully involved with the new restaurant yet."
DESIGN BALANCE
As with the Langham, Grosvenor House has gone under an extensive refit and only recently fully reopened for business. At the top of Clark's agenda over the past few months has been the launch of Bord'eaux, a restaurant grounded in the cooking of south-west France which opened its doors in the middle of February. The kitchen is headed up by Ollie Couillaud, previously of La Trompette, Tom's Kitchen and the Dorchester Grill. "It's been absolutely fantastic thus far," Clark says. "Ollie has a tremendous passion and spirit and everything that has been done stems from that."
This includes the kitchen. Couillaud came on board six months prior to the launch and Clark believes his input was vital. "A kitchen is all about systems and hoods and that's a big deal," Clark explains. "Once they're in place, they're not being changed. However, chefs have different ways of working and, when Ollie came in, there were some alterations that needed to be made to suit his style. He was working alongside the designers, letting them know how he wanted different aspects of the kitchen to function. I'm an enabler for the chef's vision, but I'm also the person who controls the costs and logistics, bringing these parties together. Collaboration is key."
Andrew Turner has seen what can happen when the balance is not right firsthand. "We were having a new wing built to house a production kitchen for banqueting operations," he recalls of his time with a previous employer. "The way that the storage was laid out on the plans, I couldn't see how the flow was going to work. I did tell them, but when they came to bring it all together, the designer found that his fridge doors opened right-to-left and the chefs were left with only a foot-wide gap to pass through in the gully. All doors had to be replaced with sliders – at the designer's expense, of course."
"Work in another man's kitchen and you are very quickly aware of what he is cooking and how it is being done."
Another issue can arise from bringing a new head chef into a functioning kitchen and simply telling him to get on with it. "It's rather like picking up a novel by an unknown author but knowing exactly who the writer is by the time you reach the last chapter," says Turner. "Work in another man's kitchen and you are very quickly aware of what he is cooking and how it is being done. Bringing in a new head chef should not always incur massive extra costs – if you're changing the entire direction of the food it is normally accompanied by a complete overhaul of the restaurant – but it's important to remember that anything brought in as a fixed unit will also be available portable and can be installed later. All one really needs is enough storage and refrigeration space."
The purchasing of new units and culinary gizmos can be an expensive process. The F&B director, who spends his time away from the kitchen, must feel under enormous pressure when the issue is raised. "There are times when you need to say 'no'", admits Clark, "but it's a question of the chef being able to show me the money. If we're discussing an idea or initiative that will produce revenue or create that elusive wow factor, then it becomes much easier to green light it."
Turner clearly has the gift of the gab. On the morning we speak, he has just taken delivery of a brand new Rotaval – an appliance for capturing the purest aromas and essences of almost any ingredient.
"We're probably one of only two kitchens in the UK to have one" – and talks enthusiastically about flavour distillation, spherification and state of the art water baths. "A chef needs to stay on top of the latest kitchen innovation," he tells me. "I have a very diverse set of connections from across the globe and we also do some work with the scientists at El Bulli. It's not about getting these things for the sake of performing needless tricks; we need to know what techniques can complement the food we produce."
BACKSTAGE KITCHENS
It is not just the chefs who need to stay ahead of the curve. The explosion in molecular gastronomy and new cooking processes has made the kitchen a far more daunting place than it was twenty years ago and Clark appreciates that the F&B director cannot afford to be left behind. "If you want to communicate with the best talent, you need to have the knowledge base yourself," he says. "It's a constant process of learning; not just eating at the latest restaurants, but also keeping abreast of technical process and new appliances. Otherwise, your chefs will quickly become frustrated with you."
Equally frustrating is seeing a brigade not taking care of its kitchen. "Like a car, a kitchen is designed to run for an extremely long time," Turner begins. "But, if you abuse it – forget to put the oil in, don't service it regularly – it will stop. Preventive maintenance (PM) is key. We must also make sure that a training system is in place that teaches all staff exactly how to clean it down – what chemicals to use, the best technique to employ, etcetera. Take pride in the place you work and it will keep going forever."
"If cooking is the new rock and roll, diners are now demanding back stage passes."
Clark is equally emphatic. "We have a programme set up on an annual basis surrounding where and when extensive PM will be undertaken," he reveals. "It is a culture we breed throughout all parties – from our culinary teams to the engineering department. It is essential to have a cohesive, coherent system in place."
There was a time when such concerns were all played out behind closed doors. Now, however, the kitchen is being pushed further toward front-of-house. If cooking is the new rock and roll, diners are now demanding back stage passes and the appetite for dining within the hustle and bustle of a professional kitchen has never been higher.
"I've done kitchen tables in the last two places I've worked," says Turner. "The issue is one of space. I have a private room for 12-16 people and the long-term plan is to install cameras in the kitchen and beam images onto large plasma screens. It's about creating an experience. Kitchens are lively places it's exciting to be cocooned in the middle of all that."
Clark is also a fan. "We do offer tastings within the kitchen, although it's dependent upon how busy we are at any given time. Putting the guest right in the middle of the five-star experience, getting them actively involved, takes dining into a completely new and thrilling place."
While we may still be some way off seeing Starckinspired walk-in fridges and pastry stations, the kitchen has never been more glamorous. Its design may be driven by the requirements of F&B director, chef and menu, but how long will it be before guests must also have their say? Food for thought, indeed.