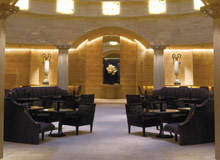 Perfectly positioned at the heart of western Europe, Milan offers access to the beautiful lakes and mountains of Northern Italy, and is only a stone's throw from Venice and Porto Fino.
It also offers some of the best shopping in the world, including the crème de la crème of fashion brands, not to mention the Duomo, La Scala and da Vinci's Last Supper.
In spite of its numerous attractions, the main source of revenue for Milan's hotels is the many business travellers who visit Italy's financial and industrial hub. However, some of Milan's major players are making a bid to attract more guests from the lucrative leisure travel market.
Of the larger hotels (400 rooms plus), these include the Principe di Savoia, which has been a symbol of Italian hospitality for decades, and the Park Hyatt, which recently became the first Hyatt to open in Italy.
Of the design hotels (40–70 rooms), there are the stylish Bulgari hotel and the four-star Straf, designed by fashion guru Vincenzo de Cotiis. All four hotels are seeing strong performances, largely thanks to their dynamic general managers.
REINVENTING A CLASSIC
"The main source of revenue for Milan's hotels is the many business travellers who visit Italy's financial and industrial hub."
Ever since the Principe di Savoia opened its doors in 1927, it has been celebrated as one of the finest hotels in Italy. A-list guests range from royalty such as Queen Elizabeth II to politicians such as Germany's former chancellor, Helmut Kohl.
Today, the hotel still has an air of la dolce vita. Indeed, while general manager Ezio Indiani talks to me the hotel is preparing for the arrival of film star Anita Ekberg.
Indiani was appointed general manager of the Principe di Savoia in July 2005, taking over from Paolo Guarneri, who led the hotel with great distinction for 12 years.
Implementing changes has been a lot easier for him than he thought it would be. "I found a very positive attitude towards change, even though many staff members have been at the Principe for many years. It turned out that the employees who were initially reluctant to change came up with the best ideas once the renovations began. People want to be a part of change."
According to Indiani, this mixture of experienced older staff and dynamic younger staff created a perfect balance.
In total, Indiani is responsible for 375 members of staff, with plans to increase this number to 425. Most of the staff he inherited have stayed on, and one of the first things he did upon arriving at the Principe was to invest in training and team-building exercises.
"My goal is to teach people to take charge," he explains. "I don't want to treat my staff like children that need guidance from a father; I want them to be able to make decisions."
According to Indiani, the main challenge now is to renovate the property. His plans are certainly very ambitious; the refurbishment of 48 new rooms is ongoing, and he is keen "to create new activities in the hotel, new excitement for the guests".
Top of his list of priorities is creating a new open lobby area, leading directly to the restaurant and bar. A new restaurant has opened and a stylish new bar will be launched some time in the future. "The trendy bar will be managed by the Principe, but in terms of staff, music and decor there will be no visual links to it," he adds.
It is sure to attract many local fashionistas, especially when the fashion city development opens in 2008. This will be directly opposite the hotel and will completely transform the location of the property.
Indiani has also come up with a few bright ideas to link the hotel with the shopping district: "To give guests easier access to the shopping centre, and get them in the right mood to splash out, there will be a free limousine service taking them to Via Montenapoleone, La Scala and back every 15 minutes."
For a more elevated experience, the third floor of the Principe Tower is being transformed into an executive club, where aperitifs and snacks will be served and guests will have the benefit of a personalised check-in.
However, the most impressive space in the hotel is the presidential suite. At 500m2 it is not only the second-largest suite in Europe but also the only suite in continental Europe with a private spa and swimming pool.
In addition, the terrace offers a breathtaking view of the city. Not surprisingly, the occupancy for the suite is pretty high (45% on average). Overall occupancy at the hotel was 42% for 2005 and is expected to reach 48% in 2006.
Asked to describe his approach to management, Indiani replies: "My management style is to delegate a lot. I encourage people to take responsibility. In a 400-room hotel you must delegate certain powers in order to create the highest quality. You need to be capable of making quick decisions, because you cannot afford to waste time. If you don't decide, nothing happens, and if nothing happens, nothing changes, and if nothing changes, you die."
Indiani is a team player and likes to use the football team analogy to describe how, regardless of who scores the goal, it's always a team effort.
Another anecdote goes back to the early days of his career. When demonstrating to a young student how to serve at a five-star hotel, he tells him to look up the word 'no' in the dictionary. When the student gets to where the page should be he finds it has been removed. "Exactly," Indiani says. "No does not exist."
A NEW CHALLENGE
Like Indiani, Claudio Ceccherelli is a household name in hotel management and left the beautiful Villa d'Este at Largo di Como to explore new horizons in Milan.
However, unlike his illustrious contemporary, he left not to take over the reins at an established hotel but to launch Hyatt's first Italian property, the Park Hyatt, in October 2003.
Ceccherelli took the job in November 2002, for two reasons: to join a well-respected hotel brand like Hyatt and, more importantly, so that he could open a prestigious new city hotel.
"It's like creating your own child," explains Ceccherelli. "To open a hotel is an experience that every general manager should have once in his career. To do it twice is madness!"
During the first 11 months, he focused almost entirely on recruitment. In Ceccherelli's eyes, service is everything: "I know nowadays everyone is saying top service and staff are the key, but the challenge is to provide this every day."
When quizzed on recruitment criteria, Ceccherelli talks about communicating with the body and the eyes: "I want my staff to be passionate, to transmit a personal touch to the clients. The sophisticated traveller wants authenticity."
"To open a hotel is an experience that every general manager should have once in his career."
Ceccherelli claims to never spend more than 15 minutes in his office, and can usually be found walking around the hotel mingling with the guests.
"Unfortunately, [hotel managers] are obliged to spend time in the office because of the paperwork, but I honestly think the manager of an exclusive hotel needs to, one, be an example to his staff and, two, be visible to clients to show spontaneity – that's what makes a difference."
Although the staff are the most important asset, the hotel design is a major selling point. With an occupancy of 60%, it seems to be working.
The famous hotel designer Ed Tuttle, known for his work for the prestigious Aman Resorts group, created a clean, contemporary design using traditional Italian materials such as Murano glass and Venetian stucco.
Italian tradition is also alive and well in the restaurant, which, according to Ceccherelli's feedback from guests, does the best Cotoletta alla Milanese in town.
These special touches ensure that Park Hyatt transcends the image of a typical brand hotel. "Everything has been exclusively designed just for Hyatt, with a stringent concept behind it," adds Ceccherelli.
The most notable feature of each room is the spacious bathroom. "Once you pay €500, you want at least the same as you have at home," he explains, "so all our bathrooms have windows, double sinks, walk-in showers, separate taps, a separate toilet and a walk-in closet accessible from the bathroom. Even the smallest is 16m2."
Ceccherelli's management style is based on his underlying hotel philosophy: "You have to let the clients dream, so you have to offer them a unique experience – an emotion. But with a 37-hour average stay at a city hotel, your staff has to be able to pass on your message."
Again, Ceccherelli's way of enforcing this is to be a ubiquitous presence: "Today, if you want to manage an exclusive five-star hotel, you need to know everything. Everything means focusing on food and beverage and the local market. It means being known by the travelling community and getting involved in the marketing, as well as knowing how to manage the figures, particularly if you work for a large corporation like Hyatt. And you need to mingle with the guests."
Ceccherelli also believes it is vital to be innovative, "even if people think you're crazy at first; only when you think of something new will you be able to attract future guests."
During the course of his 26-year career in the hotel industry, he has seen a marked shift in guest expectations: "I used to work at the Principe, which at the time was the best hotel in Milan. In those days, there were fewer people who could afford such luxury. Nowadays, luxury is more intimate. They are now willing to pay the [top] prices, but immediately complain if they are not satisfied. What they are really looking for is an experience, a time to remember."
BUILDING A BRAND
The Bulgari is a contemporary hotel that differs from other properties in Milan in several ways. Attilio Marro began managing the hotel in June 2003 and by May 2004 had created a style haven, marking a new era of luxury hospitality in Milan.
The opening of the hotel marked the Bulgari Group's first foray into the hospitality sector, in partnership with Ritz-Carlton.
"A key differentiating factor," Marro explains, "is the incredible quality of craftsmanship and materials used at the property." This level of craftsmanship stems from the Bulgari designers' respect for materials and finishing as well as their attention to detail
"The design is not ostentatious," he adds. "It's very genuine." When you enter the hotel it feels unpretentious and calm. You are surrounded by top quality, thanks to the use of beautiful materials and the way they have been put together.
Designer Antonio Citterio is renowned as a trendsetter in furniture design worldwide, and his designs have a distinctively Milanese feel. "We are a reflection of Milan's style: in fashion, furniture and lifestyle," says Marro. "People who know about design will recognise the interior as being true to Milan."
Guests enter their rooms through thick, heavy doors, emerging from black oak corridors into a brightly lit open space. The large windows open out onto a beautiful garden, an urban retreat in a city with very few green spaces. "The garden dates back to the thirteenth century – the building used to be a convent," explains Marro.
The Bulgari garden also backs onto the botanical gardens, offering guests a spectacular view, with no traffic noise, just birds singing in the trees – and all this right in the heart of the city. "It's like being in the countryside in the middle of town," adds Marro.
Marro manages 130 employees for 58 rooms. When he began hiring, he used, as part of the interview process, a company called TalentPlus, which focuses on candidates' natural talents. With a strong management team in place, he was able to focus more on people's talents rather than just their previous experience.
And what is the hotel doing to attract new business? "Some guests are already Bulgari clients," says Marro, "and the hotel's opening created a lot of curiosity. Expectations are high and we cannot lean on the brand. We commit ourselves everyday to give our guests everything they are looking for and more."
Among the guest packages on offer, the most popular is the Personal Shopper. A stylist finds out the guest's preferences and takes them around some of Milan's most exclusive shopping venues. "It's like a good friend showing you around their home town," explains Marro.
The key to the hotel's success, however, is its popularity with the Milanese themselves. Milan's elite are frequent visitors to the Bulgari spa, bar and restaurant, and the city's rich and famous can often be spotted sipping their champagne in the garden, or taking advantage of the on-site valet parking (a real rarity in Milan).
Marro describes his management style as very inclusive, with a strong focus on goals and teamwork. "I believe in a balance between relationships," says Marro.
"A team is like a family, so you should always explain things with logic, like a father would. That way, you get the best out of people in the long run. Once they know you care for their well-being and future, the work flow gets much easier. The old-school approach of hierarchies is found less and less today. And although a softer approach might be more challenging in the short term, it [ultimately] creates a productive and stimulating working environment."
STATE OF INDEPENDENCE
In December 2003, the Bertazzoni family opened their second hotel in Milan, the Straf. The famous dynasty of independent hoteliers appointed Marco Soli as general manager in March 2005, and since then the hotel has boomed. With an occupancy rate of 83%, this luxurious design hotel has cemented its place among the city's four-star properties.
The hotel targets an age group of 35–40, and its guests are as unique as its design. Indeed, they tend to define themselves more through their taste in design than their social status. "Our guests come because they are looking for something different, for a non-commercial hotel," explains Soli. "This is reflected in their dress sense: original, nonconformist and eccentric."
The Straf – which takes its name from an abbreviation of the road it is on, Via San Raffaele – came into being after Daniela and Jerry Bertazzoni fell in love with the design of Vincenzo de Cotiis's fashion shop.
"Milan's hotels are looking to attract as broad a mix of guests and accommodate as wide a range of guest preferences as possible."
"It was love at first sight and they immediately commissioned him to design the hotel," Soli says. "They were confident that the uniqueness of the hotel would make it work." And they were right.
The hotel boasts an eye-catching minimalist design, with de Cotiis creating an unfinished look using scratched mirrors, scuffed satin walls, glass corridors and oxidised brass bathrooms.
The entire hotel is an art installation in itself, which can create problems. "The design is challenging from a managing perspective due to high maintenance and from a guest perspective because you need to get used to the unconventional layout," admits Soli.
The attention to detail in the hotel is extraordinary, underlining de Cotiis's vocation as an artist rather than a hotel designer. It is not always clear what is what, but the overall effect makes a stay at the hotel a real event.
"When you go to a chain hotel you know what you're going to find," Soli says. "When you go to the Straf you're in for an experience. Our guests are particularly demanding. They want art – the Straf is art!"
With their unfinished feel, the 66 rooms are stunning. Particularly popular is the bar, which opens out onto the street and is always full of young, trendy people – even on weekdays. The staff are also relatively young. "Most people I recruit are under 25," adds Soli.
"Big chains have strict standards," observes Soli. "As a result, the staff become standardised. I've worked at many big brand hotels and I've found that the training can drain the personality out of your working practices. Here at the Straf, you are not just a number; everyone can express what's inside, and I encourage my staff to be extroverts."
Personality is the key. There is a special concierge desk that provides quality dining tips, and there are plenty of other exciting and unusual things on offer. The 24-hour gym is very popular, as is the atmospheric use of music, both of which offer something a little out of the ordinary.
The charm of Milan, with its appealing fusion of classical and modern styles, is reflected in its hotels, which range from traditional elegance to contemporary drama.
In addition, visitors to Italy's business and fashion capital will soon find many new attractions, with developments such as the fashion city and the new congress centre due to be completed in the next few years.
Consequently, Milan's hotels are looking to attract as broad a mix of guests and accommodate as wide a range of guest preferences as possible, particularly since the Bulgari snapped up the last available niche in the market: that of the small but exclusive luxury retreat.
This diversity is also reflected in the different management styles of the four general managers, each of which are highly effective in their own way.
There are some common elements. Above all, in each hotel staff remain the principal asset. This might not be breaking news, but treating staff as a family to be guided and given responsibility is clearly replacing the old, hierarchy-based approach
As a nation, the Italians are well known for their strong sense of family values, and this same approach now appears to be finding favour with Milan's top hotel managers.
However, what you have in the final analysis are four very different styles, all with one purpose in mind: to strengthen the identity of the hotel and attract new business.