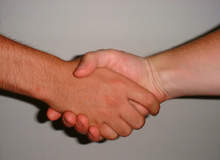 Long gone are the days when the cost of employing staff merely meant paying a fixed salary at the end of the month.
Today's employees expect to feel valued and cherished by their organisations, and as a result they expect to receive more than just a cheque in their back pocket.
Nowadays, in order to remain competitive and to retain staff, employers must provide an enticing salary package, which can include additional employee benefits such as long-term incentives, health insurance, luncheon vouchers and gym membership.
The cost to a company must be balanced against other compensation components such as base salary and bonuses.
"In order to remain competitive and to retain staff, employers must provide an enticing salary package."
A good example of a company that has traditionally been overly generous towards its employees is IBM. When Lou Gerstner arrived as the new CEO in 1993 he found a company in dire financial straits and a culture where 'equality and sharing were valued over performance-driven differentiation'.
With a remit to turn the company around, one of Gerstner's first actions was to overhaul the benefits programme and cut marginal perks such as country club membership, creating significant cost savings to the company while retaining a very competitive benefits plan well suited to the modern workforce.
However, a correctly administered benefits programme, as part of a balanced compensation package, can offer value to an organisation by attracting and retaining key staff.
The hotel business is no different to other industry sectors in that benefits play a key role in the attraction and retention of talented staff. An HVS study of compensation practices in the European hotel industry reported that over 75% of hotel companies provide benefits to their executives as part of their general compensation programmes.
As with salary and bonus levels, the provision of benefits and their value varies in line with an employee's seniority. Other factors such as location and job type can also have an effect on the types of benefits offered.
WHAT'S ON OFFER?
If proof were needed that benefits are not the sole domain of those at head office, we took a look at the benefits on offer to line employees in the hotel sector.
A 2005 HVS survey of salaries and benefits awarded to employees of first-class and luxury hotels in London revealed that benefits at line level ranged from retirement plan to subsidised chiropodist treatment.
Not all of these benefits are offered from day one of employment but are phased in over a period of time, thereby generating a reward culture and engendering loyalty to the organisation.
For example, most companies provide a retirement plan benefit to line-level staff that does not commence until the end of the first year of employment.
As we work up the organisational chart, the benefit allowances become increasingly generous. For example, the majority of senior management in the survey group of first-class and luxury London hotels are awarded a retirement plan benefit which kicks in immediately upon commencement of their employment and which typically commands a higher contribution from the employer.
In addition to these basic benefits, other perks are offered to general managers and corporate officers. However, stories of executives receiving perks such as personal use of the company jet, interest-free loans and tax payments are the exception rather than the rule. According to HVS surveys on the packages awarded to corporate vice presidents of hotel companies in Europe, typical benefits include:
Annual car allowance (including fuel)
Retirement plan
Health, life, accident and disability insurance
Business travel insurance
Restricted stock award
Stock options
Depending on the company and the individual's circumstances, additional benefits can include financial assistance with the employee's children's school fees, travel allowance and clothing allowance.
GLOBAL CONCERNS
The hotel business is of course a global industry, and one that in turn presents significant challenges for multinational companies with employees around the globe.
For example, as of 31 December 2004 Starwood had a portfolio of 733 hotels located in 80 countries and employed 120,000 staff, of whom 44% were based in the USA and the rest overseas.
Maintaining parity in the pay and benefit levels of employees spread throughout 80 countries is no easy task, and those management employees who are transferred to a new location are often employed on an expatriate basis, especially in markets such as Asia, the Middle East and the Caribbean.
Expatriate employees are typically general managers, key members of the hotel executive committee who cannot be sourced locally, such as executive chefs, and regional office and corporate office executives.
An expatriate salary package usually consists of: tax-free base salary; bonuses; housing (either an allowance or accommodation provided in or near the hotel); relocation allowance; schooling allowance for the executive's children; annual business-class flight ticket for the executive and their family to the country of hire or the home country; medical insurance; and retirement plan.
BREAKING DOWN THE BENEFIT PLAN
While the provision of benefits is in itself a positive step, their effectiveness is dependent on how they are communicated to the employee. Many employees know that they receive a retirement plan or health insurance, but very few know the actual value of that benefit.
"Most hotel companies would be better off providing a lower value but better communicated benefits plan than a higher value, poorly communicated one."
According to James Berkeley, director of international employee benefits consulting company Berkeley Burke & Co: "Benefit plan communication is the most overlooked, and underused element in the human resources arsenal of benefit plan management tools. As a result of this common trend, the impact of how employees perceive and use their benefit plans is often overlooked. People do not value what they do not pay for or understand."
Employers should therefore give careful consideration to how they educate employees about their benefits plans – both at the start of their employment and when queries arise.
They should also recognise that a well thought out communication strategy can deliver the appropriate cultural message and create a sense of value in the mind of the employee.
"Most hotel companies would be better off providing a lower value but better communicated benefits plan than a higher value, poorly communicated one," adds Berkeley.
It is clear, therefore, that the provision of benefits is a key component of an effective remuneration package geared towards the attraction and retention of executives in the hotel sector.
As is the case with salary and bonuses, employers should strive to keep their benefit plans competitive within the marketplace and adjust them as employees rise up the ranks.
Hotel companies should also ensure that their plans are easily understood by employees and communicated effectively so that those employees know exactly what they are getting.