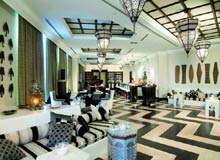 Reto Wittwer, CEO of the world's oldest hotel group, has always done things his own way. "There was never anybody I wanted to be like," he says.
"I saw people and thought: 'If I ever have an opportunity to get to this position, I will be significantly different'."
The Kempinski boss is perhaps the ultimate hotelier. While he champions the core European values of luxury hospitality, he is determined to reinvigorate the tradition for a new global market.
"After 20 years as the CEO of the company you develop a thick skin. You have to satisfy your constituency."
The top-end luxury market is a demanding mistress, requiring an attentive master. "I'm a bachelor, so I work seven days a week," says Wittwer from his office at Kempinski HQ in Geneva.
"I have no private life."
Not content with Kempinski resting on its laurels as the original grand hotel company, running iconic properties such as the Hotel Atlantic in Hamburg and Moscow's Hotel Baltschug, Wittwer's vision has taken Kempinski to distant horizons such as Africa and to other markets that his peer group have been reluctant to enter.
Wittwer has been top executive at Kempinski since 1995 and is at the helm during the most ambitious expansion in its 111-year history. He became president and CEO aged 59.
Today Kempinski Hotels owns and operates an international portfolio of 54 hotels spanning 18 countries, with a further 53 in development or construction in Europe, the Middle East, Africa, Asia and Latin America. A Wittwer statement he repeated often this year at conferences sums up his philosophy of keeping luxury exclusive, despite the many temptations of the global market at the top tier.
"We will cap our growth so we never have more hotels than the age of our company."
Bold does not necessarily mean big. Kempinski has for decades been well ahead of its competitors in entering new markets.
During the 1980s, in part thanks to its close cooperation with Lufthansa, the company expanded into Eastern Europe and Asia. Kempinski was the first company to enter Communist Russia and the first to go into a joint-venture in China.
This policy of luxury diplomacy has gained many friends in these markets and beyond.
Wittwer has been an experienced industry player for more than 30 years. He is, along with his friend Rezidor CEO Kurt Ritter, part of the old guard, while many of his contemporaries at senior level have come in from outside.
Despite his École Hôtelière de Lausanne training, his nose for the business has been gained in all his years of experience and the fact that he comes from a hospitality family. Wittwer attributes his success to a passion for the business.
"It's bad if an industry becomes a cult. You don't have to come from the hospitality trade to have a passion for it. I have two kids who hate it – they think it sucks. My son is a rapper and says, 'How can you work in this stupid business?' It depends which way you look at it."
Wittwer was born in St Moritz in Switzerland into a hospitality family. "My family was in the business but one of my brothers is a banker and one's a lawyer," he says.
"Since the age of 12, I never thought of doing anything else. This is my life."
Wittwer warns that to be successful you have to be prepared to stick to your principles. "After 20 years as the CEO of the company you develop a thick skin," he says.
"I know what the market expects, what the staff expect, what our owners expect, what our shareholders expect. You have to make sure you satisfy your constituency."
Europe's only independent luxury hotel company is owned by The Crown Property Bureau of Thailand and the Bahrain Royal family. The group owns a hotel in Munich and leases two others in Germany, but the remainder of the portfolio is managed.
Time-limited contracts mean that Wittwer has to constantly evaluate Kempinsksi's portfolio. Those that no longer make the grade are dropped.
It's a delicate balancing act, as Kempinski also has a long waiting list. "Last week we turned away a deal in Ankara," he tells me.
"Financially it probably would have been good but strategically and image-wise it would have weakened our position in Istanbul. We have 53 openings on the horizon, and there are another two or three on the doorstep."
The business of luxury
"Luxury is peculiar to each person," explains Wittwer of the philosophy that he instills in the service. "It has to be exclusive."
Wittwer's lessons in luxury illuminate an old-school business approach that many of his competitors have forgotten in favour of an insatiable appetite for expansion. It's a strategy that Wittwer says negates what luxury is all about.
"Too many people claim to be in the luxury business," he says of the big chains. "The top end has to be individualistic; it cannot be controlled by a chain with a homogenous portfolio. If you are growing as fast as our competitors and you keep cloning your product, you end up with 200 hotels that look the same. That is not real luxury."
For Wittwer, the essence of a luxury hotel is its individuality, not a brand identity concocted in an anonymous boardroom. "The big companies, such as Starwood, are simply brand supermarkets, you can't tell them apart," he says.
Quality not quantity
Kempinski has deliberately limited the number of hotels it operates. Although this exclusivity frustrates hotels that want to get onto its books – and perhaps the company's shareholders – Wittwer says it is essential in order to keep standards high, the group manageable and the brand prestigious, particularly considering that Kempinski's reputation is centred around its collection of landmark, iconic hotels.
The policy is like a rigorously adhered to vow of celibacy and it all comes down to the Holy Grail of luxury. "Anything related to luxury must be numerically capped," Wittwer says.
"The more similar the hotels, the more boring they become as the numbers increase."
Wittwer's strategy of sustainability pays back over time: "When a market first gets rich, the favourite brands are those that scream out," he says, comparing hospitality to the fashion industry.
"Once you get to the next level the more understated brands become more popular and the inexperienced consumer becomes a more mature, sophisticated customer." But Wittwer claims that this is not about snobbery.
"If people don't know the difference between a Château Pétrus and a Beaujolais, they might as well drink Beaujolais," he explains.
In coming years, Wittwer sees luxury as becoming even more individual. "Cloning is not what people think of as luxury," says Wittwer.
"The only way to ensure you have the sole version of that dress is to buy one from Valentino. For some people, that has meaning."
Despite the emergence of ever more luxurious hotels from Shanghai to Dubai, Wittwer maintains that Europe will lead the way in creating new forms of luxury. "The European lifestyle has always defined luxury, be it in cars or in fashion. It's not the case in Australia, China or America, despite these being shrewd markets."
The luxury creators remain the same but consumers are changing. "They will come from everywhere," Wittwer enthuses.
"Many more customers than before come from the East, fewer from the West." Wittwer says that the demand for luxury is such that the top tier of the hospitality industry will ride out the current financial turbulence.
"Many more customers than before come from the East."
He recently returned from a shareholders meeting in Istanbul where he says Kempinski recorded the best year-end earnings in the history of the company. In August, Kempinski made headlines when one of its hotels, Abu Dhabi's Emirates Palace Hotel, offered a $1m, seven-day holiday package including deep-sea pearl diving, day trips to Iran, and the use of private jets and chauffeur-driven Maybach cars.
For Wittwer luxury will always be in demand. "My father used to say that when the rich are impoverished, the poor are already dead," he says.
"If you are not a luxury brand, you will be thrown into the bloodbath of the mid-market." But the top-end is a ruthless market requiring an iron will.
"Luxury does not compromise," he says, following with another lesson. "If you are at the top of the line, you don't discount. If the market is going down, whoever is in the discount game is not a luxury hotel."
Thanks to Kempinski's uniqueness and high price, Wittwer gets the pick of the best hotels on the planet. Surely he must be tempted to break his 111-year, 111-hotel rule?
"The rule is not cast in stone," Wittwer admits. "But it gives us a good handle to negotiate contracts, because we can say to owners: 'You are going to be part of something different'".
The company is by no means standing still. An additional 43 hotels will open by 2010, but there it will stop – for now, at least.
Wittwer says that he wants 60% of Kempinski's properties to be in major cities and 30% as resorts. The remainder will be a mix of the two.
To this end he has broadened Kempinksi's leisure portfolio. From next April, it will include the Tangula Luxury Train, "a hotel on wheels," he says, which will take guests from Beijing to Lhasa in Tibet on a five-day journey.
The properties in the Middle East, Europe, Asia and Africa provide four facets to the company's business model, and each contributes to the success of the whole. The standards originate from Europe, the capital comes from the Middle East, new and exciting opportunities come from Africa, and Asia, particularly China, is where future investment will originate from.
When exploring new markets and properties, Wittwer looks for hotels that will bring kudos to Kempinski. If the hotel is in a young market, Wittwer relies on his instinct.
"We are adventurous enough to anticipate the movers and shakers," he says, explaining that Kempinski helps to put destinations on the map. The company already operates five hotels in Africa, including one in Chad, the Kempinski Hotel N'Djamena, and it is looking at new destinations including Cape Verde and Rwanda.
"The eco-lodges in Africa command great rates for a basic standard," he says. "Where else in the world are people prepared to pay €2,000-€3,000 a night?"
Kempinski is in talks with Dubai World Africa to manage a 150-room luxury beach resort in the island nation of Comoros, located off Mozambique. In Africa the company has made a significant departure from its competitors, many of whom say that political instability and lacking infrastructure mean that parts of the continent are not ready.
Wittwer strongly disagrees. "Not ready for what?" he asks. "For our business, Africa is definitely ready."
Ever the diplomat as well as the hotelier, Wittwer knows when and where to strike and, most importantly, who to talk to. This is how Kempinski is able to forge strategic partnerships.
"We have found three specific partners in Africa who share the same vision of Africa as us," explains Wittwer. "We were introduced to the president of Madagascar by one of our African partners and he's happy. So we're looking at Madagascar."
The company recently completed the Kempinski Djibouti Palace in the Horn of Africa, ahead of the building of a bridge by Bin Laden Group that will link the country across the Red Sea to Yemen. As expected, Kempinski is looking to manage a hotel in the Yemeni capital Aden as well.
The knot is tied.
Wittwer is a big believer in Africa's potential as a hotel market. "The US trade won't go there because they think it's poor, but Africans meet," says Wittwer.
"The International Monetary Fund met in our hotel in Djibouti and they said it's great that they now have a hotel to accommodate them."
However operating in less developed parts of the world has its risks. "In Chad, we've had to evacuate our people twice in as many years when rebels moved in," he says.
"One time the owning company left and our people stayed. There is a risk in some places but the hotels remain. If you have a trophy hotel, it's usually the place where a new regime will hold its first press conference."
It all comes with the territory for Wittwer. "We never involve ourselves in politics," he states.
"We love everybody and everybody loves us. We don't interfere in the country's regime. Whether it is socialist, communist or something else doesn't matter, they all need hotels."
Despite the war between Russia and Georgia, plans are still in place in Georgian capital Tbilisi to turn the former foreign ministry into a 200-room luxury hotel, managed by Kempinski.
Kempinski has been synonymous with diplomats and big meetings since acquiring its first hotel. Most recently, in 2007 the Kempinski Grand Hotel in Heiligendamm on the German Baltic coast was the venue for the G8 Summit.
High profile events such as these can be a headache, even for Wittwer. "It was sort of a challenge because of the security, no one can go in or out," explains Wittwer.
But a big bonus is being able to experience power up close. "It's a sight that normal mortals don't see; the eight top leaders of the world in one group," reveals Wittwer.
People power
"We have an entrepreneurial, individualistic atmosphere."
The key to the success of any hotel lies in its staff. Luxury is worthless unless you have the people to deliver it.
Kempinski, like every other hotel company today, needs to work harder to retain its staff. "We have an entrepreneurial, individualistic atmosphere," says Wittwer.
"In some companies it's like being in the army – everything is regulated – but usually people associated with individualism can't stand corporate standardisation."
Kempinski has attracted many suitors. "If you are incomparable, you can basically say: "This is my price, have a good day," Wittwer reveals.
He says the company receives "two offers a week". Will he sell?
"Our shareholders do not feel that now is the time."
A strategy of select growth, backed by solid Middle Eastern capital, future Chinese investment and expansion into Africa, not to mention a luxury Beijing-Tibet train, suits Wittwer perfectly. When it was founded in 1897 in Berlin, Hotelbetriebs Aktiengesellschaft, as the company was then called, had no precedent.
It was the first hotel management company in the world. More than a century later, Kempinski is still setting firsts.
"We are continually trying to reinvent ourselves," he says. "We are number one in the market. The danger is that you can stand still and a close contender will make ground, so it is a permanent quest to make it to the next level."
And Wittwer has another lesson to impart: never let past glories overshadow the present. "We have just got Landor to completely redesign our brand architecture," he says.
"They tell us 'You have history but you need to make stories out of it, because history in itself doesn't help you.' We are now taking advantage of our inheritance."
The recipient of many honours over his career, including the Grande Medaille de Vermeille de la Ville de Paris and the Chevalier du Mérite Agricole, Wittwer says accolades should go to those he represents; his staff. What about to him?
"Nothing," he responds. "I have one photo in my office of me meeting an African President, and nobody knows who he is anyway."
The Kempinski CEO intends to head the company for the foreseeable future and offers one final lesson. "I always said that if I had a consecutive week of sleepless nights because of my work, then I should retire, but so far I haven't had to."
With Kempinski's sights spanning African lodges to luxury trains to Tibet, one can imagine that Wittwer will be sleeping like a baby for many years to come.