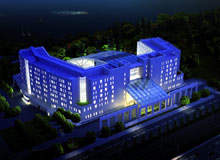 HMI: What is it like to be a designer working exclusively for the hospitality industry?
Patrick Reardon: The hotel industry is a demanding mistress, but it is fun. I can't imagine any other sector that I would prefer to work in.
I've been involved in hotel architecture virtually all of my working life, initially on the client side, which has proved invaluable experience over the years on the consultant side.
"The hotel industry is a demanding mistress, but it is fun."
We started the business with no work and a bit of cash we scraped together, just before the 1991 recession. In retrospect, the decision seems far more terrifying than it was at the time.
And here we are 20 years later working on wonderful projects around the world with a great team of some 60 people.
Has the credit crunch begun to bite for you yet?
2007 was a tremendous year. Christmas and New Year were all doom and gloom, and we thought it would affect us.
However, it has proved to the contrary. This year has been astounding so far.
We have two to three serious enquiries a week and we've had to turn people away. I keep thinking I'm going to wake up any minute and discover I'm back in 1991.
How do you approach a project of such magnitude as the Porto Montenegro resort?
We've a number of objectives for Porto Montenegro: to create a new superyacht marina destination, to develop a new centre for holidaymakers and to create a thriving town with a strong residential community and a retail offering that will attract day visitors from the surrounding towns. We won the project because we had an attitude and proposed an architectural solution that the client responded to.
We will respect the local architectural vernacular while creating something genuinely new, not a pastiche. The site is a decommissioned naval base.
All the existing structures, apart from a large yacht repair facility, will be demolished. In the first phase, we will concentrate on the waterfront, with high-end restaurants, boutiques, studios and apartments, and a hotel that will be operated by Four Seasons.
The upcoming Hyatt Regency in Minsk will be the first five-star hotel in Belarus.
How do you rise to expectations?
Every country has its own way of doing things and in Minsk, the local bureaucracy remains fairly rigid. Encouraging our colleagues there to think outside the box is difficult, but rewarding when they do so.
In a London context, creating this Hyatt is like building in Hyde Park on the banks of the Serpentine. It is as good as that.
We have a rural site in the centre of the city. Minsk's embassy district is to be developed nearby and this will also be top class.
The city authorities have never seen anything like this and they are understandably cautious about outsiders coming in with all these grand plans. It's a fascinating project.
I feel like a bit of an explorer.
How are you approaching the Savoy restoration?
In renovation projects, a need for a thorough understanding of how the building operates, as well as a deep appreciation of the particular spirit of the hotel, is essential. The Savoy is an iconic hotel, but a major restoration has not taken place for decades and recent refurbishments have not dealt with infrastructural issues.
So we are reinforcing the structure and upgrading all the services, but in such a way that The Savoy's unique character will only be enhanced.
Is design now crucial to a hotel's success?
It is very important and, as a result, the attitude of our clients to redesign has radically changed. Once upon a time, the phrase we most encountered was: "We can't do that because we've never done it before".
Now we have come 180 degrees and the phrase is: "We can't do that because everyone has done it before". We are being pushed and challenged by our clients to do something that is of today and tomorrow.
Do you ever feel under pressure by big clients trying to push their brand that bit further?
It can be a concern when you know a client is tempted by a building that might compromise the brand. But there are some clients who are willing to make compromises and others who are not.
As architects, our job is to make a building as revenue-generating and as much of an asset as possible, as well as an environment to stay in and work in.
Are renovations or new builds more of a challenge?
Renovations are a lot more challenging: that is where you need a significant amount of hotel expertise. You have the weight of history, possibly heritage issues, you never know quite what you are going to find when you start an internal demolition and you are charged with fitting a 21st-century hotel into what is possibly a 19th-century building.
Can hotels ever be truly sustainable?
Some can. The location and age of the building condition the degree of sustainability that can be achieved.
Clearly, if you are designing a new luxury resort, it is much easier to attain a high degree of sustainability than when refurbishing an old heritage property, which is a massive masonry box. Naturally, we take the issue seriously.
When master planning a new resort in virgin territory, our aim is always to integrate the buildings with an undisturbed landscape, so that you can barely see them. Our scheme for The Belfry in Warwickshire includes many eco-friendly features, such as biodiversity plans, a sustainable irrigation and drainage system, and a new energy centre that will use on-site renewables.
Who has been your biggest influence as a designer?
I was tremendously influenced by IM Pei, who I worked with in New York. I was a tiny cog in his wheel, but I always had the good fortune of working with him on projects that he was personally involved with.
Courtesy was paramount, as was lack of ego. He was, and will remain, my mentor.
What do you want your designs to give to people?
Satisfaction and a smile.
Hotel specialists
ReardonSmith is one of the world's leading architectural practices specialising in hotel and resort design. Patrick Reardon is executive chairman and one of its founding members.
He has worked in the hotel industry for 40 years, including periods in the US as a senior corporate executive with both Hyatt International and Holiday Inn International, responsible for architecture and design worldwide. Based in central London, the 56-strong practice is involved in some of the most eagerly anticipated projects of the next few years, such as:
The Belfry, Warwickshire The Elizabeth Hotel, London Grosvenor House Hotel, London Hyatt Regency, Minsk Intercontinental, Moscow Pekin Hotel, Moscow Porto Montenegro The Savoy, London Three Azimut hotels, Russia Travelodge Waterloo, London New five-star hotel, Baku New resort, Cape Verde