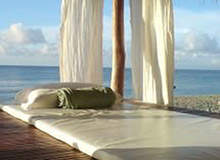 Lipo-sculpture, cardiological consultations, Feng Shui gyms, sleep therapy and brain fitness – this could be the list of services at a futuristic medical facility. In fact it is a selection of innovative treatments recently introduced at contemporary hotel spas.
The focus of spas has changed from simple rest and relaxation to delivering multifaceted health and lifestyle overhauls for guests. The shift is driven by a new generation of time-poor, health-conscious spa users seeking not only relief from the stresses of daily life, but a catalyst to inspire positive and lasting transformations in their health.
To keep a hand in the $250bn industry, hoteliers must reposition their spas as one-stop health and wellness clinics.
Anni Hood, director of spas for the Dubai-based luxury hotel brand Jumeirah Group, says that rapid changes in the industry have brought with them a new language.
"The word "spa" is almost on its way out," she explains. "What people are looking for is a venue for lifestyle change."
"More people are under pressure to save time, so they want a venue that can provide everything – from traditional spa treatments to fitness, nutrition, lifestyle education, alternative therapies and even the medical side of wellness," says Hood.
"We're dealing with the 'wellness' generation, which spans baby boomers as well as generations X and Y. These people are more conscious of how they live and what they give back to the environment and society."
Hood predicts that spas with a socially and environmentally sustainable focus will be future successes. This concept could be evident in everything from a spa's facilities and products to its employment values.
One company with its finger on the pulse of new and successful spa concepts is Spa Finder. After observing the preferences of the company's website users, Spa Finder CEO Peter Ellis says that whereas novelty spa treatments such as beer baths, chocolate wraps and Asian mud cake massages were once the next big things, the focus is now on wellness.
As part of improving their health, consumers now look for opportunities to develop their mental fitness, quality of sleep, eating habits and social network – possibly with a side order of aesthetic surgery – all within the spa environment. But while such broad-spanning health solutions are appealing to the modern spa-goer, hoteliers are not advised to cast their net so wide.
Austrian spa designer Heinz Schletterer, CEO of Schletterer Spa and Wellness Design, predicts that spas with a specific focus will have the edge over facilities that try to cover too much. "The advantage of specialisation is that you don't get lost in the ocean of similar spa concepts," he says.
"Give the market a clear profile and differentiate the spa from the competitors."
This is backed by Mia Kyricos, director of spa development, operations and marketing at Starwood Hotels & Resorts, who says that the company's most successful spas are those where the treatment menu focuses on local traditions, whether that involves a Temazcal ritual in the Mayan Riviera or a Balinese massage in Indonesia.
Jumeirah's global spa brand Talise embodies this personalised approach. Launched in 2007 at the Madinat Jumeirah in Dubai, Talise was voted number one spa in the Middle East by Spa Finder readers and website visitors in 2007; an accolade that Hood says can be attributed to the spa's person-centric model.
Talise has a flexible menu offering customised massages and crystal labyrinth rituals tailored to the needs of the individual.
CEO of Berlin-based Design Hotels Claus Sendlinger predicted in the 1980s that spas would become the nucleus of the hotel world. He believes that the key points underpinning spa success are design and architecture.
"Architecture will play an essential role in determining the integration of the space with the services and the philosophy of the spa," he says.
"How many times have you gone to a hotel and the spa was in an awkward area? It's because it was an afterthought. These spaces need a different kind of architectural solution. It's not simply about a beautifully designed space, but rather the harmonious combination of a well-planned facility with new technology and the people who use it."
Care must be taken, however, to ensure that the spa's beauty isn't only skin deep. "You can build the most beautiful spa in the world but it must be designed to deliver a return on investment," says Starwood's Kyricos.
She says that finding the ideal mix of revenue-generating space, such as treatment rooms, with non revenue-generating space, such as water features, is a key factor in designing a profitable spa.
Behind every innovation, Sendlinger's secret to guaranteeing returning clients is simple: offer personalised, attentive and sincere service. "That always works," he says, "no matter where you are in the world."
The top five emerging spa concepts:
Medical spas
While hotels won't become high-end hospitals any time soon, some brands are beginning to align with medical facilities to deliver preventive healthcare and aesthetic improvement services. Jale Hotels' five-star Incosol Hotel in Marbella, Spain, combines a medical treatment centre with a luxury spa.
It offers programmes in heart attack prevention, anti-cellulitis and back rehabilitation alongside traditional spa treatments and cosmetic procedures, such as Botox and laser surgery. The Intercontinental Hotels Group recently teamed up with the Medical Tourism Association to facilitate medical tourism in South America, where it will work with Clinica Biblica Hospital in Costa Rica and Panama's Hospital Punta Pacifica to provide special hotel rates and packages to patients.
Biorhythmic spas
Architecturally sophisticated spaces that seamlessly integrate technological innovations and interior design to align with consumers' biorhythms will mark the next generation of spas, predicts trendspotter and Design Hotels CEO Claus Sendlinger. German artist and architect Nik Schweiger from design firm 3 Deluxe is a pioneer of this concept, which he labels "genetic architecture".
Schweiger's design for the Roomers Hotel Spa in Frankfurt, a collaboration with German spa design company Klafs due for completion in 2009, reflects the oscillating biorhythmic wave patterns of sound and water. The sauna's curving wooden forms and floating light communicate subliminally to guests on a biological level, inducing relaxation and a contemplative state.
Green spas
A socially and environmentally conscious consumer market is driving the trend towards green spas that, along with sustainable practices and eco-friendly products, exercise social responsibility. The Blue Marble Spa at Hyatt Regency Mission Bay Spa and Marina in San Diego is named after the famed photo of the earth taken on the Apollo 17 mission, and is exemplary in combining conservation with luxury.
Organic and sustainable spa products Naturopathic and Farmaesthetics are used in conjunction with water-efficient showers and steam rooms, energy-efficient heating and cooling systems, eco-friendly cleaning products, recycled materials and nature-inspired furnishings and colour schemes. As spa director Kyra Johnson explains: "By educating people on how to care for themselves and the planet, we can reach new heights of wellness."
Brain fitness
As the world's population ages and our awareness of mental health increases, hoteliers are realising the importance of brain fitness and seeking ways to incorporate mind exercise into their spa menus. Westin Hotels and Resorts, under the Starwood Hotels and Resorts umbrella, has recently introduced the brainbodyfitness programme through its North American spa facility, whereby guests are encouraged to stretch their thinking muscles via puzzles, brain teasers and Sudoku games.
Brain workouts are placed at key touch points in the hotel including the lobby, by the pool and in the fitness centre, and at check-in guests are issued with brainbody key cards that suggest exercises for improving mental strength.
Nude spa bars
Alcohol, nudity and massage might sound like an unsavoury spa cocktail but the growing trends of social opportunities, bar licences and nude bath areas in European spas have sparked hotel design conceptualist Ian Schrager to make a bold prediction. In a speech at the 2008 Global Spa Summit, Schrager forecast that guests will soon want to combine the spa setting with a relaxed social experience where sipping beer in your bathrobe – or your birthday suit – might become the norm.