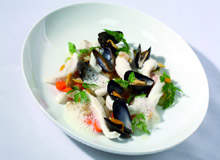 Obesity rates are at an all time high and physical activity an all time low. Even France, the home of haute cuisine, is now second only to America in its appetite for le Big Mac.
It all points towards a culture with little regard for healthy eating and nutritional balance and an "Americanisation" of Europe's eating habits.
However, alongside the fast food giants posting record profits is a growing recognition that the balance needs to be redressed. Politicians, cultural commentators and even some big name chefs have led campaigns attempting to heighten awareness and transform the way we eat.
This might make good press, but some critics translate the efforts as little more than bourgeois snobbery. It is all well and good that the enlightened elite can recognise the problem, but it makes little difference if their efforts are being ignored by the very demographic that needs to be reached most.
But where do fine dining restaurants fall within the debate? Does the current cultural climate and a shift in high-end tastes make redundant fine dining restaurants' time-honoured values of escapism, exoticism and, dare one say it, excess?
"It's something that chefs talk about more and more," admits Le Meurice executive chef Yannick Alléno. "Our responsibility, first and foremost, is to bring pleasure to our guests but as the diner changes, so too should the food."
"I wanted to understand what was happening in the food."
The growing demand for nutritional and dietary information, particularly among the demographic that frequents high-end restaurants, presents an added pressure. Just as a vegetarian option has become obligatory on any menu, must chefs now offer a lighter choice to their diners?
"My food is naturally light," Alléno replies, "you could almost call it feminine. This is not necessarily because I want to cook healthy food, but it's a philosophy of life: those who take care of themselves should want to take care of others."
If the 40-year old holder of three Michelin Stars ever visits one of the six "McDos" that lie within a kilometre of his kitchen, he wears it well. "I eat my food every day and stand at 75kg," he declares proudly.
"The only danger is the bread!"
Not at the Bath Priory Hotel, where Chris Horridge is head chef. "I'll send gluten-free bread out to my diners and no one will be able to tell the difference," he exclaims. "Even a baker friend of mine, who takes some impressing, couldn't believe the quality. In my experience, other gluten-free bread is disgusting."
This is just one of Horridge's triumphs. The architect of "three-dimensional cuisine" – and holder of one Michelin Star – serves crème brûlée with no cream and 75% less sugar than traditional recipes.
He even creates lactose-free vanilla ice cream.
"Most chefs look at presentation and flavour," the young chef explains. "Those are the first two dimensions. I'm providing a third: nutrition. I'll look into a dish and decipher what the main minerals and vitamins are. In a 100g piece of salmon, that would be selenium and vitamin B12. Now, how do we increase the possibility of these two nutrients being absorbed?"
To this end, Horridge works alongside scientists, academics and students in a quest to find ingredient combinations that fit his three criteria. Purees and foams are ferried to laboratories across the country and nutritionists, chemists and medical practitioners sit alongside suppliers on Horridge's speed dial.
Horridge talks at a thousand miles an hour and struggles to keep a lid on his enthusiasm. It's contagious, but his delivery is often undercut with a degree of defensiveness born from repeated misinterpretations of what his kitchen in the south west of England is trying to achieve.
Reviews have been almost universally positive, but often come with a caveat. A recent rave in The Sunday Telegraph also snidely remarked that Horridge "seems to have some kind of eating disorder".
"There's a huge psychological issue with healthy food," he says. "People's perception of it has not always been good. But healthy food does not have to be tasteless and that's the message I'm trying to send out through three-dimensional cuisine. If I can serve a chocolate éclair as good as any you would find in a Michelin starred restaurant, but without the halogens, glutens and dairy, why wouldn't you want to eat it?"
The chef is soon to work alongside a psychologist, exploring the stigma and looking at ways of rebranding healthy cuisine. With a TV show in the offing and, one assumes, the obligatory cookbook, he will be taking his work beyond the restaurant walls.
"I'm glad I don't get up every morning with Michelin on my mind," he chuckles. "I'm far too busy thinking about gluten-free bread and cod liver oil sorbets."
Back in Paris, Alléno has also brought in outside help. He has worked alongside a nutritionist for two years and believes that the partnership has been hugely beneficial.
"I wanted to understand what was happening in the food," he explains, "and knowing that has helped me to solve many problems. I do not create healthy food per se, but I put a lot of thought into creating emotions. There is a danger that the ingredients become the villains, but it is how you treat those ingredients that matters – broccoli in a litre of olive oil is not healthy. Equally, I will not remove all the fat from meat; you should never compromise on taste."
Le Dali Restaurant, launched at Le Meurice in April, is testament to this belief. Alléno has created a concept that plays a game of choice with his diners.
On each side of the menu is a column of dishes, "Sans" and "100%", indicating the bare essentials of one collection of dishes and the entirety of the others. Guests decide how traditionally or indulgently they dine.
"The idea was to bring a sense of fun to the table," Alléno explains. "People should feel that if they need something, it will be there."
Alléno's belief in personal choice and offering alternatives will not scare away diners, whereas Chris Horridge's menu, fully gluten- and lactose-free, is an all or nothing affair. Recently featured as one of the world's best hotel restaurants in Condé Nast Traveller's annual Gold Awards, he rightly believes that the food speaks for itself, but admits that his mission statement might put some people off.
"I don't know if we attract a niche market," he says. "We do have tables of eight who book because one of their party is lactose or gluten intolerant. But it's not unusual to see the other seven returning independently."
A former sous chef at Raymond Blanc's Le Manoir aux Quat' Saisons, Horridge comes from a classical French background. Blanc was partly responsible for encouraging Horridge to find his own style.
"Healthy food does not have to be tasteless."
"I started looking into wild herbs and flowers," he reveals. "When I consulted a herbalist about their properties, it became apparent that what really interested me was the nutritional aspect. Everything grew from there."
After suffering a serious injury while serving in the RAF, Horridge created a diet that helped him make a remarkable recovery. But it was his mother's death from cancer that gave his crusade a higher purpose.
He works closely with the Cancer Research Fund and researches patient recovery times. "A third of cancers can be prevented through diet," he says. "Michelin recognition has landed us with minor celebrity status and I want to use that to give something back."
If this evangelical zeal explains why some critics have wilfully misinterpreted Horridge's intentions, time spent in his company leaves one with no doubt as to the genuineness of his intentions. Such a personal journey can be difficult.
"It's sometimes lonely," he admits. "I can't pick up the latest Ramsay cookbook or go to a rival's restaurant for inspiration. That's not to say that my work is better than anyone else's, but it is entirely my own."
Yannick Alléno lets another chef have the final say. "The sedentary lifestyle has become the norm," he begins.
"But Escoffier told us that food must evolve with the people. If that means creating something new or taking what is classic and making it work for today, that is our responsibility as chefs."