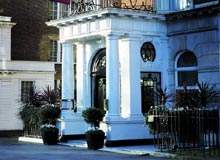 When it comes to booking a hotel room online, consumers understand that by using a variety of websites or hotel metasearch engines, they are able to choose accommodation matching their criteria. One of the crucial factors in their final decision is a competitive price.
In the same way that consumers shop to see which hotel offers the most favourable rates, hoteliers must keep a close eye on their competitors to ensure that they price themselves within market conditions.
With an increasing percentage of reservations coming from third-party distribution websites, hotels are forced to participate in a race for customers. These websites require continuous maintenance and monitoring, which is a necessary but complex and time-consuming task.
"Hoteliers must keep a close eye on their competitors."
Voted one of the best new hotels in the world by Condé Nast Traveller in 2005, The Cadogan Hotel, situated in the affluent London suburb of Knightsbridge, is one hotel that monitors and understands its market position, allowing for proactive decisions on how to maintain and enhance revenue through the rates it distributes across its online sales channels.
Recognising the growing significance of the internet as a point of sale, while at the same time experiencing first-hand how time consuming and difficult channel monitoring and management can be, The Cadogan searched for an application that supported the monitoring and updating of online distribution channels. It found that Rate Tiger, which has been developing channel and revenue management products since 2001, had the technology to meet its requirements.
In 2006, The Cadogan started by installing RTAllocator, a tool that simplifies the process of updating third-party distribution websites. The hotel was so impressed with the quality of the product, it decided last year to upgrade to RTChannel Manager Pro, a suite that allows all-in-one benchmarking and updating of websites.
Chas Katthran, revenue manager at the The Cadogan, has worked with RTChannel Manager Pro for the past 18 months and admits it has become an indispensable tool for managing the hotel's online distribution.
"We chose Rate Tiger's RTChannel Manager because it's a comprehensive and easy-to-use application," he explains. "We now have a clear overview of our competitors' rates, so we can make informed decisions for our own prices. RTChannel Manager lets us act on these decisions by making quick and easy updates to the 23 sites through which we sell rooms."
The product features include on-demand, real-time rates as well as weekly benchmarking reports, a quick-update function for long date ranges, rate parity across all channels, single currency updates and sold out or low allocation alerts.
"For The Cadogan, rate parity across all the sites is a crucial part of our revenue management strategy," Katthran continues. "We are able to view all of our rates on one screen, which makes the process of ensuring rate parity easier than ever. This product means I can implement our online revenue strategy quickly, efficiently and accurately, leaving me more time to devote to other aspects of my job. We make daily updates, so carrying out this process manually isn't a feasible option, especially if we want to make the most of the market," he concludes.