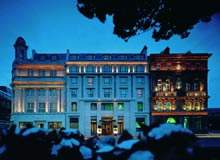 Revenue management systems (RMS) have completely changed the way modern hotels operate, providing a reliable source of information that can help to maximise RevPAR. As with any new technology, RMS is constantly evolving, and some of the latest systems on the market offer sophisticated and indispensable benefits for hotels.
Andrea Carrillo Bianchi, director of business development, distribution and logistics for Europe, Africa and the Middle East at Micros-Fidelio, believes the latest RMS can be useful in helping to manage rooms more efficiently. "Every hotel has a limited capacity of space to sell and each unsold room is a perishable good," she explains.
"Optimising occupancy and revenue is key for profitability. A revenue management system supports the hotelier strategically in the process of finding the best price at the right moment, to maximise the revenue and profitability of a property. It includes in the equation several factors, such as demand sensitivity – in other words, the willingness of the guest to pay a certain price – for the competitive situation, and the price elasticity based on past data and forecast."
"Revenue management systems have completely changed the way modern hotels operate."
Rather than replacing staff, RMS can help employees to work more effectively. "A great RMS escalates the culture of revenue management in a hotel and in the whole organisation," says Heather Ross, vice-president of revenue management for Starwood Hotels & Resorts EAME.
"No system will ever replace the human touch but the right tools will ensure that they work effectively and keep up with the world racing around them." At Starwood, RMS is used to help hotel-based directors of revenue management to perform speedy, sophisticated pricing and inventory decisions, and to optimise RevPAR in all market conditions.
Level best
The new generation of RMS is undoubtedly more sophisticated than its predecessors, and, as Bianchi explains, is capable of integration with various sources within the hotel in order to forecast and calculate price level. "The latest systems are able to use price information created by rate shopping software that screens the competitive set of a property and its public rates to calculate a price level," she continues.
"They are also able to integrate with the PMS and CRS, as well as with channel management and business intelligence software, communicating back to the hotel systems the price to be applied in a specific period. For example, the OPERA revenue management system is totally integrated with the PMS and CRS, with no interfaces to maintain. Information is created in real-time, with a high accuracy of ADR and RevPAR forecast. Events that can influence the transient demand for a property, such as trade fairs, shows and holiday periods, can be pre-configured and their impact will be calculated."
Ross considers that, in the past few years, RMS has dramatically changed the way in which hotels operate. "Data-driven decision making is possible in a way that it never was before," she says.
"We have better insights into customer preferences and behaviour, and can therefore create rate products that best suit demand. There is no question that the introduction of these systems has had a dramatic effect on our sales and revenue management operations."
Staff training
The installation of such systems necessitates some form of induction for staff. "Implementing a revenue management system brings with it a heavy obligation for training, creation of policies and procedures, and user support," adds Ross.
"Installations can easily fail without the correct attention to training. As RMS evolves, a commitment to education is essential to success."
Bianchi agrees that training is critical if the system is to work effectively. "The success of such training depends on how much revenue management know-how and understanding already exists at the property," she says.
"E-learning software with basic principles of revenue management should always be available to support the more technical training related to activation and configuration of data in the RMS. Assuming that this basic knowledge has been built, the hotel staff should be able to learn in a day how to use the software."