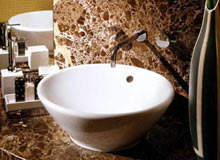 In the high-profile world of hotel design, the stakes are high. Competition is rife and guest expectations exacting. One of the things guests want to see in their hotel, particularly in the luxury sector, are bathrooms that are more than just utilitarian add-ons to guest rooms.
So, increasingly, designers need to bring imagination and energy to bathroom design. But far from being a chore, designers are relishing the challenge and are using a range of approaches and materials to create striking bathrooms that are triumphs of design in their own right.
MATERIAL WEALTH
For Maria Vafiadis, founder of the acclaimed London-based firm MKV Design, the task of creating original and contemporary bathrooms requires an all-encompassing approach: "People are using much more colour now, but it's not just about colour, it's about texture as well. So it's not so much a case of "let's do red or blue" as "let's do something interesting"."
Texture adds definition to a room and can be introduced by using a wide range of materials. Vafiadis believes there has been a revolution in the production of materials, and designers are making the most of the diverse selection available.
"The task of creating original and contemporary bathrooms requires an all-encompassing approach."
"There's great opportunity with the materials that are around now," she says, pointing to the new rich and durable ranges of glass by way of example.
Glass is certainly a favourite of Jan Wilson of RPW Design, another leading London-based interior design studio.
Wilson makes use of enamelled glass, but also adds to the glass to achieve unusual and arresting effects. In the luxurious Infinity Suite at London's Langham Hotel, the RPW team used glass with silver leaf applied to its reverse side.
"There are great expanses of mirror in the bathroom," explains Wilson, "and the antique silver effect of the mirror softens the atmosphere, like adding candlelight to the room. It's like an old mirror, but it has a very contemporary finish."
The array of materials available now is also giving designers the scope to create a rich range of mosaics, a favourite decorative feature from ancient times, that is now making a dramatic comeback.
Mosaics can be made out of a whole range of materials, including plain or cracked marble glass, pebbles, steel, ceramics and wood.
Vafiadis used a diverse selection for one recent project. "In the Style Hotel in Vienna we installed plain Italian glass mosaics on some walls, but one wall has a strong, colourful mosaic as a feature, so colour and texture are used together."
In a new resort project in Greece, she is using pebbles and marble, and she is enthusiastic about the effects created: "The smooth texture of the marble contrasts well with the texture and different colours of pebbles, which we're using in a border."
A DASH OF COLOUR
Whatever the obvious attractions of colour, designers use it carefully – particularly in bathrooms. Designers will usually choose white sanitary ware because of the perceived idea of cleanliness.
"This is always a top priority in a city hotel," says Wilson. "White sanitary ware looks light and bright. Staff can clean it better and it doesn't date; it's a classic."
This accounts for the reluctance to use colour in sanitary ware. "For a project in Barcelona, we were considering putting in a carved stone basin to match the floor and add variety," says Wilson. "The one concern, however, was that people thought that the beige stone looked a bit dirty, so we may not use it at all."
Designers, however, often face a conflict over whether the whole bathroom should be white and light or feature colour. White can make small rooms look large, but it can also appear too clinical.
Vafiadis believes that a totally white look is not particularly fashionable, unless it is being used as part of a particular design scheme, like a minimalism-inspired project.
"You can't generalise; it can depend on the style of the hotel," explains Vafiadis. "If it's a completely minimalist scheme, white or cream can be used, and that may be fine. Cream is used at the moment in some projects, but then it may be mixed with something like dark wood. People are now interested in contrast more than uniformity."
Designers are therefore looking for imaginative ways to introduce colour into bathrooms, and advances in materials provide opportunities here too.
"Guests want to see bathrooms that are more than just utilitarian add-ons."
"The days when you had to have a fully tiled bathroom are over," declares Wilson. "It's better to paint, and water-based paint gives a good sealed finish. There are special paints made for bathrooms and kitchens like the Dulux range, and they absorb steam and water well. This allows designers to have feature walls or other elements to add interest and drama, and they can also be made of materials like coloured glass or mosaics in good colour combinations."
For many designers, the most striking way to introduce colour is through lighting. While paint is a static intervention in a room, light can be modulated to enhance atmosphere and influence mood, providing two effects at the same time. Coloured lighting can be introduced too, not directly through light fittings but in other ways, like wall niches.
Coloured light has been used to spectacular effect in the Langham Hotel's Infinity Suite. "When we were asked to do the project we wanted a state-of-the art Kohler Chromotherapy Bath for relaxation,' says Wilson. It's the second one ever installed in the UK and the bathroom was designed around it."
A top lighting system was also built in. "You can adjust the lighting through a pre-selected array of colours, which can be projected onto the bath and help you change the mood of the room."
Although colour needs to be used judiciously, Vafiadis hails those who are drawn to strong colour schemes. "I think people can be very courageous and go for bold colour, although there's a little danger in this, as some colours can be in fashion one day and out the next."
But if designers want to go with what is popular, they can opt to make fashion statements in elements that can easily be changed later, so that the whole colour scheme doesn't have to be reworked.
"I'd say don't paint the whole wall lime green, but rather have a lime green vase," advises Vafiadis. "You certainly don't want to be redoing bathrooms all the time. So yes, use colour and be bold, but be careful too and don't do crazy things in a medium that is hard to change."
ADDED PANACHE
For real panache, hotels should consider adding some accessories to add colour or interest. Paintings and artwork can completely change the atmosphere of what has traditionally been seen as a purely functional space. Small-scale sculptures and vases add allure and can take guests by surprise.
Wilson often uses paintings, but cautions that this depends on the ventilation in the room. She is an enthusiast of 3D pictures, often deep framed and featuring pebbles and other objects that fit well schematically with the room and the environment.
The more overlooked items in the bathroom can also add a new dimension, says Vafiadis: "Things like soap dispensers can be very important in their contribution to the overall look of the bathroom. The packaging of the toiletries, for instance, should blend in with the whole look you're trying to create. All of these sorts of things should look good together."
Other items that are often overlooked are towels and bathrobes, but Vafiadis has seen a shift in attitude. "These don't necessarily have to be white – they could be cream or a colour – and they also add to the overall effect of the room and provide a homely feel. Whatever helps create a uniform look is a plus."
DIFFERENT NEEDS, ONE DESIGN SCHEME
Designers are keen to stress all the developments in the world of hotel design, and there are a variety of different, but equally legitimate, approaches. "London's City Inn, for example," says Wilson, "has simple, functional, all-white bathrooms. What works and is appropriate in a bathroom depends on where you are and what market you're appealing to."
In the recently revamped Waldorf Hilton in London, a RPW project, many of the newly styled guest rooms do not have baths. "Many business travellers are men and they prefer showers," Wilson explains.
"The packaging of the toiletries, for instance, should blend in with the whole look you're trying to create."
Vafiadis's current project, a boutique hotel in Greece, will have 40 suites and bungalows, all of which will have different bathrooms, emphasising the individuality of the guest areas.
However, the designers say that while they have to be responsive to their client's particular needs, their main concern is to ensure that the bathroom complements the design scheme of the entire project and functions as a natural extension of the guest room.
As the bathroom now has a different association for the guest, there is no longer a barrier between it and the bedroom. That means that designers can be more creative about the partitions between them. On one project Vafiadis has used two glass panels with material between them to separate the bedrooms and bathrooms.
In the Russell Hotel in London, Wilson brought the colour from the guest room to the bathroom and added mahogany joining to create more interest. "In this way, we kept the background light, but it was more fun. It helps you take away the bathroom feel and bring the look of the bedroom to the bathroom. A flow-through design also makes the bathroom look bigger."
Both Wilson and Vafiadis approach bathroom design with zest and find the increasing guest appreciation of stylish bathrooms very gratifying.
Vafiadis says her firm receivesa lot of feedback about the bathrooms it designs, and she adds with a note of satisfaction: "Guests like a well-done bathroom, even more than a well-designed room. The revolution is in the bathroom, not in the bedroom."