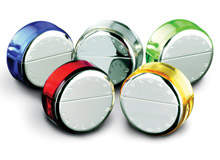 Bathroom toiletries have become one of the items guests expect when they enter their hotel room. While internet connections and fax machines may be much-needed business tools, it is the miniature soaps and shampoos that add the thrill factor to a guest's stay.
Most hotels now provide a selection of toiletries ranging from practical and unadorned basics to an array of luxury and highly sought-after designer products.
And for those guests in the four- and five-star hotel categories, the range and quality of toiletries offered has become a more keenly noted aspect of customer service and one in which they do not want to be disappointed.
HOTEL PERSPECTIVE
"Guests expect to find good quality toiletries in their rooms," says Lady Anna Blackett, owner of the luxury country house hotel Matfen Hall, near Newcastle upon Tyne in the UK.
With the hotel toiletries market emerging as a fiercely competitive arena many suppliers are approaching Matfen Hall. Many factors influence the manager's decision of what products to stock and that includes the price, quality and appearance of the range, as well as how it suits the hotel's image and services.
At Matfen Hall, guest rooms are stocked with Gilchrist & Soames products, which were selected for their quality and fresh aloe vera fragrance, and how they fit in with the image of the hotel's spa. Guests are provided with soap, shampoo, sewing and shoeshine kits, and in premium rooms bath crystals are offered.
"Guests expect to find good quality toiletries in their rooms."
The company's flexible range of types and sizes were a key factor in the decision to use their products, according to Blackett: "They have 30ml and 50ml containers,' she says. 'We chose the 30ml range as it ensured that there wasn't too much waste."
Presentation is also important in toiletries. "You have to chose a company that has good packaging as well as a wide range of products," Blackett adds. "If you want to offer a mending kit and shoe polisher and your chosen supplier doesn't have them, you'll have to get them elsewhere, so you can end up with a mix of products, which doesn't always look good together."
In the long term, the hotel is considering developing its own range of products, but in the meantime, Blackett is satisfied that the Gilchrist & Soames products match Matfen Hall's image and its guest expectations.
Large hotel chains also select amenities carefully and not all of them opt for one supplier. Like Maften Hall, the choice is made to ensure that the range of products fits the hotel's image.
Toiletries are crucial to Hyatt hotels in terms of the marketing and success of the brand. Focusing on the Park Hyatt brand, each Park Hyatt hotel has an individual supplier of toiletries to match the character of the building and its customer base.
In the recently opened Park Hyatt Milan, the toiletries in the guest rooms include shower gel, balsam, a body lotion, shampoo and vegetable soap, which are prepared and packaged in Italy.
The fragrances were developed by Laura Tonatto, whose company, Laura Tonatto Fragrances, is based in Milan. She creates exclusive perfumes and cosmetic lines for celebrities in sport, entertainment and fashion as well as for hotels.
The Orient Express Group is another establishment that has more than one stockist of toiletries. Guests will find products made by Molton Brown, Bvlgari and Penhaligon in its properties.
In Florence, the Villa San Michele stocks an array of Bvlgari and Penhaligon toiletries, which it selected in 2002.
It is not too difficult to work out why these brands were chosen. "Our guests appreciate the high quality and that's why they love brands like these," says Danyza Contreras, public relations manager at Villa San Michele. "They're always taking the Bvlgari body lotion home with them." But the market is also getting increasingly keen, she adds, with fashion houses such as Armani now entering the sector.
At Accor, the French-based international hotel group, toiletries are selected across a range of its hotel categories. "The company doesn't believe that hotel toiletries influence a guest's booking decision, but we do recognise them as being a very important guest service," comments Helen Sundaram of the group's UK office. "The toiletries are selected to reflect the values the hotels want to promote."
Roger & Gallet products are stocked in the luxury Sofitel hotels and Accor Thalassa Marine products, an Accor brand, can be found in the three- and four-star Novotel hotels. "These fit nicely with the next-generation Novotel image," says Sundaram.
The group's mid-range Mercure hotels use Unbrin de Nature. The two-star Ibis hotels offer fewer products and use DOVE, a well-respected but less expensive brand. In the super budget Etap and Formula One properties, hotel-branded products are available. "We're also trying to select brands now that we think are environmentally sound," Sundaram remarks.
MAKERS AND SHAKERS
For established toiletries companies, as well as new entrants such as Armani, the hotel market is clearly proving attractive and a growing source of income and exposure.
UK company Molton Brown, which produces high-quality skin and beauty products, has made great progress in the market for personalised amenities since it launched a dedicated hotel, travel and leisure division in the early 1990s.
"We've continued as we began, with a hand-picked group of the finest hotels around the world," says the company's marketing and media manager. "The sector is surging in importance. As well as being a revenue stream, many of our long-standing customers first experienced Molton Brown in a luxury hotel."
In the last year, the company has restructured this division, taking most distribution back in-house and creating a new bespoke menu. Now, for the first time, hoteliers can select from the company's complete bath and body collection, which has been available only in retail outlets and in new miniature amenities packs made in Molton Brown's main production facility in the UK. From this range, hoteliers can choose products that suit their location and environment.
Given its heightened interest in this market, hoteliers are increasingly looking to create the feeling of either a 'home from home' or a private therapy space in their hotels. By offering a full retail range of products, customers should find both their favourite products as well as new ones.
While the hotel toiletries sector is extremely competitive, the company that shows innovation and product quality is most likely to succeed.
Bvlgari, the luxury goods company, has been a later entrant into the market having established its hotel toiletries business in 1997. It supplies bath and shower gels, shampoos, hair conditioners, body lotions, soaps, soap with glycerine and sachets, designed to be attached to the tap to release soothing vegetal extracts.
Bvlgari has become one of the most popular in-hotel brands and the list of establishments it now supplies reads like the who's who of the hotel world and includes: Orient Express Hotels, Mandarin Oriental Hotels, Ritz Carlton, Intercontinental, Four Seasons, Shangri La, Warwick Hotels and the Starwood Group's Danieli Hotel in Venice.
Others have recognised the importance of the market, such as Paris-based hotelier, Grace Leo-Andrieu, founder of GLA International, a hotel management company that specialises in small, luxury hotels worldwide, including: the Hotel Montalembert in Paris, which opened in 1990, and is an early star in the design hotels category, the Clarence in Dublin, and the Cadogan in London.
"While the hotel toiletries sector is extremely competitive, the company that shows innovation and product quality is most likely to succeed."
When Leo-Andrieu launched the Montalembert, she was unable to find a range of products she really liked so she created her own hotel fragrance and amenities range in 1996, called Contemporel, which features bath and shower gel, shampoo, moisturising lotion and soaps, and comes in various sizes. It also comes in a choice of gold or silver packaging, which can be selected to complement hotel interiors. The products are available in four- and five-star hotels shops and via the internet in Leo-Andrieu's recently launched hotel lifestyle catalogue.
USERS GUIDE
Although competition in the amenities field is keen, the area is now one that hotels cannot afford to ignore. A survey of female frequent travellers reveals that they rely on the high category hotels where they stay to provide a good range of toiletries.
Part of this is purely practical. Going to hotels that supply shampoos, conditioners and body lotion makes packing easier and cuts down on baggage weight.
Hotels in some countries, such as Japan, provide a wider group of products for guests than are typically offered in Western hotels. These can range from small hairbrushes to toothbrushes.
But the impact of what is offered is not purely pragmatic. The travellers confirm that they always note the quality, packaging and brand of the toiletries, which can reflect the image of the hotel.
The standards of the products should be consistent throughout, from food to room fittings to bathroom amenities. And, of particular interest to suppliers – many travellers have bought products as a result of trying them in hotels.
Having a good selection of products is, it seems, the deciding factor in the battle for the hotel toiletries market.