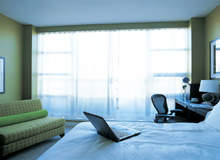 In the beginning there was internet access and email at the office, and eventually this new technology reached the home.
Then people began to miss being connected when they travelled. Suddenly, hotel connectivity was important – and not just in guest rooms, but in meeting and conferences spaces too.
The availability of high-speed internet access (HSIA) only increased client expectations. Hotel managers soon had clients who wanted 40 attendees to be online during a training or sales session – help was needed.
Some companies were quick to respond to hoteliers' increasingly complex technology conundrums, and their rapid rise in business is testament to the dynamic growth of HSIA in hotel conferencing. Three such organisations – Cisco Systems, iBAHN Europe and Swisscom Eurospot – are servicing the burgeoning market in Europe for hotel technology support, and have found that there is plenty of scope for selling high-level solutions.
EARLY DEVELOPMENT
The level and nature of demand for HSIA services in Europe has lagged behind the USA, but Europe has been catching up fast. In the USA, HSIA services started around seven years ago with fixed access.
It arrived later in Europe and Asia, but while many people in Europe are still using wired internet connections, the demand in Europe is also being fuelled by the development of wireless (WiFi) technology.
"Hotels have been conservative adopters of new technologies," remarks Andy Thomson, Cisco's business development manager for construction, hospitality and real estate in Europe, the Middle East and Africa.
"But now we are seeing an encouraging trend for hotels to make strategic investments in their networks to improve guest services and increase operational efficiencies."
Two or three years ago, he says, HSIA was an area of differentiation between hotels. "It started in hotel business centres where only a few guests had access to it. Now it is seen as a necessary requirement to compete."
Initially, providing HSIA solutions to the hotel market was not that easy, and the technology companies had to be savvy to attract business, says Graeme Powell, managing director for iBAHN Europe, established in 1998.
"We had some difficulty selling technical conference services, as people didn't know what to make of them," he says.
"Hotel staff are experts on food and beverage services and beds, not technical services. So the person buying didn't understand the field; they just knew they were important."
iBAHN responded by developing an 'easy to buy and easy to sell' package for hotels. "We'd ask "Do you have any technical needs?" and they'd say "Yes" and we'd say "We can do it for you."
"Marriott, Hilton and Rocco Forte Hotels wanted iBAHN to supply their HSIA services, but they wanted people to feel that the services were coming from them, so iBAHN offered a managed branded solution including call lines, enabling them to talk to the end users. If the client handling the booking didn't understand what we were doing, we'd ask to be put through to their IT department. From them we could find out what computers and software they had and build a bespoke solution."
Although hotels soon became acquainted with the basics of HSIA services, providing them for hotel conferencing involves added complexities that require expert handling.
"In a hotel the guests all have different internet software installed on their laptops, so the network has to be compatible with all users' equipment," explains Swisscom Eurospot's Fred Gastaldo.
This is much more difficult than supplying services to one organisation and can often be overlooked, he says: "When you buy a line from someone like British Telecom, you have no control over the local area network. We design network hardware and connectivity that will work with any configuration. This is much more complex, but it means that we can control the environment. In hotels the average number of users who can't connect is above 10%. We can reduce that."
Some hotels use the same internet solutions used in guest rooms for the conference areas, which is plainly inadequate, according to Powell. iBAHN provides internet connectivity with a powerful connection (up to 100mg) to suit the hotel, which is activated for special events, and services are refined according to users' needs.
"Different guests have different demands." he explains. "To do top-class demonstrations on laptops for sales or training sessions, for instance, people need bandwidths which accelerate access for the duration of the event."
MAXIMUM SECURITY
Wireless technology was part of the next wave of developments to hit hotels and is particularly suitable for them, says Thomson: "It enables mobility and flexibility, particularly for something like a conference when you don't know how many people will be coming."
"Some services are wired but they are increasingly turning to WiFi connectivity."
But it has highlighted and intensified the general problem of security in using HSIA. According to Powell, it is common for hotels to use DSL for connectivity, but this technology provides no security for delegates' data at conferences: "Once we found that a hotel had used its back-office connections to provide the connectivity to guests. Guests could explore the hotel head office system."
Some hotel services are wired, he says, but increasingly, they are switching to WiFi connectivity: "This is transparent and it's very difficult for hotels to provide secure systems. How do you give people passwords in a public environment?
"It means that if we are both connected to an insecure wireless network, there would be nothing to stop you from seeing sensitive data on my laptop, including any personal data or corporate information."
In 2004, Powell toured London with a financial journalist to see how the wireless broadband services were working.
"In one non iBAHN-serviced hotel we had the potential to remotely see sensitive and valuable information, such as bank account details and personal files, from guests' laptops," he recalls. This is naturally a worrying state of affairs for many organisations whose information is not only confidential, but also highly valuable.
iBAHN is using the latest in wireless secure technology or wireless protected access (WPA). "We're trying to push the message to companies that this is now very successful," says Powell. iBAHN has also patented its own secure network design with end-to-end security.
Providing secure connectivity is also an issue when conference attendees want access to their internal office systems or virtual private networks (VPNs). "Companies implement their VPNs in slightly different ways," says Powell. "We offer a VPN certification programme and have 300 companies certified worldwide."
But users also need an IP address for connectivity to VPNs. "If you have ten people at a conference, they all want to get access to their corporate network and there might not be enough IP addresses available," he adds. "There are only so many IP addresses available, and we have the rights to a large pool of them, which we can allocate to conferences and partner hotels."
SERVICES ON OFFER
Hotels need to keep up with what is happening in the business market and ensure that they are keeping pace with developments.
"Users are more sophisticated now. FTSE 100 companies broadcast meetings over the web," says Fred Gastaldo. "These may even be interactive and people who want to attract business want to provide these services. Companies are now more demanding and advanced in the technical area."
In spite of this, companies can often do more for clients than they can for themselves. When one company wanted its sales team to use new software, iBAHN set up 60 laptops on which the 60 salespeople were trained.
"We reimaged all the old laptops and put the new material on them, so that they could do the training course," explains Powell. "We provide extra services."
Boosting events with imaginative extra services also enhances conferences. For one in-hotel exhibition iBAHN created a cyber cafe for the hotel, so that after viewing the exhibition guests could go online and see what the new client website looked like. "The hotel said "Great – we can sell more of that"," says Powell. "These are the areas where the demand comes from."
Both iBAHN and Swisscom Eurospot insist that, as well as hardware and software support and marketing solutions for hotels and conference organisers, they provide valuable customer support from field- and office-based staff.
iBAHN, which has offices around Europe, supports about 200 events a month around the UK and provides field support where necessary. All support personnelare permanent staff, not freelancers. Providing support during events is a key iBAHN service, according to Powell.
CHARGES AND BENEFITS
New technologies such as voice over IP, interactive multimedia and HSIA are giving hotels choices about what new services are delivered and by whom.
"Hotels can deploy their own services or have someone else do the work for them," explains Thomson.
If hotels choose to have the services delivered by a third-party provider, this has an impact on the revenue share model and how it shifts the majority of operational issues to the third-party provider – customer care, for example.
"Many hotels have high staff turnover, and if you have to train staff you must train frequently," notes Powell. "Third-party support may come at a price, but it can keep training costs low."
iBAHN Europe and Swisscom Eurospot charges are normally added to clients' hotel bills, and both have revenue share deals with hotels.
"As part of the initial process with the end user, we consider a client's needs and provide a quote," explains Powell. "Then the invoice is passed on to the hotel, added to the client's bill and we are paid directly by the hotel."
Swisscom Eurospot offers some standard products in hotels it serves, but larger, more individual events are charged on a one-off basis.
There are plenty of other new developments to look out for, with exciting times in store for the hotels that can embrace and get the most from their technology.