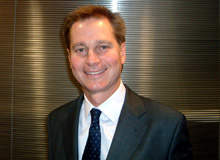 The term 'iconic' is often overused, but few can argue with using it as to describe One Aldwych, the hotel that has led the way in the hotel industry's design revolution since the late 1990s. Founded by visionary hotelier Gordon Campbell Gray, the success story of London's definitive luxury contemporary hotel has endured. Performance has been consistent, combining sound financial results with accolades from guests and the industry.
The hotel's general manager, Simon Hirst, has been leading from the front since the hotel opened in 1998. Known as a meticulous operations specialist, he has a reputation as someone who likes to get the little details right. His staying power in the job is rare, with nine years service and counting.
A RELAXED ENVIRONMENT
A meeting with Hirst in his lobby bar demonstrates that he inspires respect rather than fear amongst his staff. So the obvious first question to ask was: how do you apply rigorous five-star standards while keeping things so relaxed and friendly? "Ultimately, there is only one person who can motivate you and that is yourself. People provide great service only when they really want to."
But how does one recruit people with such a quality? "It's gut instinct combined with a structured assessment system," according to Hirst. "Within five or ten minutes of meeting someone you get a sense of how they will fit in. People radiate a certain positive energy that experienced interviewers can quickly identify."
This is a similar response to that of Hirst's boss, Gordon Campbell Gray, who stresses qualities such as generosity and kindness in his staff. One Aldwych's service philosophy is based on the idea of serving from the heart.
"People provide great service only when they really want to."
Does this intuitive approach sometimes lead to mistakes? "Of course you don't always get it right. Sometimes a person has the right spirit but just can't retain the information or techniques they need. Therefore you must be rigorous and fair. A hotel's departments all flow into each other, so it's important to create a culture where everyone takes ownership.
"If a guest asks a shift engineer about his laundry, then he has to take responsibility and deal with it. If you create leaders throughout your hotel with a sense of responsibility, you have the foundation for good service."
This culture of individual responsibility is not how all deluxe hotels operate, often relying on the safety net of learned scripts. Hirst believes in a slightly different approach. "When staff are trained to say the same thing, then guests don't feel individual, even if they mean well. We always encourage our staff to use their own words. You have to set the minimum standard and let people know that they must strive to reach it, but with individual flair."
It is one thing to achieve a high standard of service, but quite another to stay ahead. How does One Aldwych manage this challenge? "Our people are recruited for their emotional intelligence as well as their technical skills. Despite high expectations and the fact we are busy, it's important to create a de-stressed environment.
"If the staff feel pressure, this transmits itself to guests and you risk losing the relaxed ambience of the hotel. We show our team how to deliver a contemporary and open style of service without being overly formal. The impression a person gives is paramount both to guests and our own team members. It's subtle yet powerful."
EXPERIENCE AND MOTIVATION
There have been many influences on Hirst's hospitality career to date: "I was always ambitious to succeed in very challenging roles, but not necessarily in a great hurry. I believe that you should take on a new role only when you are ready. The preparation beforehand is vital. I was number two in three hotels in Asia and the USA before my first GM role. This provided valuable extra skills and confidence."
"You have to set the minimum standard and let people know that they must strive to reach it, but with individual flair."
What attracted him to manage One Aldwych, then an unknown and uncertain project? "At the time I was with Four Seasons in Asia. Although I wanted to return to the UK, I was wary about leaving such an established company. But there was something about Gordon [Campbell Gray]'s modern service philosophy and independence that attracted me; I believed passionately in the project and continue to do so."
Hirst has stuck with One Aldwych for a long period of time, keeping continually motivated: "What keeps me fresh is the success of our business, a philosophy in which I believe and the challenge of staying at the top level. If there's a failing, I feel instantly [motivated] to try and fix it."
What skills does a GM need to operate effectively? "I get a thrill from seeing people I have hired enjoy their jobs and find solutions. So I suppose the core competence is to enjoy spotting great people and balancing teams. It's also important to have a natural sense of responsibility."
So what of the future? Simon Hirst is now closely involved in the global development of Campbell Gray Hotels. "Being the GM of successful hotels was my first goal. Transferring my skills to help build a group of managed hotels is our next challenge, and one I am really looking forward to."