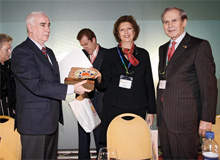 More than ever before, those who took the trouble to travel to Seville for the EHMA General Assembly demonstrated the true meaning of the association, as declared in our mission statement: friendship and professional improvement.
On the Friday we embarked on an interesting and informative education day. This year, which promises to be one of the most challenging we have ever experienced, attendees felt the need to refocus, regroup and retool, to improve our position and market share.
It was a good time to evaluate what we did well in 2008 – whether as a company or as a professional – and, in spite of concerns about the economy, to focus on making sure that we solve problems and outwork the competition.
The starting point of the day was with Juan Molas, president of the Spanish Hotels Association, speaking on social responsibility in hospitality, with special emphasis on shareholders, human resources and customers, and how socially responsible investments give better financial results.
After coffee break we were back to business with a bang listening to Jimmy Ponce of the Hotel Technology Institute. As we all know, those who do not update their technological knowledge will fall behind and, though no one in the room would identify with the Trip Advisor list of the top
twenty dirtiest hotels in the world, everyone felt the chill of fear when hearing how one dissatisfied guest can cause so much harm.
As Jimmy pointed out, we need to be creative, deliver more information to new generations, produce social websites in which we and our clients can participate, invest in ecological gadgets and respect clients' experience –whether good or bad. We sell experience and emotions, and we
need to listen to guests' opinions.
"This year attendees felt the need to refocus and regroup."
It is a fact of life that more and more clients decide which hotel to stay at by looking on Trip Advisor.
The afternoon offered an interesting panel on management in times of crisis with Deloitte's Nick van Marken giving a scary but realistic update on the economic disaster and expectations for the future. Margaret Ceres from American Express shared the company's directives, most of which are
applicable to our industry: stay liquid, profitable and close to customers, hold employees accountable for their spending, plan short-term strategies with long-term results, drive value through data analysis and benchmarking, and resist pressure on negotiation of room rates but remain open to change if necessary.
Hoteliers Michael Gray from London, Reinhard Wall from Barcelona and Carlo Suffredini from Seville gave an insight into the contingency plans being set up in order to prepare not only for worse days to come but for when the good days return. We must hold on to our standards, control costs, avoid waste, concentrate on customer satisfaction, and strengthen sales and reservations
operations.
Saturday was dedicated to association business and the afternoon to individual sightseeing of the amazing city of Seville culminating in a gala dinner complete with a superb flamenco performance.
During the gala dinner the winner of our hotel manager of the year award was announced. Paul Van Wijk is senior vice-president for Dolce Hotels and Resorts North America operations, responsible for nine hotel, conference and resort properties.
As we returned home at the end of our three-day marathon, we took with us some hope that the travel trends for 2009 may not be as gloomy as we had been led to believe. There is no doubt that the economic problems we are facing are unlike anything we have seen for decades and they are having a big impact on the travelling public and the tourism industry.
But in spite of the negative news the general perception is that not everyone is staying at home, but rather searching for creative ways to squeeze every ounce of value out of each travel experience. We may not like it, but this must induce us to practice excellence across the bottom lines of economic, social and environmental management.
"It is not the strongest who will survive, but those who are fastest in adapting to change."
Our general understanding and knowledge is growing about subjects such as global warming and climate change, which could have a disastrous effect on travel and tourism, so we cannot fail to consider humanitarian issues by offering a more caring and responsible business. We can be certain
that admired and respected companies attract investors, enjoy better customer loyalty and are able to recruit and retain high-calibre employees.
It's all about challenging preconceived ideas, questioning what we do and how we do it.
To paraphrase Darwin: in times of difficulty, it is not the strongest who will survive, but those who are fastest in adapting to change. Change is upon us and, with the strength of our experience, we will adapt and – of course – survive.
2008 EHMA Manager of the Year
Paul C van Wijk, senior vice-president operations, hotels and resorts USA division, Dolce International.
With 35 years' experience, Paul C van Wijk is the consummate hotelier. The former general manager of The Royal Windsor Hotel Brussels and The Warwick New York, and now senior vice-president operations, hotels and resorts USA division for Dolce International, van Wijk talks to Hotel
Management International.
What has been your greatest achievement?
The chance to work in lots of different cultures.
I worked in Johannesburg, South Africa, where I was the GM of the Sandton Sun Hotel before and after its opening. That was a huge opportunity to work with lots of different people, place the hotel in the market and also work very creatively with the staff there.
We had wonderful people to work with. They were eager to learn and many moved up through the ranks in the four years I was there.
Afterwards, I moved on to Turkey, where I had a similar experience opening a hotel in Istanbul. They were eager to get good results.
They chose a foreign operator and foreign manager to help set up their property.
I have been able to work in good quality hotels across the whole spectrum from front of office and administration to food and beverage, and management. So I have had the full operational picture.
Today you need to be very savvy in marketing techniques and revenue management. But you still need to be a people person.
What has been the biggest change in the industry over your 35-year career?
Of course it is the professionalism. It has become a mature industry, a career profession.
Today there are positions in the larger companies that constitute a career.
Do you think the role of the general manager has decreased in recent years?
No, that is not the case. I can understand that why one thinks this way because everyone has specialisms today, from marketing to food, which are more technical roles.
It is very difficult to keep pace with their knowledge, but this is the biggest challenge for a GM. I am not a chef but you have to know where to push the buttons with those people, and challenge them – and they challenge you.
What do you think is the biggest challenge of running a modern hotel compared to more traditional hotels?
If a hotel looks good, is nicely decorated and is located in a beautiful situation but doesn't work well, it won't live for long.
Staff retention has become a big issue for the hospitality industry. What more needs to be done to keep staff?
We need to select the right people. As an employer you have the responsibility to allow staff members to grow into a new role, and to help them grow further, whether it is in an individual hotel or part of a group.
At the same time I find most people are very satisfied, particularly in the big operations, where they can take ownership of their operations. I see that more in the US than in Europe.
How do you compare the work environment in Europe compared to the US?
In America they have improved a lot. The hospitality industry there was once lagging behind.
I travel a lot in the US and generally speaking standards of service are lower there than in Europe. There is less of an idea of finesse and of how you do things, which probably has something to do with the American way of life, the upbringing and the family.
There is still a difference in the detail of the service delivery.
How are you coping with the impact of the global slowdown?
Before I walk into any property, I take a couple of aspirins! It's very tough.
I am overseeing nine properties at the moment. Two are performing according to plan and the others are all struggling in one way or another.
How are we responding? We review every line.
Some managers do financial reviews twice a month now. It's like going back to basics, reassessing suppliers, being aware of what the markets are doing and offering more incentives.
We are being very proactive.
Dolce is a conference company. Have you changed your strategy as the downturn has affected business meetings?
Our strategy has changed for 2009. We need to operate in all three markets: conference and meetings, individual business travel and leisure.
Our occupancy is getting better. Even with the slowdown we are looking at an occupancy of 63% now.
How difficult is it to achieve customer satisfaction at a conference hotel?
Conferences are a great business because you work with a person setting up a meeting and they have given you a responsibility to do it well. The success story starts if you can read that person and what their needs are.
That is the principle of success.