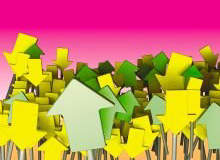 Despite the global financial slowdown, Accor kept its position as Europe's top hotel company with 2,246 hotels and 246,189 rooms in 24 European countries. In 2008 Accor had more than 18% market share.
Despite only 0.6% growth last year, Accor's brands Ibis, Mercure, Novotel and Etap Hotel are among Europe's top ten biggest brands.
There have been big changes in the rest of the top ten since 2008. InterContinental Hotels Group (IHG) is now number two, ahead of Best Western International. However the biggest jump is from Starwood Hotels & Resorts, which has strengthened its position in Europe with 254 hotels and 41,830 rooms.
Last year Starwood was 11th; now it is fifth.
Movements at the top
The worldwide number-one group, IHG, has consolidated its position in Europe at number two. IHG's Express by Holiday Inn continues to be a driving force in the economy category.
Its upscale Crowne Plaza is expanding across Europe.
After reorganisation linked to the takeover of Starwood Capital, Louvre Hôtels at number four is focusing on the future, having recently unveiled new concepts for Kyriad and Première Classe. At number nine, and with more than 100 hotels and 22,000 rooms under development, Rezidor has one of the largest growth plans in EMEA, which will bring it close to leaders Accor and IHG.
Eastern Europe and Russia remain key markets for the group that operates the brands Radisson Blu Hotels & Resorts, Regent Hotels & Resorts, Park Inn and Country Inns & Suites. In March, the Rezidor Hotel Group and the Regional Hotel Chain LLC announced a strategic development agreement for at least 20 Park Inn hotels across the Russian Federation.
Rezidor is also expanding into niche lifestyle brands with Hotel Missoni. The first European opening is in Edinburgh in May.
Now at number 13, Whitbread, with 532 hotels and 37,231 rooms, had the largest growth of 2008, with a 12.4% increase in room supply, thanks in large part to hotel brand Premier Inn, the market leader in the UK economic segment.
Despite its focus on developments in the Middle East and Africa, luxury chain Kempiniski, with 26 hotels, continues to expand its portfolio through Central Europe. Kempinski will enter Slovakia later this year with its Grand Hotel High Tatras.
A second Slovakian hotel in the contemporary new-build RiverPark in the centre of Bratislava is expected in 2010. Also due this summer is Kempinski's first property in Croatia, the 186-room Kempinski Hotel Adriatic, in Istria.
The group is also pushing further into the Baltic states.
Focus on: Starwood Hotels & Resorts
Starwood's global portfolio will number 1,000 properties this year and the group remains on track to increase its worldwide portfolio by 40% in the next five years. As part of its ambitious expansion, Starwood is to open 50 new hotels in Europe, Africa and the Middle East (EAME) by 2012.
Starwood is working closely with its proven development partners, and so is able to open hotels, even during challenging economic times. The planned opening of 100 hotels this year has Starwood Hotels & Resorts on track to have 1,000 hotels in its global brand family by the end of 2009.
More than 400 properties are in the longer term pipeline, 60% of which are outside the US.
Central and Eastern Europe remains the biggest driver in Starwood's EAME pipeline and accounts for nearly half of new projects. The strongest markets include Russia, Ukraine and elsewhere in Eastern Europe.
"Central and Eastern Europe remains the biggest driver in Starwood's EAME pipeline."
Starwood operates 250 hotels in EAME, with 116 in Central, Eastern Europe, Italy and the Balkans. There are 35 projects in development in these territories.
Of Starwood's seven brands, W is a key contributor to the company's growth in EAME. Since 2007, Starwood has signed nine deals to open W Hotels in the region and recently added London, Manchester and Paris to its pipeline.
It expects to open an additional 11 W Hotels this year, including W Barcelona. The hotel follows the W Istanbul as the brand's second hotel in Europe and its first in Spain and the Mediterranean.
Sheraton Hotels & Resorts has long been the dominant upper-upscale brand in EAME and the brand continues to grow in established and emerging markets, with hotels under development in Poland, Slovakia and Latvia. In 2009, The Westin Grand Munich Arabellapark will open, adding to the 2008 European openings of The Westin Grand Frankfurt.
Recent signings for Westin include new hotels in the UK. Le Méridien, which Starwood acquired in 2005, continues to grow. In 2008 Starwood opened its first aloft hotel.
This year the brand will open its first European aloft in Brussels.
Key trends for 2009
New chain hotel developments will stagnate in 2009.
European pipelines will slow down as development is scaled back until credit returns.
Despite this, in Western Europe there remains growth potential for chain hotels, as penetration rates are much lower than in North America.
The main development drivers in 2009 will be in Central and Eastern Europe.