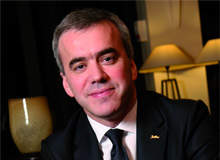 With ambitious ventures such as Horst Schulze's Capella Hotels and Resorts already finding the going tough and closing the doors to its €70m Castlemartyr property last year, and Marriott, having announced a 17% slump in sales for the final quarter of 2008, deciding not to launch its Schrager-inspired Edition brand until 2010 at the earliest, many within the industry are looking upon the next 12 months as a time for consolidation rather than expansion.
Clearly somebody failed to tell Rezidor, which rolls out its first two Hotel Missoni properties, in Edinburgh and Kuwait, in May and June of this year. Pair inopportune timing with the fact that this is not the group's first foray into the lifestyle sector – in fact, it's a question of third time lucky – and the early signs are inauspicious to say the least.
Yes I can
But Rezidor has bullishness built into its business plan. Kurt Ritter was extolling the company's "Yes I can" slogan when Barack Obama was still a Chicago community worker – he should have had it copyrighted – and the success of its core brands, not to mention the speed with which they have expanded, is testament to an organisation not prone to doing anything by halves.
This attitude partly accounts for the failure of Rezidor's previous two efforts within the segment to get off the ground. Its 50% stake in Malmaison was eventually sold to Marylebone Warwick Balfour following disagreements with the property developer concerning how best to expand the chain – Rezidor wanted to go global, naturally – and plans to develop a chain of Cerruti-branded boutique hotels proved impossible following a falling out between the head of the fashion house and the man who had originally brought the two parties together.
"Of course we'd have loved to have got in earlier," admits Rezidor's executive vice-president of brands Gordon McKinnon, "but those two previous experiences came down to corporate problems. There was never any doubt that we were the right people to develop the product."
As brand leader for Hotel Missoni, McKinnon has worked alongside Rosita Missoni for more than three years, steering, developing and defining exactly what will make the project tick. McKinnon arrived from Malmaison in 2002 – Kurt Ritter once described him to me as "the best thing to come out of that deal" – and acknowledges that gaining a foothold in the lifestyle segment "was on Kurt's radar" long before he arrived.
The problem was finding the right partner.
Enter Missoni
"Out of this financial crisis will emerge an entirely new vista in terms of what luxury means."
Missoni and Rezidor were brought together by interior designer Matteo Thun during a transitional period for the fashion house, with Rosita having just handed the creative reins to her daughter Angela, and the time did not seem right for either party. However, upon walking away from the Cerruti deal two years later, McKinnon and Ritter returned to have another look.
"We met literally in their backyard," McKinnon tells me. "In that environment, what was instantly clear to me was that here was an inherent hotel brand. It was their lifestyle, the innate style, the pride in artisan routes, the passion for food, art, football, relationships; I knew that if we could bottle just a small part of that and deliver it in an authentic way, we would have something extremely desirable."
The partnership was announced in November 2005, along with the initial target of having three properties open by 2007 and 30 in operation or development within ten years. "We've probably disproved the theory that taking an established brand name will get you to market quicker," McKinnon chuckles.
"People got very excited upon our announcing the concept, but they only really wanted to talk business once we'd opened one. The momentum has picked up the more tangible the hotel has become."
Making the hotel tangible has been an undertaking spearheaded by Rosita as creative director. While Rezidor's focus with Cerruti had been to impose particular elements of what it thought the hotel concept should be, McKinnon acknowledges that work with Missoni is more centred on how to operationalise rather than reinterpret the brand ethos.
This has been an intentionally gradual process but the real turning point came during a "short but serious" conversation concerning a chair.
"I wanted to know what Rosita would rather see in the corner of the bedroom," McKinnon recounts, "a Missoni or a design classic. She wanted the latter and that decision cemented our relationship. This wasn't going to be an extended Missoni commercial; we were building a much more eclectic experience."
McKinnon's discussion of the designers that one will find inside a Missoni property plays like a roll call of 20th century greats: Arne Jacobson, Eero Saarinen, Antonio Citterio, Charles Mackintosh – the list goes on. "You'll have these guys represented, but working within a Missoni palette," he explains.
"It is a very different approach from Armani's take, for example, which is to all intents and purposes an Armani/Casa showroom."
No cookie cutters
This is also indicative of a desire not to create a cookie-cutter product. The Edinburgh property, located on the city's prestigious Royal Mile, will be fitted in dark woods, blacks, whites and silvers.
"I knew that if we could bottle just a small part of the Missoni lifestyle and deliver it in an authentic way, we would have something extremely desirable."
The Kuwaiti hotel, part of a $130m mixed-development complex on the Salmiya seafront, will use a far more vibrant colour scheme, with gold replacing silver and the use of ceramics instead of wood. McKinnon is gearing up to announce three openings soon.
The exact locations were still embargoed as we went to press, but all three are resort hotels and one takes Rezidor into new geographical territory.
"The right site has to tick all the business boxes," McKinnon explains, "but after that it really becomes intuitive. We can set down guidelines in regards to room numbers, facilities, construction and architecture, but you feel it in your gut. People have spent a lot of time and money defining lifestyle or boutique hotels, but it boils down to intimacy; some 300-room properties have it, some 100-room hotels don't. The process is also opportunity driven, otherwise we could spend ten years waiting for the right site in Rome, Milan or Paris to come up."
It is not only on the design side that Rezidor will offer a slice of the Missoni family lifestyle; the starting point for the hotel's menu is a list of Rosita's favourite 20 recipes. "We've taken that, structured it seasonally and developed a means of creating those dishes in a consistent form and close to the standard she manages in her own home," McKinnon explains.
"Her influence is top to bottom, what we need to do is develop ways of delivering those ideas across a hotel platform."
But even design hotels stand or fall by their levels of service. Rezidor is rightly feted for its staggeringly high rates of staff retention and internal promotion, so it comes as a surprise to hear McKinnon admit that the plan had originally been to recruit externally.
"That was a huge step to take and we scoured the planet," he reveals. "At one point there were five sets of headhunters on the case, looking from New York to Sydney. We met lots of lovely people, but they were either too experienced or not experienced enough, some were overly tuned into the traditional hotel model and others were already too set in their own ways. We eventually came back and looked inside our own system."
This has resulted in general managers for Kuwait and Edinburgh being brought in from Radisson, a step far more in keeping with the Rezidor modus operandi. "We picked out the bright young stars capable of absorbing new rules and rewriting many of the old ones," McKinnon explains.
"Coming on board with Missoni meant learning many things afresh."
In the Group
This process also poses interesting questions about where Hotel Missoni will sit within the Rezidor Group: how closely associated with its parent company should a luxury lifestyle brand be? "People might tell you that we sit removed from the rest of the group and keep ourselves to ourselves, but that has been intentional to an extent," McKinnon responds.
"With something that is even moderately sexy, everybody wants a piece. The reality is that we are about to open two small hotels; the vast majority of people at Rezidor should be concentrating on our other 350. That's not to say that we're not a fundamental member of the group, simply that Missoni should not and cannot be a distraction."
In a sector still dominated by independents, possessing parental muscle is invaluable. Hotel Missoni's work alongside advertising gurus McCann Erickson, for example, displays a pull that most companies "unlikely to have a turnover in excess of £30m over the next couple of years" could only dream of.
"They've recently gone through a brand audit with all their clients, highlighting market gaps and opportunities," says McKinnon. "What came out of that was quite staggering and something we're told they've never seen before: Hotel Missoni is absolutely "on trend". They believe that out of this financial crisis will emerge an entirely new vista in terms of what luxury actually means; a movement away from overt opulence to something much more authentic and lifestyle based."
And McKinnon will continue to work alongside Rosita in order to meet that demand. Although the original contract stated only that the two parties would develop the system together prior to Rezidor rolling it out, their partnership has become something else entirely.
"Perhaps unsurprisingly for Italians it's very relationship based," McKinnon reveals. "They want to stay involved in developing the product and it would be crazy not to embrace that. We're closer now than we've ever been."
Despite present market conditions, McKinnon remains confident that Hotel Missoni can meet its target of announcing at least three new properties a year. Some analysts and economists might scoff, but perhaps they underestimate the power of family.