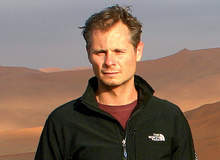 For me, a good hotel isn't about the number of mod cons you can cram in and whether there is valet parking or a shoe shine.
A great hotel is about location, it's about atmosphere, it's about style. It is, however, absolutely possible to find a great hotel without spending a fortune.
Cost doesn't equal quality. For example, in Venice there is a lovely six-bedroom place hotel called Oltre Il Giardino.
It has a community spirit without an agenda.
Favourite places
My personal favourites have to include the Ksar Char-Bagh in Marrakech, simply because of the attention to detail. It was built in the late 1990s but it looks and feels like a 14th century Persian palace.
The craftsmanship is amazing, the food is fantastic, the comfort is unsurpassed. When I was in Zambia I went to a safari lodge.
We walked during the day and arrived at our destination, where our tents were pitched, at night. You'd arrive to be greeted by a man with a silver tray, cold gin and tonics, and towels to wipe the dust off.
Dinner was set out on a table under the stars. Again, it was about the personal experience, which for me is essential.
I'd love to visit Amangani, the Aman hotel in Jackson Hole, reputed to have stunning scenery and some pretty challenging skiing. Another must-see is the White Desert, a luxurious eco camp in Antarctica.
"A great hotel is about location, it's about atmosphere, it's about style."
Nowadays a lot of the travelling I do is different: my last two holidays included a visit to Liberia to meet an ex-warlord about to be indicted on war crimes and ten days in Sierra Leone with a friend. Our accommodation was incredibly basic: a reed hut on the side of a river bank with a rather old, uninviting mattress, but it was wonderful because it was in the middle of nowhere, on the side of a river full of hippos.
I'm setting up a charity in Liberia to help rehabilitate ex child soldiers; it's focused on getting them off drugs and retrained.
Like all people I've had some bad travel experiences but one never wants to admit it. You come home and you remember it with far greater fondness.
I was once in Indonesia, aged 19, not realising that Muslims don't drink beer. A friend and I were on a very Muslim island, wandering into a village and asking where we could find beer.
In no time we were surrounded by a group of men with sticks in their hands. Another dubious holiday was one I booked on Teletext to see friends in Faliraki.
We stayed in the most hideous places.
Born of frustration
The Hedonist Guides were actually born out of frustration at weekends away. Six of us went to Budapest for a weekend and all we wanted was to eat and drink well.
We had three guide books with us and all of them recommended one particular restaurant as the best in the city. The maître d' was in white tie and tails, and everyone was in their fifties.
We were in our twenties, dressed in jeans and trainers. They ruined our night and we ruined theirs.
Later we couldn't find a bar so we went to the main square, and all walked in different directions, meeting again 15 minutes later to decide where to go. I thought this was a huge waste of time.
If you're away for 48 hours you need to get to grips with a city fast. You want to explore but you also need decent information to hand so you're not wasting time.
"If a place isn't worth going to, we'll tell you; we provide a filter."
Before that I was a painter, a head hunter in the city, I did a Master's and eventually what all daft posh boys do when they don't know what they're doing: I became an estate agent. For my sins I was selling large country houses but six months later 9/11 happened and the market crashed.
I was working half an hour a day. But I had a deep passion for travel long before the business, which came from my parents.
As a young man, my father was in the army, stationed in Kenya. He and two friends drove from London to Singapore in a Land Rover and my mother also did a lot of travelling when she was younger.
Taste test
When producing the guides it's hard to judge individual readers' tastes. What we want to do is have them judge our taste and therefore we make sure our taste is impeccable.
If a place isn't worth going to, we'll tell you; we provide a filter. We have fewer venues mentioned but we narrow them down to those that typify a city.
When I travel I always take a spare phone and buy a sim card because it's so much cheaper. I also always take a little bottle of iodine because it disinfects easily and can be used to purify water.
I often try to stay in apartments when I travel now. In LA, I rent a cottage in the hills.
If I'm in New York I rent a small apartment. It means staying in the areas I want to be in.
Interview by Cass Chapman