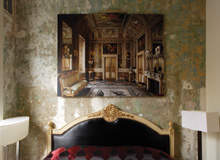 "I look on the internet and see some people hate it. That makes me extremely happy." Nobody can deny that London's latest addition to the boutique market will divide opinion, but these are not words one expects to hear from a first-time hotelier.
The Rough Luxe Hotel, brainchild of interior designer and architect Rabih Hage, is an outright rejection of the polished, overly conceptualised boutique; an exercise in what its creator refers to as "urban archaeology". In a Georgian townhouse nestled in a corner of King's Cross that gentrification forgot, distressed walls, scuffed floorboards and 1970s light fittings are juxtaposed with bespoke furniture, lavish prints and modern art.
Wallpaper has been pared back to reveal chapter upon chapter of the building's narrative and the designer has not shied away from reflecting tougher times as well as 19th century pomp.
Hage's stripped-down design approach is intended to lay bare the history of the house, which was run as a cheap B&B by an Italian family for the past 30 years. "I have kept the marble they installed in the basement, some chairs, fake Venetian lights and even the old televisions," he explains. "That family is as much a part of the narrative as the old Georgian wallpaper we revealed in some of the bedrooms."
For Hage, Rough Luxe translates as luxury in a rough part of town rather than a natural progression of "shabby chic", but can a hotel where only three of its nine rooms are en suite really be deserving of such a mantle? "Luxury needs to go back to its proper definition, perhaps as early as the mid-19th century," Hage responds.
"It should stand for something exceptional, a one-off experience built around craft, provenance and knowledge. So many luxury hotels have no imagination, meaning they cater for people without imagination. Perhaps that's the majority, but luxury should not be the affair of the masses."
Savoy salvage
Despite Rough Luxe's dramatic departure from classical forms of high-end hospitality, it also mischievously acknowledges more traditional elements through a number of design features. Hage was an enthusiastic bidder at the Savoy Hotel auction in December, walking away with china, cutlery, bedside cabinets and even emergency lighting.
"The Savoy was a grande dame in the classical sense: a great palace open to the people," Hage says affectionately. "Perhaps only the middle classes and those that could afford it, but that reflects the philosophy of luxury in the 19th century: something beyond the everyday, an experience to treasure. These acquisitions should be looked upon as symbolic purchases, stressing the lineage between us and them."
Hage has also explored this timeline through his use of mounted prints, an effort to broaden spatial perspective and a nod to the past. Trompe l'oeil photographs of cultural landmark interiors such as the Palazzo Altieri and the dome at the Duomo di Torino sit in rooms that can be less than 2m wide.
"The interior is a melange of voyages and experiences from around the world, which is an extremely English dynamic."
But does alluding to other, older experiences undermine Hage's efforts to explore the building's immediate heritage and create an entirely new concept? "I am building upon those themes," he responds.
"The house remains true to its heritage. The interior is a melange of voyages and experiences from around the world, which is an extremely English dynamic. An accumulation of elements tells the story of the British experience."
While Rough Luxe might be an experiment in "new luxury" design, Hage believes this has not been at the expense of the core principles of high-quality hospitality: levels of service will still define whether the Rough Luxe experience stands or falls. "Too many people buy the Ferrari but forget the engine," he believes. "I have built the hotel around my general manager."
His GM is not your archetypal Lausanne graduate. Hage first met Leo Rabelo six years ago, serving drinks in a neighbourhood bar.
"He had kindness and a natural flair for hospitality," he recalls. "Even then I thought we should work together, but I had no idea on what. Attitude is so important. The right people aren't necessarily the guys in hotel schools; they might be shining shoes or working behind a desk in the city. More effort should be made in the hospitality industry to find collaborators who have the right outlook on life rather than the right qualifications."
Guest list
Guests during Rough Luxe's first few weeks in operation have been similarly drawn from an array of backgrounds. "We've had everyone from the Swiss banker to the Italian designer to the French journalist," Hage tells me.
"They are all people looking for something different and are responding to our message. Many are attracted by the aesthetics, but discover that what sits inside the box is just as important."
For those responding to the message, Hage and his backers are rolling out the Rough Luxe brand, creating an online community of likeminded individuals and businesses, and expanding their property portfolio – the group has already bought a cowshed in St Moritz and a bodega in Spain. "We have crystallised what people have long been thinking but not daring to do," Hage claims.
"Luxury is about personal experience, not ownership of expensive objects or bling lifestyles. Provenance, knowledge and craft are its core principles; luxury cannot be banal."
"Banal" is not an accusation easily directed at the Rough Luxe Hotel. And if that upsets a few people, all the better.