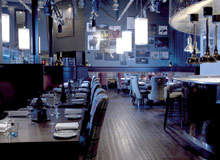 The '90s eurodance sensation Dr Alban is not often cited as having influenced a brand's dynamic, but then Malmaison is not your average hotel company.
It was while flicking between radio stations that CEO Robert Cook heard the artist's smash hit single It's My Life. "I knew I'd found the line," Cook tells me, chuckling at the memory. "'It's Mal Life'. We've built on that sentiment and it now encompasses the entire culture of the business: it is stressed at every induction, sewn on the sleeves of staff uniforms, guest bathrobes and slippers, even used as the title of our in-house magazine. Not every element of a brand is tangible"
The chain's focus on stressing the differences between a typical hotel and the Malmaison experience has garnered the boutique chain a great deal of respect within the industry. It stands alone in a segment dominated by independents and high-end luxury groups as a mid-market boutique brand with a taste for the theatrical, a strong emphasis on service quality and a relationship with its guests in which both parties are encouraged to "dare to be different".
Site seeing
Cook meets me in the brasserie of his London outpost. Overseeing a portfolio of 26 hotels – 12 Malmaison properties and 14 Hotel du Vins – the affable Scot sets himself the target of visiting six to nine sites a week.
"We'd wait outside the stage door at theatres and offer the cast jobs."
He seems to know everybody by name, greeting his front desk team and calling after waiters in the manner more of a frequent guest than group CEO.
"I could introduce you to 20 members of staff who have worked here since the hotel opened five years ago," he declares proudly. "Good service isn't rocket science; you employ nice, interesting people. Our brand is our people. It's the Schrager philosophy: you hire on attitude. In the early days we'd wait outside the stage door at theatres and offer the cast jobs as they came out."
Cook's career is testament to Malmaison's ability to reward talent. He opened the chain's Newcastle site as general manager in 1997, before moving up to the position of operations director.
Cook left the chain in 2000 to help Malmaison founder Ken McCulloch and formula one star David Coulthard open Monte Carlo's Columbus hotel, rejoining Malmaison four years later as CEO in 2004 at the age of only 38.
While Cook was away, Mal had its first flirtation with the big boys and, following failed partnerships with Wyndham Hotels and then Rezidor, the brand was in serious need of a shake up. "Mal needed life breathed back into it," Cook recalls.
"It had gone through the mainstream mangle and a lot of positive juice had been squeezed out. The sense of humour had gone. Having been there in the early days, I knew the spirit and philosophy that had made it such a good proposition for investors in the first place. They were simple changes to make, but that doesn't mean they were any less essential."
At that point Cook was overseeing seven hotels. The number has since risen to 27, in no small part down to the acquisition of "shabby chic" boutique brand Hotel du Vin (HdV) seven months into his tenure.
Mal's experience at the hands of new operators influenced Cook's approach to growing his new brand from the off. "I had seen what the vultures had done to Mal and I was not going to become one myself," he says.
"It wasn't all plain sailing – we saw some reticence to changes in procurement and new synergies – but we were never going to rip the heart and soul out."
What's new, pussycat?
Talk in the boardroom about changing the brand name "lasted all of 30 seconds" once Cook made his intentions clear and Mal has taken "a pussycat approach" in its efforts to update the look and feel of the hotels. He cites the importance of employing "brand custodians", unafraid to make their voices heard when alterations go too far.
"We needed to feminise the feel slightly and get the name out there," Cook explains. "I wouldn't call it shabby chic anymore, but it certainly retains a bohemian edge. The latest openings in Newcastle and Poole are next-generation HdVs but I could take [founder] Robert Hutson to either and he'd recognise that the original DNA is still there."
That DNA is certainly safer, older and more quintessentially British than a Malmaison – a close friend of Cook put it more succinctly: "HdV is where I'd take my wife; Mal is where I'd meet my mistress" – and this is reflected in the differing expansion plans for the two brands. While HdV will remain in the UK, with Cook citing 15-20 towns and cities yet to be tapped, Malmaison has been looking towards a move abroad for some time.
"The market is not really there at the moment," Cook admits, "but once things are a little calmer, we'll start seriously considering our options. It comes down to where the opportunities are and that could be anywhere from the Eastern Bloc to the Middle East to India. Mal is quintessentially an international brand and when we move it will be en masse, doing ten or so in a region. It cannot be franchised; handing over control of something with as bespoke a nature as this would be a recipe for disaster. Where would I most like to see us launching a dozen Malmaisons? America. That would be the dream."
Efforts towards internationalising Malmaison have been undermined by the credit crunch and takeover talk. A deal with Vector Hospitality fell through in June 2007, followed by rumours last year that Marriott International had agreed a £700 million purchase, only for the American giant to get cold feet at the eleventh hour.
The asking price was then supposedly slashed to £650 million, but a lack of takers saw owner Marylebone Warwick Balfour (MWB) remove the group from the market (for now).
"The takeover has been put on hold and we're looking instead at building the brands," Cook claims. "My job has been protecting the business and the people inside it from all the speculation."
"It's far easier to run a busy hotel than an empty one."
Does he fear all the hard work already invested being thrown aside once a deal does go through? "The days of the cavalier takeover are finished. We've built something very special and any new owners failing to recognise that would be extremely foolish. Deals will be scrutinised like never before and anyone buying into something as niche as us will have to do some listening."
Economic downturn has certainly made prudence the watchword for any shrewd CEO. "2009 is a time for consolidation," Cook believes.
"In the days when the board challenged me to get the group up from seven to 30 hotels – how long ago they seem – money was easy to get and buildings were easy to find. What we lacked were the people. I took a lot of money out of areas traditional hoteliers might have been loath to, including marketing and sales, and I invested it in people development. That work can only help our chances of emerging out the other side in good shape."
Stay stable
Despite food and beverage revenue being marginally down on 2007 levels, 2008 occupancy and room rates were maintained at 79 % and £115 respectively. Cook admits that he and his team have had to be creative in order to keep things stable.
"Flat is good in this economy," he admits. "It's been a more aggressive sales approach and getting brutal on costs that the customers won't see. One needs to be creative with rates and slightly more promotionally led, but it's far easier to run a busy hotel than an empty one."
Malmaison and Hotel du Vin were born out of recession in the early '90s and it is their focus upon offering something different within the mid-market – in fact, Cook cites the more upmarket Firmdale group as their chief competition – that should see them through. "A cookie cutter approach receives the contempt it deserves and we cannot scrimp on the essentials or go down the route of short-termism," he exclaims.
"Now more than ever people are looking for more bang for their buck. That is the proposition we offer and it's what makes me comfortable about entering an uncertain future."
Daring to be different has served him well so far.