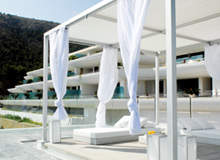 Four years in the making, the SHA Wellness Clinic is a family project led by real estate businessman Alfredo Bataller, whose macrobiotic diet cured him of life-long digestive problems that pills and potions had only managed to keep at bay. His wife and sons were inspired to eat the same way, saw their migraines and allergies disappear, and gave up their jobs to help create and run SHA.
The clinic is built on the site of the Bataller family's former holiday home, on a quiet residential road above the mellow Spanish town of Albir, part of the Natural Park of Sierra Helada. There are invigorating mountain and sea views from the balconies and rooftops, and the local terrain supplies easy and relaxing walks appropriate for people who will be naturally detoxing – a flat promenade beside the beach or a fragrant hillside stroll out to the local lighthouse.
Climate for wellbeing
Crucially for a wellbeing retreat, the area's microclimate has been recognised by the World Health Organisation as one of the best in the world. When I visited in the European winter it was beautifully warm and balmy.
Named after the Greek for long (macros) life (bios), macrobiotics is based on the belief that everything in the universe is made of chi, an energy that contains opposing yin (expansive) and yang (contracted) forces. The key to a healthy body and mind is to establish and maintain a balance of these energies, and at SHA that's achieved first and foremost by eating the correct foods.
The light-filled restaurant serves beautifully presented meals of fibre-rich, organic wholegrains, vegetables, legumes and pulses, with the occasional piece of fish, all prepared by a Japanese macrobiotic chef.
There's also a supportive programme of classes in yoga, meditation, chi-kung, macrobiotic cooking and food myths, and lots of natural therapies, such as shiatsu and reiki. The elegant and spacious spa is a delight, with its giant hydrotherapy pool, a foot spa walk, a separate pool with massage jet beds, a simple sauna and steam room, an ice machine and two showers.
There's no separate relaxation room where guests can go after a treatment, though I was more than happy to saunter back to the private space of my room, and the relaxing waiting area has a tea bar overlooking a small zen waterfall.
Design philosophy
The challenge for SHA's designer, Elvira Blanco Montenegro, was to fuse the well-being philosophy into her design. "I wanted to use different materials, colours and sounds to create a harmonious oasis that would give people peace of mind," she says.
It was especially important to create "a range of different atmospheres" where guests could feel relaxed, she adds, because they stay for longer than the usual hotel guest – a minimum of four nights but preferably at least a week, to make time for significant lifestyle changes.
The result is a design that reflects the meaning of the word SHA – Japanese for "brightness", Persian for "nobility" and Hindi for "exhale". Each of the clinic's five buildings is a gleaming, bright white, and large windows and open spaces ensure that natural light and fresh air flood the interiors.
Blanco Montenegro is rightly proud of her impressive main rooftop, with its infinity pool, vitality pool, calming water features and day beds.
I loved the SHApel, a large, high-ceilinged room with a giant photo of the outdoors running down one side where anyone can go for quiet time or to pray, and the spacious tawny-brown and Buddha-orange yoga and meditation studio, which is open 24 hours a day. The unusual use of silver throughout caught my eye – soft, shiny silver leather notebooks and silver kettles in the rooms, glittering tiles in the steam room, pale grey towels in the spa and silver menu cards.
"I loved the SHApel, a large, high-ceilinged room with a giant photo of the outdoors running down one side."
The feeling of uplift continues in the 93 suites. Each has a balcony, some with their own Jacuzzi, and the white and grey interiors are uncluttered and contemporary, with giant comfy beds and walk-in wardrobes.
Bathrooms vary in size – mine lacked a bath but I was able to have a lavender-infused jet bath at the spa instead. Not everything was perfect – the excellent Japanese Sodashi toiletries were lost in tiny, black plastic containers that were difficult to use, "do not disturb" signs were yet to be installed and, while the ringtone of the phone was unexpectedly relaxing, I couldn't call the spa from my room.
Creating luxurious suites that are also suited to a well-being retreat isn't without its challenges. To get a five-star rating, the family had to fit air conditioning throughout, which is one of the unhealthiest ways to heat and cool buildings.
The Batallers consequently fitted some of the suites with underfloor heating and fans. Cleaning needs to be sorted out – although a core part of the macrobiotic ethos is a respect for the environment, staff changed sheets and towels daily when I visited, and the cleaning products I spotted were not eco-friendly.
In the spa, massage beds had been chosen for their beauty rather than functionality and were without face holes – crucial if you want to zone out without straining your neck and shoulders.
Passion and commitment
Alejandro Bataller Pineda, chief development and communications officer, says that all these problems are being dealt with. What is obvious is his family's passionate commitment to the project and the enthusiasm with which they infuse their staff, who were gentle, knowledgeable and polite throughout my stay.
The clinic also has experts on its side – the natural therapies programme is headed by Bill Tara, a relaxed and personable Californian with more than 40 years' experience in macrobiotics, and the world expert in macrobiotics, Dr Michio Kushi, is to be resident at SHA for six months of the year.
In these credit crunch times, perhaps what the clinic needs now is a little celebrity endorsement – there's a presidential suite with its own rooftop pool waiting for the likes of Madonna or Gwyneth Paltrow, both of whom follow a macrobiotic diet.
SHA Wellness Clinic
Managing director: Alfredo Bataller Parietti