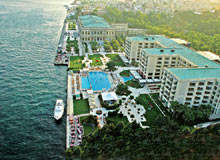 The global meeting and conference market may have grown by about 7% in 2007 but the forecast going ahead is less certain. As a result competition is becoming fiercer and brands are sharpening up their conference packages to retain market share.
Novotel, which built its reputation in the middle market over 40 years, recently consolidated its offering with the launch of Meeting@Novotel. The concept, led by brand director Pierre Lagrange in a joint project between marketing and operations, has been extended across 400 hotels in 60 countries.
Lagrange tells HMI: "The market has been quite dynamic and we are observing interesting changes. One is the reduction of events' length to one or two days. Also the size of meetings is much smaller, with 53% attended by less than 50 people in 2007, compared to 45% in 2006."
To capitalise on this, Novotel has established a multi-criteria search engine on its website, with extensive information on each hotel. Requests for estimates are also managed online and reservations confirmed by phone within 24 hours.
Lagrange says: "Our clients, agencies and corporate customers are going to the internet site, checking the destinations and then making bookings – this is an important and desirable change."
Now 82% of clients search for their destinations through the internet. The Meeting@Novotel concept also includes four distinct meeting types: Brain Train, for training; Go Team, for teamwork; Mind Share, to work on ideas; and Show & Tell, to present new products.
The variations are achieved through room layout, food and beverage choices, locations and the rhythm of the meetings, taking into account biological peaks and troughs.
And in France, the brand is trialling a new meeting concept called Eureka, specially designed for creative meetings to encourage people to share ideas.
"It works," says Lagrange. "People are being more productive and generating more ideas."
Other essentials for Novotel's 2,000 meeting rooms around the world are natural light and ergonomic furniture.
"There has been an uplift of quality across the industry."
Another critical route to success is the staff, who Novotel train in two key positions. Lagrange explains: "The first is sales people – people who are not only able to sell but to give advice, listen and really understand what kind of meeting the customers want. The second are the people who coordinate the meetings, taking responsibility for everything from A to Z."
Jean Bowcott, director of operations for Novotel UK, explains how the company recently piloted an additional training scheme for its meeting room reservation staff in London.
"We launched special sales training for the people who take the meeting bookings," she says. "These staff are not simply order takers.They are sales staff, and they need to be professional and informative."
This was followed with evaluation resource planning (ERP) to measure how staff perform and benchmark their service against other hotels. Bowcott also highlights Novotel UK's introduction of an online initiative to help staff forward a professional proposal to clients within 24 hours, using pre-formatted online forms and pdfs of brochures.
Innovations such as these set Novotel apart, according to Lagrange, in addition to the brand's historic legitimacy and consistent delivery.
At the luxury end, regional director of European global sales for Kempinski, James Phillips, also works to ensure the brand keeps one step ahead of customers' ever-increasing expectations in turbulent economic times.
He says: "The last couple of years have been a bullish time that has changed the market. The nature of conferences is changing and decisions are being delayed. But while the financial sector is uncertain, we are seeing others develop, such as the music industry, with artists using us for tours. Training has also become peak business and there is an interesting correlation with the economy as individuals choose to invest in themselves during tough times."
The other noticeable development is a focus on terms and conditions, with more frequent cancellations after contracts are signed.
"Flexibility is fundamental," Phillips explains. "We have just had this happen with one enormous piece of business that we were able to break into two and so protect our revenues."
He agrees with Novotel that customers are shopping around more and booking shorter events.
One way in which Kempinski seeks to retain its share of the luxury market is through consolidating its customer base by associations with acquisitive intermediaries such as Thomas Cook and TUI.
"We have a very unique footprint, which gives us an advantage."
Phillips says: "There has been an uplift of quality across the industry and customers have become more discerning. Customers' and intermediaries' expectations have increased. We haven't deviated from our position as a luxury hotel operator but we have had to adapt to a broadening of the luxury market."
However, Phillips says that Kempinski continues to corner the market with its ability to offer guests unparalleled experiences as they look for something beyond a "decent bed and good room".
The unique locations of Kempinski hotels allow this, he says, citing a MICE conference held in Istanbul overlooking the Bosphorus, and the company's Djibouti resort, recent host to an IMF meeting where guests swam with whale sharks. "That is something that is unique to Kempinski," he says.
"We have a very unique footprint, which gives us an advantage."
The brand also has world-class technology facilities at many hotels, including the Emirates Palace in Abu Dhabi, which with six translation booths could hold a UN conference and has hosted the launch of the musical Chicago and an address by George Bush.
Although technology is a given for the chain, it recently appointed a chief innovation officer to focus on improvements across the brand, including iPod docking stations, Internet Protocol Television (IPTV), and managing peaks and troughs in connectivity.
Phillips says: "We have always operated at that level to meet very high expectations. It's what customers expect and what we need to deliver."
With conferences and meetings making up about a third of the hotels' revenue, it's vital that Kempinski continues its year-on-year increases. And with 2009's events schedule including a high-profile car launch in Sicily and a watch show in Switzerland, the future looks bright.