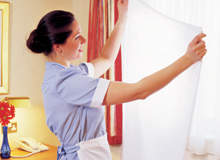 It is the nightmare of every restaurateur, head chef and F&B manager. When diners fall ill, health and safety get involved and the doors to your establishment are closed, the long-term effects can be devastating.
Never mind the money lost through weeks of enforced closure; the damage caused to the brand's reputation can be fatal, undermining years of effort and investment in the time it takes to publish a single news article.
The experience of the Fat Duck from late February into early March was a stark reminder that these problems are not merely the preserve of fast food joints, low-end eateries and street vendors. Heston Blumenthal's renowned restaurant – one of only three establishments in the UK to hold Michelin's highest accolade – was closed for 17 days following an initial 40 diners falling ill.
By the time it had reopened for service on 12 March – with food poisoning ruled out as a cause but the outbreak's origin still unclear – the story had garnered international press attention, seen the number of supposed sufferers jump by 360 and cost the restaurant an estimated £100,000 in lost revenue.
"The best kitchens I see are those where the leaders are genuinely aware of the potential risks and see hygiene as a critical priority."
Blumenthal's reputation as the most scientific and meticulous of chefs lent the story particular resonance; if a man who runs his kitchen in a manner akin to a chemistry lab fails to keep Health and Safety away from his restaurant, nobody is free from risk.
"It is important to understand that you cannot ever fully eliminate risk," Pedro Chidichimo tells me.
"What one should be aiming towards is finding the critical points of control and guaranteeing as significant a reduction as possible."
The EMEA president of JohnsonDiversey, a leading global provider of commercial cleaning and hygiene products and solutions, holds a bachelor's degree in chemical engineering and has been with the company since 1994. He has seen the damage that a failure to get to grips with hygiene can cause.
"Most restaurants will have their business and marketing plans in place from day one," Chidichimo explains, "but if they don't have the right processes in place to manage food safety and minimise risk, the entire enterprise is in danger. The discussion needs to be elevated beyond mere hygiene and cleaning and into the wider arena of risk management."
This becomes even clearer when one looks at the sheer complexity of the supply chain going into putting food on a diner's plate – something Chidichimo neatly summarises as "farm-to-fork". The Fat Duck, for example, sources thousands of ingredients from more than 30 suppliers. Simply taking responsibility for the standards of hygiene within one's own kitchen is never enough.
"One must drive compliance into one's suppliers," Chidichimo believes. "It doesn't matter if you're taking all the requisite measures in-house; a failure to appreciate what your partners should be doing and whether those standards are being met puts your restaurant in danger."
With the pressures and time restraints placed on a working kitchen, external assistance in this area can be invaluable. It is a demand JohnsonDiversey has sought to meet through the implementation of a consultation group dedicated to analysing and detailing the hot spots and risk management issues kitchens face on a client-by-client basis.
"We cannot recommend particular suppliers," Chidichimo acknowledges, "but we can outline the standards they should be meeting and, through a series of audits, controls and analysis, whether they are performing as they should. It goes beyond meeting minimum regulatory demands; we help customers move forward with their suppliers on the basis of the infrastructures in place and internal compliance. An ability to push hard on these guys is critical."
As the global economic downturn continues to bite, an increasing number of restaurants are struggling to move forward. However, with the pressure to slash overheads increasing, Chidichimo insists that this is one area where corners must not be cut.
"Lose perspective on the short term and you'll lose a lot of ground going forward," says the Argentinean. "Amid all the current turmoil, companies should be focusing upon building and consolidating as strong a brand as possible in order to emerge on the other side in a powerful position. Food hygiene is a critical investment in this regard."
"A conscious criterion to drive risk management into operations must come from the top."
That does not necessarily equate to a considerable spend, and Chidichimo believes savings can be made without success being compromised. "We are doing a lot of work with customers helping them become more productive," he explains, "reducing chemical usage and driving efficiency into systems, applications and training. It is also our responsibility to bring in products and solutions that help further drive these improvements."
The JohnsonDiversey regional president has seen more than his fair share of kitchens over the years and acknowledges that standards can vary widely. Despite all the company's efforts, his ability to make improvements is dependent on one thing.
"It all comes down to leadership," Chidichimo declares. "A conscious criterion to drive risk management into operations must come from the top. The best kitchens I see are those where the leaders are genuinely aware of the potential risks and see hygiene as a critical priority not only in terms of survival, but as part of their overall risk portfolio. This drives behaviour throughout the chain of command."
Getting leaders informed is a task that JohnsonDiversey takes very seriously and it is a message an increasing number clearly want to hear: food hygiene is the company's highest growth sector across the globe. "We are committed to creating a culture that delivers a safer world," Chidichimo explains.
"We've a responsibility to drive our business and the behaviour of others. If we cannot deliver advice and solutions that help our customers and the population in general towards this goal, we've failed."