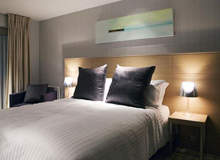 With global warming a growing concern, many people are looking at how their lifestyle choices impact on the environment. In this push for greener living, hotels are well positioned to appeal to guests by making basic but significant changes that will improve their environmental standarding.
Environmental improvements should use some form of the 'evaluate, plan, improve, and check' cycle: evaluate the available improvements and choose the most suitable; plan them in; make the improvements; and then check that they have worked. To make quality improvements, work backwards from customer to supplier. What is best for your guests is decided first and then an assessment takes place to see how this can be provided.
People with concerns about the environment can often see through claims that are just corporate lip service. The aim, therefore, should not be too preach but quietly show guests how easy it is to reduce their environmental impact. Beware, too, of 'greenwash'. Many energy and environmental improvements will actually save money but never perform a cost-cutting exercise and pretend it is for the sake of the environment.
Choose the measures that will have most effect. For energy improvements, this means deciding on the basis of repayment times. In general, while many improvements can be made immediately, some can be left for the next round of refurbishments – as long as they are actually planned and carried out.
Immediate eco actions
Staff should know the basics of environmental issues and training should include the turning off of lights, heating or air conditioning in unoccupied rooms. Stock fair trade products in the gift shop. In the kitchen, use local produce. Compost leftover food or give it to a local non-profit organisation.
Try to help guests make the best use of local transport, particularly rail and underground links. Provide information on local transport, walks, cycle rides, parks and wildlife. Coordinate staff car and taxi journeys. Some hotels are going even further than these measures, with Apex Hotels providing limited car parking (and none in London) to discourage guests from bringing cars.
" To make quality improvements, work backwards from customer to supplier."
Eco-conscious guests may also notice reduced use of packaging. Recycle items rather than bin them and do away with plastic cups. Recycling may require a separate container in rooms for paper/cardboard, glass and metals.
Guests staying more than one night do not always want fresh towels in the bathroom, so steps to make them aware that re-use is an option are becoming commonplace.
In addition, refillable hair and skin care dispensers are much better than individual disposable sachets. Use
recycled paper that is either unbleached or bleached using a chlorine-free process. Avoid chlorine and other harmful chemicals for cleaning where possible (ozone can be better for disinfecting water in pools).
Use natural daylight for lighting for as long as possible during the day and use low-energy bulbs in sockets that are often on. Compact fluorescents consume less than incandescent bulbs but contain mercury and so must be handled carefully. Light emitting diodes and are now appearing in versions bright enough to replace incandescent bulbs for many applications.
Window films can reduce heat loss and cut glare in guest rooms. Heavy curtains or secondary glazing are much cheaper than double glazing and can be almost as effective and need not ruin the appearance of windows in older buildings. External wall and roof plant rooms should be insulated, although insulating inside walls will rarely be worthwhile.
Monitor electricity, gas and water supplies at least monthly, and check out any unexplained increases. New equipment can greatly reduce water usage, for example, but a burst underground water pipe can lose all the hard-won gains. Good maintenance routines, such as changing filters, cleaning coils, adjusting dampers and checking thermostat calibrations, are essential for reducing waste.
Futurist refurbishments
One of the greatest sources of waste is during refurbishments. A new image can mean throwing away large amounts of expensive furnishings and fittings. These could instead be given to local charities. New designs should use energy-saving materials and techniques, particularly passive heating, ventilation and cooling. Thermographic imaging can ensure the building is airtight, identify hot and cold spots as well as show poor insulation.
"People with concerns about the environment can often see through claims that are just corporate lip service."
There should be some way to control lights, heating and air conditioning when rooms are not in use. Timers or sensors can make savings in infrequently used areas. Building energy management systems may be worthwhile but should be versatile and use low-cost open (non-proprietary) sensors. A single switch by room doors can allow guests to switch off all lights on the way out.
Energy efficient boilers can quickly pay for themselves but make sure that any new systems are not oversized, which can make them inefficient. Using efficient electrical equipment reduces the amount of heat that has to be removed from the building, which can prove to be a double saving.
Showers instead of baths can save water. So, too, can dual-flush toilets. Flow restrictors can reduce water flow but can increase maintenance costs if spray holes become blocked. Solar heating can profitably heat pools and covers should be pulled across when the pool is closed. The Orchid Hotel in Mumbai – which has won a number of environmental awards – even treats and recycles wastewater for air conditioning and gardening.
Not all actions will be visible to guests. Behind the scenes, computers and similar equipment go out of date quickly and in the EU should be recycled according to the Waste Electrical and Electronic Equipment directive. When replacing washing machines, use models that conserve energy and water.
Take advantage of any energy audits from your energy provider and consult government and hotelier bodies. Organisations such as the Green Hotels Association may be able to help and certification organisations such as Green Globe can help monitor and improve performance. Grecotel, Greece's largest hotel chain, has gone one step further and employs its own resident professional environmentalist.