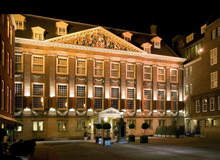 It speaks volumes about the difficulties faced by the hospitality industry over the past year that a drop in RevPAR of 11% can be spun as a positive result. The operating environment has shifted so dramatically that those at the top are forced to find new ways of gauging success. Old maxims are being reversed: when times are this tough, sometimes the numbers do lie.
Forced to read their results in isolation, Yann Caillère and his team at Accor would certainly have cause for concern. However, a quick scan of how the competition has been performing and there is ample cause for festive cheer: -11% may not be ideal, but InterContinental's figure of -16.2%, a drop of 18% at Rezidor, NH down 23%, Marriott at -21% and Starwood's -27% certainly put one's difficulties into context.
"I wouldn't say it's not worrying, but we're probably less worried," comments Accor Hospitality's EMEA COO and CEO for Sofitel
Worldwide. "When times are good and you see a drop, you instantly know there's something that's not being done right and find the improvements that need to be made. When everyone's struggling, a smaller decline can feel like an increase. That's an optimistic way of looking at things and I'm certainly not satisfied. It's just that we're resisting better than the competition."
Key ingredients
The 55 year-old Caillère joined Accor in 2006 following various executive roles across the international hospitality sector, including stints as president at Disneyland Resort Paris and CEO at the Louvre Hotels Group. He puts the group's relative success down to two key factors: a balanced portfolio and geographical diversity.
"We have a good mix of economy, mid-scale and up-scale hotels," he believes. "Most of our competitors are predominantly focusing on the latter two; when they enter the budget market it is usually through a pure franchise model. That does not apply to us. We are also spread across the world. Accor is extremely strong in Europe, but it is also number one in South America and has a significant presence in the Asia-Pacific region. Some countries have been hit harder than others. Within Europe, Spain, Italy and the Netherlands have probably been worst effected, but France, Germany and the UK have resisted far better. Having that spread helps even things out."
While geographical diversity is something any number of Accor's international competitors can claim to possess (and it has not acted as much of a buffer against economic events for most), its mix of brands provokes some interesting questions about the hotel environment in the wake of the financial crisis. Caillère and his team have undertaken extensive renovation programmes for Accor's economy and budget brands, an indication that this is where they see a great deal of business returning once the markets recover.
"We have almost finished work on Formula 1 and the hotel F1 in France and the push is really on with Etap, ibis and Mercure," the COO explains. "We have to be prepared for the recovery. It's not only room rates that are going down; renovation costs have also fallen.
While we are in a stronger position than others, we must take advantage of that and be fully prepared for when the recovery comes." Opening roughly 30,000 rooms this year – Caillère expects that figure to be back at 40,000 per year by 2012 – some 60% of development is scheduled to be in Europe. ibis and Etap may be the main drivers of growth, but there is also scope for newer brands at the economy end of the market. In October, Accor opened the UK's first all seasons hotel. Two years after launching the brand, some 80 properties can now be found across France, Germany, Australia, New Zealand, Thailand and Indonesia, promising an experience "where the little extras don't cost extra'.
"We believe it has huge potential," Caillère reveals. "all seasons started in France, where the biggest hotel market is two-star, and among the 45 we have in operation there, 12 are newbuilds. That is a great endorsement of the brand. It has been developed predominantly along a pure franchise model, but we converted some of our own properties and installed them as flagships for potential franchisees. This is not a standardised hotel and it operates on a fully inclusive service model."
Influence for change
"The opportunity to work with a growth brand and the support mechanism that a company of our size can offer makes a lot of sense."
Accor's success at this end of the market and the non-standardised nature of the brand has seen many hotel owners look on conversion as an intelligent reaction to market conditions.
"People see our success and they want to buy into it," Caillère observes. "Individual hoteliers with small hotels in cities across the globe are struggling. The opportunity to work with a growth brand and the support mechanism that a company of our size can offer makes a lot of sense. Most of our brands have a RevPAR index higher than the market: it's a virtual guarantee of improved revenue and that is why we are attracting an increasing amount of franchising activity in
Europe."
While franchise deals are clearly the best way forward for accelerated growth, Caillère believes that the fact Accor also owns properties allows the group to cultivate a sense of trust with prospective partners.
"A lot of our competitors will demand alterations or investments, but not have to do anything themselves," he observes. "When we give such directions our partners know that we are fully committed to this course of action and will be undertaking the same measures in our own hotels. It gives us legitimacy."
This is not just the case at the economy and budget ends of the market. A strategic review and repositioning of Sofitel over the past two years has seen the number of properties within the group reduced from 206 to 129 and extensive renovation work continues apace at some of its most high profile properties.
Cultural focus
As Sofitel CEO, Caillère is bullish about its potential within a dramatically altered marketplace and believes the philosophy that has long underpinned the brand makes it particularly suited to a marked shift in guest priorities.
"We have never traded on the concept of super-luxury," he explains. "It is about elegance and quality rather than quantity. I was reading an article in a French newspaper saying that luxury hotels were no longer looking for star-rated Michelin restaurants. That was something I was insisting upon right at the beginning of this process: our hotels needed to focus on the guest experience and value rather than something highly exclusive or overly sophisticated. It's about creating a link between local and French culture." Caillère cites London's St James hotel as the perfect articulation of this vision and guests would appear to agree: occupancy in September and October 2009 stood at 86% and 87%, respectively.
Iconic properties such as the Grand in Amsterdam, the Metropole Hanoi and the Cataract in Aswan, now recognised as Sofitel Legends, demonstrate that Caillère does not shy away from pomp and splendour. However, the deliberate reduction in properties over the past two years clearly acknowledges that guests and operators must become more discerning at the top end of the market.
"The crisis has changed the mindset," says the CEO. "People will no longer pay big money for experiences that don't last. They want authenticity and that is why it is so important to push training in all our hotels across all segments and make sure we can create authentic experiences. 'Bling bling' is over: just calling something 'luxury' is no longer enough."
Crisis effect
This feeds nicely into what Caillère sees as a marked shift in priorities brought on by the financial crisis. Operators are being forced to move away from high concepts and quick wins, focusing instead on the fundamentals upon which the industry is founded.
"We need to return to the roots of the hotel business," he declares. "Everyone was directed by financial modelling for too long. When guests come to your hotel, you know they are looking for a level of service and a product. Never lose sight of that. Take care of those guests, look after your team and treat your partners right."
For Caillère, the greatest danger is standing still. "I am from a generation that has seen its fair share of crises and it is very much like being at war," he declares. "When you are at war people become unwilling to take risks. They shelter in their bunkers unable to move. There are new possibilities out there and my role is to ensure that while my guys are taking care of the basics, they are still prepared to seize opportunity whenever it presents itself."
The world may have changed and old adages torn up, but that only makes it all the more heartening to hear that some principles remain the same.