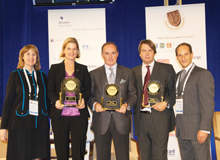 Despite the gloomy economic outlook, hoteliers still recognise the importance of improving their business by any means necessary, particularly in preparation for the economic recovery. As a result, the Seventh International Hotel Conference held in Venice from 21–23 October was extremely well attended, by hotel industry professionals looking for fresh ideas and global hospitality leaders eager to share some of their secrets of success.
Hilton Molino Stucky was the glamorous Venetian setting for the conference and the perfect venue to bring together the broad range of hoteliers, all of whom enjoyed the event among the stunning interiors of the hotel, furnished by Vitrani. JD Power and Associates' awards ceremony honoured those that topped their European Hotel Guest Satisfaction Index Study. Paula Sonkin and Stuart W. Greif from JD Power and Associates gave awards to Park Inn for mid-scale, Mövenpick Hotels & Resorts for upscale and Steigenberger for upper upscale.
Highlights of the three-day conference included the opening session called A View from the Top, brought together by a distinguished panel of industry leaders including Jean Gabriel Pérès, president and CEO of Mövenpick Hotels & Resorts, Paul J Sistare, CHA, president and CEO of Atlantica Hotels International, and Simon Vincent, president for Europe of Hilton Worldwide.
The conference also featured think tanks such as the Hotel Developments in Europe session, where a panel moderated by Babette Marzheuser-Wood, partner and head of the Hotel Sector Group of Field Fischer Waterhouse LLP, discussed proposed hotel projects, segments, franchises, and market conditions for investors, developers and owners. Panellists included Philippe Attia, senior VP of operations Europe for Dolce Hotels & Resorts, Susanne Friedrich, director of business development for the The Rezidor Hotel Group, Dr. Sabina Giese, director of development for Central and Eastern Europe at Choice Hotels International, and myself.
Another highlight was the Update on Global Capital Markets talk, which provided an in-depth analysis of trends in the global financial markets including the cost and availability of capital and a review of the products and financing solutions available to entrepreneurs and global hotel companies. The issues were discussed by Martin O'Grady, chief financial officer and vice president of Orient Express Hotels, Jochen Schäfer-Suren, head of hotel and leisure fund management, executive committee member at Invesco Real Estate, Alexander Schöneich, senior project manager at KfW IPEX-Bank and Mark Wynne-Smith, CEO EMEA of Jones Lang LaSalle Hotels.
On the final day, the conference ended with an engaging discussion on hotel trends for 2010 and beyond, with a second View from the Top session, which included world-renowned industry executives such as professor Luigi de Simone Niquesa, president of Luxman SPA, Andy Dolce, chairman of Dolce Hotels and Resorts, Patrick Fitzigibbon, senior vice president of development in Europe and Africa for Hilton Worldwide and Russell Kett, managing director of HVS.
The eighth International Hotel Conference will be held in Venice on 20-22 October 2010.