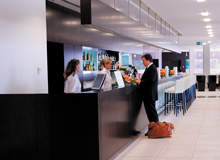 On my return to the office after our Seville General Assembly, I wondered what other actions could be taken to prepare our hotels for a better tomorrow. At that moment, I received an invitation to attend the Cosmoprof Spa Bologna. This could be an opportunity to do something truly pro-active because Cosmoprof offers the most qualified professionals in the Hotel sector the chance to take part in a conference and events programme, gathering international leaders of the spa industry with the common aim of interacting and interpreting market demand and its development, and uncovering the latest market trends.
Not knowing quite what to expect, I was amazed at the curiosity, innovation and informality of the fair, all presented in an enthusiastic and positive climate – no mean feat at a time like the present.
The Cosmoprof Spa Symposium was a two-day exchange on how to reposition the concept of spa and aesthetics in Europe and the future development of trends in four- and five-star hotels. The challenge of the European hotel industry is to see onsite spas as a profit centre.
Today's hotels are often designed with an onsite spa facility but management fail to use it to their full advantage. Our objective should be to build a solid spa enterprise, from concept to design, meeting guest expectations and using eco-friendly materials and furnishings, planning for recyclability and waste reduction, focusing on customer satisfaction, client retention and return on investment while enhancing our clients' experience.
More attention should be paid to their expectations now that times are tight and customers are getting harder to find but the pressure is still on to produce positive financial success.
"I was amazed at the curiosity, innovation and informality of the fair, all presented in an enthusiastic and positive climate – no mean feat at a time like the present."
We have to ask ourselves whether the present economic situation has created incompatible dreams or whether there are still options to create solutions for the future. Our business must explore new avenues in the current climate in preparation for when the economy recovers and thinking climbs outside the box once again. Having said that, a truly productive spa needs to be a legendary quality experience and the economic risks still have to be well evaluated.
The more I learnt, the more I realised that these are some of the most discussed topics within the travel industry at the moment: new inputs, answers to future sensitive issues and results driven by consumer expectations, be they luxury pampering or investment for good health.
At Cosmoprof we were given the opportunity to observe the attitude of design as a behaviour and not an added value benefit. In a global changing market, brands get lost in translation while the design world looks for distinct identities. A successful design creates and increases consumer loyalty and commands a premium due to emotional connection: to define the identity of one's social and cultural life.
At the elegant B2B dinner, we had the pleasure of meeting the architect and University Professor Simone Micheli who spoke to us about the design company he founded in 2003. His works of architecture, contract, interior design, exhibit design, graphics and communication are strictly linked to the world of sensorial glorification.
He kindly shared his thoughts on the present and future of the spa concept through the presentation of his new project, the largest wellness centre in Europe in Livigno, Italy, together with other fascinating projects, and amazed us with his suggestions about functionality, sustainability, ethics, and the vision of an experience which, once it becomes a memory, can determine resounding fields of commercial power.
In conclusion, we came away from the fair, even more convinced that in this day and age, having a spa for any four- or five-star Hotel, resort or destination is a must. In the meantime, only size, concept and success are the big question marks. The strategy from now on is to ensure that the business is appropriately met with efficient and effective design, and is sustainable in nature.
Anyone interested in the future development of spa trends in hotels would do well to visit this exceptionally well organised, enlightening event.