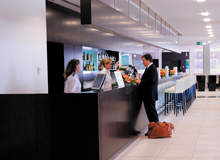 The tried-and-tested method of protecting your company in a downturn is to cut costs, slash budgets and cancel any plans for expansion. A few brave companies, however, are turning their backs on this strategy. They are instead seeing the current situation as a golden opportunity to review their operations and push forward with new projects. One such company is Rezidor.
In the first nine months of the year, it opened 27 hotels and signed 30 new contracts for managed and franchised properties in the EMEA region. The group, which describes itself as one of the fastest growing hospitality companies in the world, now has a total portfolio of 380 hotels, with 81,000 rooms in operation or development across 60 countries. For Jacques Dubois, recently promoted as the COO for all the group's brands, it has been a successful year in a difficult climate.
"The most important aim was to hold on to our development pipeline," he explains. "Of the 37 hotels we are opening this year, 34 are done, which is a major achievement in this climate."
Scottish treasure
One of the jewels in Rezidor's crown is the new Hotel Missoni in Edinburgh, which opened in June. Developed in collaboration with the prestigious Italian fashion house, the 136-bedroom property aims to combine outstanding design with exceptional service.
Like the rest of the industry, however, Rezidor has not been immune to the effects of the economic crisis. The company's latest interim report shows that in the third quarter of 2009, like-for-like RevPAR decreased by -15.9%.
"We have looked again and found opportunities to share services between clusters of hotels and across brands."
"We are no different to anyone else," says Dubois, speaking of the downturn. "However, the loss has been offset by a substantial increase in leisure business from our online partners, so we have captured additional sources of business to compensate."
A cost savings plan has been put in place, generating net savings of €21.7m between January and September. The appointment of Dubois also comes as part of Rezidor's plan to streamline business operations.
"The economic downturn has inevitably changed the way in which we operate," he explains. "We have always had a high margin focus, but we have looked again and found opportunities to share services between clusters of hotels and across brands." This includes areas such as purchasing, maintenance and human resources.
Making changes
According to Kirk Kinsell, president for Europe, Middle East and Africa at InterContinental Hotels Group, 2009 has been one of the toughest years to date.
"People are travelling less and they are looking for real value, which is driving rates down," he says. "However, despite the current economic situation, there have been some notable successes this year." This includes the ongoing revamp of Holiday Inn, a £600m investment across more than 3,200 hotels worldwide.
"We have already relaunched more than 1,500 hotels and we are committed to completing the programme by the end of 2010. These hotels are already reaping the benefits with RevPAR outperformance and improved levels of guest satisfaction."
Like Rezidor, IHG is also aiming to cut spending. "Our goal is to reduce costs without impacting the guest experience," he continues. "This year we rolled out Green Engage to help our owners measure, manage and reduce energy consumption. We already have 900 hotels signed up and we expect to save an average hotel up to a quarter of their energy use, which will also help the environment."
The company is also working with its owners to look at the cost of sales in revenue production to deliver better margins. "We believe that recovery will come quickest to the hotels that can deliver a better guest experience and reduce costs," adds Kinsell.
Star performer
"We have been finding creative ways to bring in new customers, and we have outpaced the competition."
It has also been a successful year for Starwood Capital Group. At the end of August, the company launched a new fund, Starwood Property, the largest IPO of the year at the time. The deal raised $950m for investment purposes. In a joint venture, the group won at auction the assets of the failed Corus Bank, a transaction for which it has high hopes. This summer, Starwood Capital also acquired Golden Tulip, a strategic investment of 230 hotels in 40 countries. The brand will sit alongside the Louvre Hotels portfolio.
"At this point we have a joint alliance between Golden Tulip and Louvre Hotels," explains Rich Gomel, managing director at Starwood Capital Group. "This is a big opportunity to strengthen our position in the two- and three-star segment in Europe and throughout the world. Golden Tulip has a strong footprint in markets Louvre didn't, including countries like Brazil, India and China."
Gomel describes the current flurry of activity as a reacceleration of the group's investments, following four quiet years between 2005 and 2009, when Starwood Capital began to draw back from increasing prices.
"We have always maintained a disciplined approach, and we made few investments over the last four years because we started to feel that pricing was getting too expensive," he says. "Instead, the focus was on consolidation, an approach that means the group's hotel portfolio is now in a strong position.
"Over the last 18 months, there has been an intense focus on operating efficiency and controlling costs without compromising the guest experience," he continues. "We have been finding creative ways to bring in new customers, and we have outpaced the competition.
The last 12 to 18 months have been difficult for the industry but our RevPAR drops have been less severe, which is encouraging in a tough environment." Starwood Capital has also seen customers trading down from its luxury brands.
"Our high-end product has suffered more than our budget segment, but this is true across the industry," adds Gomel. "However, our budget hotels are faring well, with many initiatives that we started prior to 2008 now showing positive impact."
The company has implemented a number of yield management strategies, and has used the internet to market itself effectively to new customers.
Driving Revenue
"IHG is better placed than anyone to benefit from this growth with strong brands in major markets including the US, the UK and China."
With a renewed focus on increasing RevPAR, many hotel groups are looking to the latest revenue management software for assistance. Sascha Hausmann, chief executive officer at online benchmarking specialists, eRevMax, thinks the latest technology can help to boost profits.
"Revenue management is like a science," he explains. "It gives the hotel the ability to monitor and manage revenue today and in the future. It's not necessarily about being the cheapest, but looking at where the opportunities to make more revenue are." Hausmann believes it is vital for hotels to monitor their competitors, especially in such challenging times.
"Because of the recession, hoteliers are panicking and instead of making informed decisions, they drop prices, but this makes no sense," he continues. "Consumers will always shop for a convenient product – not always the least expensive, but the best value for money. This is where revenue management comes into its own – you can make a decision on how competitive you need to be." The rewards will also be greater when the industry begins to recover, he considers.
"We all learn lessons in a downturn and we can keep investigating and fine-tuning afterwards," he adds. "Nobody that is currently thinking about implementing benchmarking will stop when the recovery comes. It will add professionalism to your operations – even in good times you can optimise revenue." Kinsell agrees that companies that perform well throughout the downturn may well emerge stronger as a result.
"We expect to see the number of branded properties continue to grow as hotels now require the backing of a large company to stay competitive," he says. "IHG is better placed than anyone to benefit from this growth with strong brands in major markets including the US, the UK and China." In 2010, IHG will be expanding its footprint in the Middle East and Africa.
"Fortunately for us, we focused on our growth in Russia two years ago, and we began building relationships in Africa," says Dubois. "We are still signing new business in these areas, as well as the Middle East, so in 2010 we will be bucking the trend and adding more hotels. We view it as a modest year in regards to growth, but we will expand our market share."
Gomel also believes the current tough conditions will help to make Starwood Capital stronger in the long term. "What we have seen in the last year hasn't been seen for decades, and it has reinforced many of the principles we try to adhere to," he says. "It's all about discipline, creativity and intense focus on detail. When you go through dramatic times it forces you to go back and check everything."
In 2010, he adds, Starwood will be building upon its current portfolio. "Our view is that we will start to see improvements in the operating environment in mid-2010, and with that a pickup in investment activity. There is a lot of capital that we haven't deployed that we plan to over the next two years."