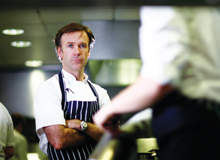 It is no surprise to learn that Marcus Wareing was once a keen boxer. A conversation with the chef is akin to interviewing a prize-fighter: all eye contact, straight talking and total self-belief. He refuses to duck any question, however pointed, and seems utterly incapable of small talk.
There is another British culinary heavyweight whose ears might start burning were he to overhear such a description and Wareing's onetime mentor, business partner and best man is never far from the discussion as we sit at the chef's table overlooking the kitchen of Marcus Wareing at the Berkeley. After all, Petrus stood here until last year; holder of two Michelin stars and a key component of the Gordon Ramsay empire.
Wareing may have been responsible for running the kitchen and a business partner to boot, but he had long yearned to become the master of his own destiny. In September 2008 this dream was realised when he took on the leasehold and his eponymous venture was born – the restaurant retained its two-star status.
The disputes involved on the way there, however, destroyed a friendship and nearly broke a man who found himself falling out of love with his vocation. "I was unable to create a new dish for a long, long time," Wareing reveals. "All I could taste on my palette was bitterness. That had to change, not just for me, but for my family as well. I've three young kids and I didn't want them growing up looking at this angry, twisted old man. It was killing me."
Despite such struggles, Wareing found solace in donning the chef's whites and focusing on what he knew best. "The dispute with Petrus went on for three years," he explains.
"From the outset I made one big decision: to never take my eyes off the most important thing, the kitchen. Everything else involved constant arguments, visiting solicitors, talking money, but the three hours at lunch and six hours at dinner were what kept me sane. You can't touch me when I'm in there; none of the bullshit matters."
Having come out the other side, the change in Wareing's demeanour is marked. He is clearly happy and, more to the point, his restaurant has gone from strength to strength over the past 12 months, earning a series of rave reviews and maintaining its status as London's best restaurant in the Harden's Guide.
"The last year has been an absolute pleasure," he declares. "I thought I ran this place well before, but I've never run it as well as this. It's been the best financial year I've ever had."
Right ingredients
"I can go out and spend £2m on a house with my eyes closed, but when it comes to the small things I'll squabble over the price of a pair of jeans."
As partner and shareholder in the restaurant's previous incarnation, Wareing already knew the business intimately upon taking up the lease. With outright responsibility for ingoings and outgoings, however, he soon learnt some important lessons about himself.
"Money doesn't turn me on," he says. "I thought it did, but it doesn't. I look at the company bank account and see some really big figures in there, but I haven't touched a bean. I've no idea what I'd spend it on. I can go out and spend £2m on a house with my eyes closed, but when it comes to the small things I'll squabble over the price of a pair of jeans. My wife has always found it odd."
In this respect, Wareing fits the mould of the obsessive, driven chef. He works both lunch and dinner services throughout the week and one struggles to see where he would find the time for shopping sprees. This differentiates him from any number of big name chefs who continue to trade on their celebrity, but spend little time running the pass.
"Diners are becoming much wiser to branded chefs," he declares. "There's nothing wrong with expanding and keeping your name above the door, but the price should always reflect the fact that you're not there. We shouldn't expect diners to pay top end prices for a myth."
This is particularly valid during the worst downturn in living memory for the hospitality industry. For Wareing, the age of the celebrity chef is dead.
"Recession has sorted out a lot of the chaff and made the general public realise that they don't have to buy into this crap anymore," he declares. "I believe that the recession is going to be a way of life now, get used to it. Massive changes are coming on the horizon but thankfully I don't need to get involved with all that. I've this place and if I never open another restaurant in my life I'll be a very happy man with what I have already: everything I want to achieve can be achieved here."
Even during the boom years, Petrus was famed for serving one of the capital's best value set lunches and Wareing has introduced no gimmicks in order to entice diners into the restaurant. He believes too many people involved in the fine dining world view value as an afterthought and sees such an attitude as unsustainable in today's environment.
"From the very start, I've always said to my staff that if we only have 15 in for lunch get those people leaving here and telling their friends about the quality of the experience. That's a fundamental building block of business, but there are too many restaurants where a quiet daytime service is met by whingeing and disinterest. If I ever heard any of that from my staff they'd be sacked on the spot.
"Too many chefs treat their menus as an exercise in ego: 'This is me, screw the set lunch, screw the vegetarians, screw anyone with dietary requirements.' Grow up. If a diner wants a green salad followed by a piece of steamed fish, get on with it. They're paying your salary and it's your duty to follow up any request to the best of your abilities. That's the difference between a creative cook and an idiot."
Wareing believes such an attitude is particularly prevalent among the new generation of chefs heading up brigades and believes his former mentor was instrumental in honing a more sustainable attitude. "You can be the most talented guy in the world but that doesn't mean you'll be the most successful," he begins. "That's what I learnt from Gordon: he slowed me down, made me think. Get bums on seats, get the price right, get people talking about you and grow from there. This is a marathon and young guys don't always appreciate that. I was 25 when I took over my first kitchen and had to learn it from an early age."
Next course?
Wareing turns 40 next year and, although he has no exit strategy as present, gives himself "another ten years or so" working fulltime in the kitchen. There are no plans in the pipeline, but he is not dismissing the idea of expansion. Mentoring new talent is something he enjoys and his brigade clearly has a lot of respect for the boss; eight of the 22 chefs have left Wareing's side only to return.
He points out James Knappett, a senior sous chef gearing himself up for the day's lunch service. Knappett worked with Wareing at Petrus before leaving for stints at Per Se and Noma. Having returned to London, he has now set his sights on running his own kitchen.
"James might be the guy who takes over from me here someday," Wareing acknowledges, "or perhaps he's the guy I help to set up somewhere else. He's been very open about what he wants, just as I was with Gordon, shown me his ambition and revealed he wants my help to get there. I'll do all of that and more."
For the time being there are more pressing issues at hand. January will see Michelin launch its 2010 UK guide. Wareing has held two stars since 2007, but following Alain Ducasse at the Dorchester being anointed the only "rising three star" in last year's list, admits he will not be holding his breath.
"I'm not saying he didn't deserve it, but it was a kick in the bollocks for all the other restaurants in this city that have held two stars for years. It sends out the wrong message to British chefs. The restaurant had terrible press when it opened, but he's a bloody clever man and we have to respect him; he knows Michelin better than anyone."
Gordon Ramsay with head chef Alessandro Delfanti But the pronouncement of Michelin will not be the only seismic event in January. Having retained ownership of the name, Ramsay Holdings will be opening its new Petrus a mere stone's throw from the Berkeley. Wareing claims to be amused by the situation but is clearly disappointed that the name will live on in his absence. "Petrus should have been left on the shelf," he says. "Do something different for God's sake; open something
new."
And Wareing is clearly a man who believes in new beginnings. A successful kitchen, a thriving business and a determination to start enjoying the fruits of his labours (he plans to take at least four short European breaks with his wife next year), it is a commitment to change that has made him happy.
"I've no hobbies," he admits. "If I woke up in the morning and didn't have to come into the kitchen, I wouldn't know what to do with myself. But I've fallen back in love with the only thing I know and everything else – my wife, my kids, my health – are better for it."