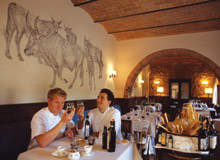 HMI: What was it about Castel Monastero that made this seem like such a good opportunity?
Gordon Ramsay: The site is incredible. It's any chef's dream to be able to open a restaurant in such stunning surroundings. The building is steeped in history and we've got two unique rooms for our restaurants; Contrada, on the ground floor of the building and Canteena, in a stunning vaulted cellar. We're very fortunate to have a good relationship with all the hotel operators we work with but Castel Monastero has been an incredible opportunity for us.
Rural Tuscany is quite a departure in terms of location for a Ramsay restaurant: what impact has this had on the food you serve and the feel of the venture in general?
I certainly haven't opened a restaurant in Tuscany to reinvent the wheel. The best thing about being in Italy is that we can actually source the ingredients we use. We're going to keep it as local as possible and seasonal. We have a real abundance of stunning ingredients right on our doorstep, we'd be crazy not to use them.
Tell me about Alessandro Delfanti and why you have entrusted him to oversee the kitchen.
We knew we needed to have an Italian chef at the helm. We'd be crazy to open a restaurant right in the heart of Tuscany and fly out a British or French chef to run it. Alessandro is young, bright, determined, ambitions and extremely talented. He has a fantastic palette, a real understanding of ingredients and a creative flair.
You are known for storing great faith in your 'protégés', what characteristics must they share in order to make it to the top of your organisation?
A natural talent is crucial – a good palette and a natural instinct to know how to put ingredients together. Determination, stamina and ambition are key.
Are there any chefs out there you're keeping a keen eye on?
From our group Sean Burbridge is a real rising star. He's spent the last two years at our restaurant in Versailles and is going to be head chef at Petrus next year. He's a fantastic young talent.
Ramsay Holdings opened its first hotel last year. How have you found that experience?
York&Albany is a real gem. It's our first owned hotel operation and has been a fantastic success. We kept it small, and we have a beautiful little deli and a restaurant run by Angela Hartnett. We also have an incredible manager in James Partridge.
What projects in the pipeline are exciting you right now?
Petrus will reopen at the beginning of the year, The Savoy Grill will relaunch in the spring and we've also got Maze opening in Melbourne. We have a very exciting year ahead.