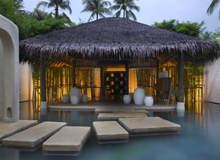 At the turn of this century the global hotel spa industry took an about-turn, shifting its focus from primping and pampering to offering guests complete and ongoing solutions for physical and mental wellbeing. The change has given rise to a multitude of progressive spa treatments, many of which – while introducing new techniques, tools and concepts to the industry – harp back to what spas were originally about: health.
While consumers are attracted to familiar wellness concepts like nutrition, fitness, mental health and physical improvement, they are also drawn to progressive hotel spa menus. But it's the intelligent innovations – those that do more than just deliver a fleeting pleasure or passing fad – that will succeed in hotel spas.
Holistic wellness
Holistic treatments that contribute to overall health and longlasting wellbeing will set the star spas apart from the 'sub-pars' this decade, according to Claus Sendlinger, CEO and president of luxury hotel group Design Hotels.
'I think the most progressive treatments are holistic programmes that don't just have a short-term effect, but offer specific and sustainable tips for a better lifestyle, such as detox or burnout prevention programmes,' he says.
For example, a range of unique health treatments such as Dorn-Breuss vertebrae regulation (a gentle spinal realignment treatment for back problems), cryogenic therapy (an advanced freezing chamber that triggers the body's natural pain relief response) and kinesiatrics (gymnastic movement therapy) can greatly enhance a hotel's spa menu.
'Innovation is essential to remain competitive,' says Sendlinger. 'People are much more selective about what they spend their money on so they are especially looking for unique experiences.'
Progressive treatments
In an environment where hotels constantly need to improve on their offer to remain competitive, offering unusual treatments is one way that spas can get an instant profile boost, but there are many factors hoteliers must consider to ensure such innovations are successful.
"I think the most progressive treatments are holistic programmes that don't just have a short-term effect, but offer specific and sustainable tips for a better lifestyle."
'Firstly, the spa concept and the treatments have to be authentic,' says Sendlinger.
Authenticity, staff training, and the quality of products, equipment and design are important factors in determining whether an innovative treatment will be sustainable.
Chris Sanderson, strategy and insight director of trend forecaster, The Future Laboratory, agrees that innovative treatments are important to the spa equation, but they are not the be all and end all.
'One of the weaknesses of the spa industry is that it assumes that the consumer is always looking for the most interesting [treatments],' says Sanderson. 'And while there is always a consumer who wants to try something new, the majority of consumers are actually looking for something simple,' he says.
'I think that one of the problems that the industry will face is that if it can't deliver quality through quality treatments and trained staff, then the constant search for the latest fad will actually be part of the industry's demise,' states Sanderson.
Intelligent spas
According to Sanderson, spas are increasingly going to have to prove their merit if they are to continue to be a revenue-generating centre for hotels. This need will see the ascent of what he calls the 'intelligent spa'.
'It's not going to be about the next greatest treatment, it's about whether you really are delivering quality and engaging with the consumer so they feel that they will benefit in the long term from the spa experience.'
Six Senses Destination Spa Phuket, Thailand (pictured opposite), introduced an innovative concept in late 2008 that ticks all the 'intelligent spa' boxes. Aware that regular and extended getaways to a destination spa or hotel are a logistical challenge for time-impaired professionals, Six Senses created an online component of its spa programme that enables guests to continue the spa experience long after they have left the resort.
Another area of growth and a driver of progressive spa treatments is the eco spa.
'Hotels are beginning to understand that they have to be far more careful with resources that they manage, because they need to be more effective with their spend as we move through the recession, and also because of the environmental impact of staying in a hotel; specifically a luxury hotel,' says Sanderson.
'Increasingly, consumers will start to question spas on where their products come from, how much water they use, and how much energy they use,' he continues. 'And that, as we move into the next decade, will become a major issue for many hotel groups and many hotels.' Sanderson cites Alila Hotels and Resorts and Six Senses Resorts, both based in Asia, as 'doing serious things in this area'.
'They're beginning to look at their footprint, the types of trips they offer, and think in a more proactive way on how to engage with their clients on these issues.'
In fact, when it comes to eco spa treatments, Alila spas source locally-grown coffee for their coffee grind body scrubs, and virgin coconut oil made by local communities. Water from the hotel pools is recycled to use in bathroom toilets, and at Alila Mangiss in East Bali, an organic garden supplies the resort chefs with vegetables and herbs. At Six Senses Destination Spa Phuket, edible landscaping (used in the spa cuisine) reduces fuel consumption from importing produce, and guests can enjoy herbal teas at the Chinese Spa Tea Room, which are grown in the spa's own organic garden.
2010 will see a number of hotel spa treatments align with changing consumer demands and those that anticipate, adopt and improve on oncoming trends are inevitably the most likely to prosper.
Spa treatments to watch out for in 2010
Sleep therapy
Spanish hotel group Hospes has created a Learn To Sleep programme, in partnership with sleep disorder specialist Dr Eduard Estivill, designed to help guests regain control of their sleep patterns. Debuting in the Bodyna Spa at Hospes Maricel in Mallorca in 2009, the programme will roll out in other Hospes hotels in 2010. It includes luxury spa treatments, medical and lifestyle advice, siestas in special chill out rooms, sleep-enhancing cuisine and activities designed to create alertness.
Light and sound therapy
The Blue Box is a futuristic relaxation innovation offered at Mavida Balance Hotel and Spa in Zell am See, Austria. Lying on contoured energy loungers, guests receive fine sound vibrations, warmth clouds and lighting techniques that massage the mind and stimulate the senses. ONO Spa at The Mandala Hotel in Berlin, Germany, also offers a sound and light therapy lounge treatment known as the Alpha Space Bed; while So Spa by Sofitel in London offers a Sha Chair, an ergonomic lounger in which guests can listen to relaxing music.
Online components
Six Senses Destination Spa Phuket, Thailand, launched The Wellness Wheel in November 2008, a holistic web-based lifestyle coaching programme that includes assessment, personalised health guidance and follow-up support for the guest. After leaving the resort, guests can log onto their own Six Senses web page to track their progress in reaching their health goals.