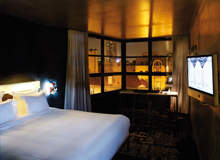 01 Climate control
Innovation is in the air at City Inn, which has an enhanced fresh air conditioning system that circulates a high concentration of oxygen. The Peninsula Shanghai has weather gauges on its in-room control panel, so guests can decide whether to put on an extra layer before heading out for dinner.
02 Alternative TV
Thailand's Alila Cha-am has Apple TVs loaded with music and films, while giant Bang & Olufsen flatscreen TVs are found at fellow Design Hotel The Do & Co in Vienna. At the brand-new Elysian Chicago, Séura LCD TVs float in a corner of the bathroom mirror so you can watch your favourite show while getting ready.
03 Energy efficiency
The Klaus K in Helsinki, Finland, offers a carbon footprint calculator service so that guests can work out how much impact their stay has made on the environment. The Hilton New York won an award this year for its PureCell system, which is three times more energy efficient than a standard electric grid. Eclipsing both is the Hotel Rafayel in London, which uses a combination of energyefficient air conditioning, a rainwater harvesting system and low-energy lighting to make its carbon
footprint 75% less than the London average.
04 Read all about it
Guests at the landmark New York Algonquin can soak up the building's literary heritage by borrowing Amazon Kindles, loaded with a range of modern classics and bestsellers. Guests can also make their own requests.
05 The sound of music
The Hotel Sorella in Houston, Texas, which opened in August, has fitted a Bluetooth stereo in each room so that guests can listen to music from any Bluetooth-enabled device through the TV speakers with no need for wires or cables. It works using a MediaHub connectivity panel.
06 Guest sensors
The Hotel 1000 in Seattle has a fully converged IP infrastructure that monitors when a guest comes and goes so that lights and other in-room technology can be switched on and off at the appropriate time, but the clever set-up doesn't stop with the temperature and lighting. In a further twist of ingenuity, infrared signals allow housekeeping staff to tell whether the room is occupied with one touch of a button outside the door. The Upper House in Hong Kong has a similar presence sensor fitted.
07 Electronic concierges
At The Condesa DF in Mexico, Nokia Tablet 8800s function as electronic concierges. Guests can use them as the main point of contact to order whatever they want, including pre-loaded yellow iPods. The Emirates Palace, managed by Kempinski Hotels, has gone an extra mile by providing a dedicated IT butler to help set up a network or connect to your home or office, answer any technical queries to help complete work assignments, or simply help find the nearest IT retailer in Abu Dhabi.
08 Sweet dreams
The NightCove by Zyken is a sleep-enhancement gadget designed to ensure guests wake up feeling as refreshed as possible after a night of high-quality slumber. Because it uses LEDs rather than traditional light bulbs, the light frequency emitted by the panel can be controlled much more carefully than with traditional bulbs, letting it interact more precisely with the body's melatonin levels. A choice of programmes can be selected to suit falling asleep, waking up, napping or relaxing during the day. The Hotel Gabriel in Paris has installed several of the gadgets to enhance a detox experience.
09 i-rooms
As the ubiquitous Apple logo becomes even more common thanks to the growing popularity of the iPhone, hotels the world over have got in on the act in 2009 with the installation of Apple products. Bedrooms at Mama Shelter in Paris have 24-inch iMacs, and London's City Inn, the Beverly Hills SLS, the Fontainebleau Resort in Miami also provide Apple computers for guests. For those properties that haven't stretched to an iMac in every room, TeleAdapt has introduced the Audio/Video Pull-Through, which lets guests play video and music content from their iPods and iPhones via the room's television.
10 No more keys
OpenWays is a key-replacement technology that enables guests to check in using their mobile phone. The system is compatible with every brand of phone and all the main lock technologies. It uses secure encryption technology, no additional software is required. To top things off it's a green solution, as it reduces waste.