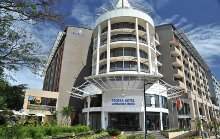 Marriott International revealed plans to reach more than 150 hotels across 16 African countries between 2014 and 2020.
Prior to the company's acquisition of South Africa's Protea Hotel Group in April, Marriott International had a base of 14 hotels and 10,000 employees in Africa.
The acquisition added 116 managed and franchised hotels to Marriott's portfolio.
Hospitality group Hyatt Hotels announced the opening of Hyatt Regency Suzhou in Suzhou, eastern China.
Located in the Suzhou Industrial Park (SIP), Hyatt Regency Suzhou is part of Jinghope Plaza, a new complex including a luxury shopping mall, entertainment venues and office buildings.
Designed by LTW Designworks , the hotel features a 29-storey triangular atrium topped with a glass roof with the interior design inspired by Suzhou's classic gardens offset by large-scale contemporary artworks.
Goldman Sachs Group (GS), Goldentree Asset Management and Avenue Capital Group agreed to acquire 144 hotels that are already leased to their previously acquired company Travelodge Hotels .
The value of the deal is around £500m, with all of the 144 hotels being situated in London and south-east England.
Goldman, Goldentree and Avenue Capital acquired Travelodge Hotels from Dubai International Capital in August 2012 in a debt-for-equity swap. This financial restructuring encompassed writing off bank debt of £235m and infusion of £75m of fresh capital.
Starwood Hotels & Resort unveiled plans to launch its luxury St Regis brand in Kazakhstan as part of its expansion strategy.
Slated to open in 2017, The St Regis Astana will be located in Astana Central Park, which is close to embassies, corporate offices and banks.
The upcoming property will feature 120 rooms and suites, two restaurants, a wine bar, cognac bar and library.
The Aloft hotel in California, US, is set to begin testing of a robotic bellhop dubbed the 'Botlr' on 20 August this year.
Botlr, which was designed by the Silicon Valley start-up Savioke, is a wheeled service vehicle designed to deliver items from the hotel lobby desk to guests' rooms.
Although the Botlr is not humanoid in appearance, it features a butler's collar painted on its chest.
Dutch Docklands International, a Dutch firm specialising in floating structures, unveiled plans to build a snowflake-shaped floating five-star hotel at an undisclosed site off the coast of Norway.
The hotel, designed by Waterstudio, will have a glass roof so that guests can watch the Northern Lights while bobbing off the coast of Tromso according to dezeen.com.
The hotel will have 86 rooms, conference rooms, spa and wellness facilities, and will be designed to be completely self-supporting and self-sustainable.
Global hospitality group Hilton Worldwide unveiled a new Hilton garden Inn hotel in Virginia, the brand's 600th property.
The new property, Hilton garden Inn Falls Church, is in close proximity to Washington, DC and less than a mile to the West Falls Metro.
It is owned and managed by Inns of Falls Church.
Marriott reopened the Renaissance Cincinnati Downtown hotel in the city's historic Bartlett Building, after a $50m renovation project.
Built in 1901 and designed by famed Chicago architect Daniel Burnham, the 18-storey Bartlett Building was Cincinnati's tallest for 12 years and the tallest building in Ohio for three years.
Renaissance Cincinnati now features 323 hotel rooms, including 40 executive hotel suites, complemented by luxury amenities; and a restaurant, named for Daniel Burnham.