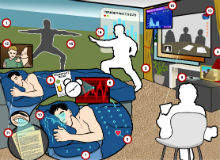 On average we spend a third of our lives asleep and this will still be the case in 2030. Technology will not change this fundamental human need, but it will enhance the experience, enabling sleep to have much greater value than merely rest and recuperation.
Within the next two decades, the hotel room will become a personal concierge, lifestyle coach, fitness trainer, psychologist and doctor. Cutting-edge technology will monitor guests' energy levels, physical well-being, emotions and mood.
Video, audio, smells and tactile experiences produced using the bed or bed linen will help to make dreams feel real. We will be able to replay our favourite dream from a menu and enjoy a shared dream with our partner, family and friends.
Active contact lenses will allow us to watch TV, movies or check emails as we fall asleep. The lenses will be worn under the eyelids and deliver high-quality 3D images directly onto the retina.
Remote virtual love-making will be possible by 2030, enabling individuals to connect with their partner while away from home. Couples will also be able to link peripheral nervous systems via active skin electronics for enhanced love-making.This will enable both individuals to experience each other's feelings and emotions. Also, by wearing active lenses to change the image delivered to their retinas, individuals will be able to manipulate how their partner looks.
As for the hotel room itself, it will be personalised to individual needs and tastes using technology monitoring, and by anticipating physical and emotional needs and desires to create a healthier and happier state of being.
Augmented reality will enable the surface of hotel walls and furniture to be used for any kind of display. Lonely guests will be able to upload virtual family images or fashion their own room by incorporating a picture of their bedroom at home.
Atmospheric temperature control air- conditioning will allow guests to alter the room climate and stimulate the ambience of the seaside or a forest, or the feeling of being surrounded by mountains. Outdoor sounds from flat-panel audio built into the window will recreate the sound of the ocean or the countryside to accompany any fantasy room view.
Soft surfaces such as fabrics will interact in tactile ways to produce scents, change colours and pick up signals from the skin. Guests will therefore be able to instantly change the colour, pattern and texture of their room furnishings.
Technology will also create realistic retail experiences, meaning guests could go shopping without having to leave their suite. They will also be able to visit tourist attractions or play an actual character in a computer game within the dimensions of their room. Those who don't want to game alone would be able to play virtual reality games with other guests.
Changing rooms
1. Interactive video panels cover full wall spaceThe use of computer imagery overlaid on the field of view to augment the reality that the guest sees will enable the entire surface of the hotel walls and furniture to be used as an interactive display.
2. Home from home upload: 3D room re-skinGuests will be able to choose from a range of layouts and lonely business travellers will be able to display virtual family images.
3. 3D audio effects, digital room soundproofingA flat audio panel will enable guests to choose from a range of ambient noises, such as the sound of the ocean to help them drift asleep.
4. Virtual lighting selection from users' home uploadAtmospheric lighting will simulate the ambience of being at home.
5. Medical sleep monitoring Sleepwear featuring electro-responsive fabrics and microphones will enable measurement of skin conductivity (indicating stress or relaxation states), pulse, blood pressure and heart rate.
6. Dietary advice from night-time monitoringSome medical conditions can be monitored by simple sensors connected to the skin or even in fabrics, or by checking the sleeper's breath. When the guest wakes up, a medical report could include advice on the sort of foods to consume.
7. Auto-massage de-stress pillowsA gentle head and neck massage will help guests drift off to sleep.
8. Uploads/downloads through digital jewelleryMobile phones will be extinct and tiny items of digital jewellery will service all guests' mobile and IT requirements.
9. Optimum sleep-cycle alarmSleep-cycle alarms will monitor the electrical activity in the brain and identify the best time to wake the guest. This will guarantee that he/she wakes up feeling fresher than if they had awoken just a few minutes into a new sleep cycle.
10. Personal link-up: 'Pillow Talk'The pillow will house a range of soft electronics to detect brain, REM and sleep activity, as well as miniature microphones to enable solo travellers to chat with their family back home.
11. Dream learning: speech revisionA dream management system will be able to deliver training programmes or give guests the opportunity to study and practice useful life skills while asleep.
12. Video calls to familyGuests will be able to communicate with home with ease, using a full 3D overlay of a virtual room just like one they have at home. A businessman away on a trip would feel as if he were effectively at home with his family. Even in bed, they would be able to see their partner next to them if they so wished.
13. Virtual office and multiway conferencingThe evolution of virtual technology means that the business travellers of the future will be able to transform their hotel room into a working office, with the walls becoming video monitors complete with webcam capability.
14. In-room augmented reality fitness interfaceCyberspace will play a huge role in the 2030 hotel room, where guests will be able to enjoy a work-out session with a virtual personal trainer.
15. Interactive gaming and fitness Guests will also be able to invite digital versions of characters from movies and games to share their room with them.
16. Online ordering and purchasing Retail therapy will involve shopping without leaving the room, with the walls replicating the interior of a shop. Guests will also be able to check out stocks and shares prices via web on the wall.
---
This article was first published in our sister publication Hotel Management International.
---