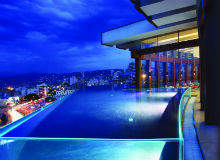 The social and political turbulence in the Arab world has shaken the Middle East's tourism and hotel sector to the core.
While its neighbours were in turmoil, however, Lebanon remained uncharacteristically calm. In the past, the country has developed a reputation as a military battleground. Now, with the arrival of Le Gray, Four Seasons and Grand Hyatt, which is due to open in 2012, the city looks destined to regain its standing as the 'Paris of the Middle East'.
Sitting outside at Cherry on the Rooftop, Le Gray's new lounge venue that opened in July 2011, it is hard to imagine Beirut in a state of flux. The bar offers views of the Mediterranean, the mountains and the city itself, which is peaceful except for passing cars honking their horns along the road below. There must have been a wedding, I'm told.
While sipping a mojito, I ask hotelier Gordon Campbell Gray, best known for One Aldwych and Dukes in London, whether he feels safe in the city. "I love it here, it's my favourite place in the world," he says. "I'm more scared of the traffic wardens in London than the army patrolling the streets of Beirut."
It is clear that Gray spends a lot of time in the city. He tells me that his main office is here and that his enthusiastic employees are like family. "You've changed your hair," he says to our waiter, who smiles widely back. "It looks good."
From ThreeSixty, a circular bar on the top floor of the hotel offering panoramic views of the city, mosques and churches can be seen a stone's throw away from one another. You can even hear the Muslim call to prayer and church bells ringing in unison, testament to the relatively calm Muslim-Christian relations. "It truly is a beautiful thing to witness," says Gray.
Lebanon is characterised by an intriguing blend of cultures and is a popular tourist destination, particularly among Middle Eastern and European travellers. Over 60% of visitors from Europe are from France, Germany and the UK, according to the country's Ministry of Tourism. Many of the locals speak Arabic, French and English and greet people using all three languages – "kifak, ça va, hi".
The birth of luxury
But it was not always this way. Le Gray's foundations were laid during the 2006 war with Israel, and although the conflict delayed development, it did not convince Gray to pull out; quite the opposite. Boasting 87 rooms – 62 of which are executive suites – the PureGray spa, and several restaurants and watering holes, the hotel finally opened its doors in October 2009, effectively heralding the emergence of Beirut's luxury hospitality sector.
The property, which is also Beirut's first design hotel, is clearly aiding the city's comeback as the Middle East's premier party town. Gordon's Café on the ground floor is packed for lunch, and at night Cherry on the Rooftop and ThreeSixty are transformed into chic hotspots. It is not difficult to see why; there is nothing plain and undistinguished about Le Gray.
The aesthetic is impressive. The building, designed by Australian architect Kevin Dash, is made of traditional yellow stone. London designer, Mary Fox Linton, is responsible for the interior, in close collaboration with Gray. The open reception features an elephant made of multicoloured buttons by local artist Nadim Karam, the first of many quirky twists. My favourite painting was a curious map of the world, made of toast, by Italian artist David Reimondo, which hung on the walls of Gordon's Café.
"There are over 500 pieces in the building and each room looks unique," Gray says. "Sometimes, I go into a room and forget that I even have that particular painting. They are either from my own collection or I bought them for here. The Cherry Girl is one of my favourites and I even named the bar, Cherry on the Rooftop, after that one. The painting was in my London home for a long time but I brought it over especially."
The creative experience does not end at Le Gray itself. This year, the hotel launched a new arts and artisian package giving guests an opportunity to see mosaics and intricate gold craftsmanship by Nada Le Cavalier, contemporary art by Sandra Sahyoun, handmade embroidery and needlework by Artisanat Mabrouk and the leather collection of Miss E.
Glamourous but dishevelled, friendly but mysterious, there is nowhere quite like Beirut. It might have lost top-end clientele to Dubai in the past, but the city is busy reclaiming those visitors. Having spent three nights at Le Gray, which, like the city itself, is full of character, it is easy to see why people are coming back for more.
---
This article was first published in our sister publication Hotel Management International.
---