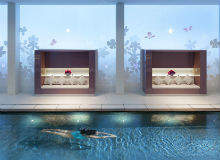 With many spas now offering medical treatments alongside traditional pampering therapies, health-related tourism is fast becoming a significant trend across the hotel industry. The range of treatments on offer is broad, and may include everything from physiotherapy and dental work to cosmetic procedures and even minor surgery, followed by rest and recuperation in luxurious surroundings.
However, while the introduction of a medical spa is a useful way to boost occupancy and increase length of stay, it is also a costly and challenging undertaking for any hotel. What is more, unless done well, it carries the risk of damaging a property's reputation and alienating its existing customer base. In spite of these difficulties, a growing number of hotels are moving successfully into the medical marketplace, but where does the balance between medicine and tradition lie?
Susan Harmsworth, founder and CEO of ESPA International, which runs luxury spa facilities at Gleneagles and Corinthia London among others, thinks there is a great deal of confusion within the industry as far as the term 'medical spa' is concerned.
"People seem to be getting muddled with the terminology," she explains. "Medical tourism does not have much to do with hotels, unless they are affiliated with a hospital and provide a place to recuperate. However, some people are travelling to locations such as South Africa and India in order to undergo medical procedures, and this is a completely separate matter. There is a problem within the industry, and the two issues of medicine and wellness are becoming confused."
Harmsworth believes it is important to make the distinction between the two disciplines and, while ESPA has yet to branch into the medical market, it does offer its clients a range of specialist services and treatments.
"We provide a very integrated approach, which includes naturopathy, osteopathy, physiotherapy, remedial sports injury rehabilitation and personal training," she says "We are looking at the diseases of our modern day lifestyle, such as sleep problems, weight gain, infertility, inflammatory bowel disease and stress, rather than sickness."
Teaming up
One hotel brand that has chosen to launch a medical tourism package is Courtyard by Marriott, which recently teamed up with BIMC Hospital in Bali to offer its guests a range of specialist procedures, including cosmetic surgery, dental work and even kidney dialysis. While recuperating at the hotel, patients will receive specialist aftercare in a five-star environment, with tailored nutrition and spa treatments.
The hospital's Roland Staehler believes the collaboration is likely to attract the attention of travellers who have become disillusioned with healthcare in their own country. As their own systems contend with a cost explosion and capacity restrictions, more and more travellers are embarking on medical holidays in search of treatment abroad.
"Courtyard by Marriott recently teamed up with BIMC Hospital in Bali to offer its guests cosmetic surgery, dental work and even kidney dialysis."
"Issues such as waiting times, privacy, service experience and the possibility of combining treatment with a relaxing holiday play an important role in decision-making," he explains. "We expect the strongest demand from travellers in Australia and Indonesia, as well as substantial interest from Japan, Russia, Europe and the Middle East."
Bali's first medical tourism package, the BIMC-Courtyard partnership, endeavours to meet demand both for premium treatments and holiday luxuries. "Patients at our three centres of excellence can expect a world-class medical facility at affordable prices, all embedded in the lush surroundings of the Nusa Dua tourism complex," Staehler says.
The trend is growing in Europe, too. At Danubius Hotels, which runs a range of health spa and wellness properties across the continent, guests can take advantage of a personalised treatment plan to help with a range of ailments including arthritis, back pain and post-surgery rehabilitation.
"Medical travellers are more sensitive and need special care, on both a physical and mental level," says Anikó Nagy, director of sales and spa travel at the group. "They need attention not just during treatments but in the hotel, too, with provisions such as barrier-free public areas, assistive devices and special lifts. They are looking for a peaceful atmosphere for a two to three-week stay."
Traditional approach
While some hotel groups are moving towards medicine as a new revenue stream, others prefer to take a holistic approach. At Mandarin Oriental, the spa experience is based on physical, mental and emotional well-being, and is influenced by local cultural diversity.
"We want every part of the spa experience to be memorable," explains Andrew Gibson, group director of spa. "Our treatments are based on traditional Chinese medicine practices using the meridians of the body to release energy."
Gibson believes a good hotel spa should focus on more than just pampering. "Holistic well-being evolved into the mainstream over ten years ago," he says. "In recent years, there has actually been a shift in marketing to imply that all spas are providing some form of therapeutic benefit. There has been an even larger shift to provide treatments with results."
In future, he thinks this discipline will come to be dominated by specialist spas. As beauty treatments become more lucrative for the spa business, a wave of new spas are opening that specialise in these treatments. This trend looks set to continue and evolve into a new sector of the industry.
This said, Mandarin Oriental does not currently offer medical procedures to its guests, and Gibson believes there will always be a space for holistic spas and retreats. "In spas that provide experiences and not just treatments, the main source of business is massage and the ability to relax," he says. "I do not see this diminishing."
Back to basics
While the medical spa has its place, Harmsworth thinks the industry should be careful not to diversify too far from its core business.
"Everybody is looking for the next big thing, but not many people will be able to afford to do it well," she warns. "Relaxation and stress are still the most important elements for the industry, and we need to be careful not to ignore our existing market. It is very expensive to deliver expertise at a higher level, and if it is not done well it can alienate people."
She also feels that the distinction between clinic and spa is becoming lost – not among consumers, but within the industry. "I personally don't believe that invasive medical procedures and advanced laser techniques belong in a spa, unless there is a separate building run by doctors and medical professionals," she says. "In a luxury city centre hotel, for example, it's not appropriate. In most major cities there are enough clinics, so why would someone want to go to a hotel to get major laser techniques?"
The huge costs involved in financing these projects could also reduce the profitability of medical spas. While prevention and lifestyle fit well with five-star luxury, and can help to extend stays, Harmsworth believes that people are underestimating what it costs to recruit good professionals. They also need to factor in other expenses, such as insurance.
"In recent years, there has been a shift in marketing to imply that all spas are providing some form of therapeutic benefit. There has been an even larger shift to provide treatments with results."
Nagy agrees that there are many challenges to be overcome. "Nowadays, a lot of resorts are offering medical or wellness services, but they may only have one whirlpool in the house and no medical professionals," she explains. "Different nations also have different ideas about medical services and treatments. Our aim is to communicate at a standardised and reliable level."
In spite of these hurdles, Nagy believes the future is bright for medical spas in Europe.
"We see growing interest from patients who are looking for medical care in foreign countries," she continues. "In addition, the world is getting older, with 36% of the EU's 380 million people currently over the age of 50. These changes in demographics will have a dramatic effect on society and pose a major headache for future governments."
With people living longer and taking more responsibility for their own health, she believes that there is significant growth potential for hotels that choose to deliver medical services alongside their traditional spa offering.
---
This article was first published in our sister publication Hotel Management International.
---