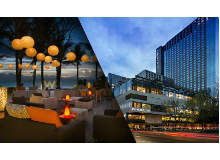 Starwood Hotels & Resorts Worldwide accepted a $13.6bn acquisition offer from Marriott International, rejecting China's Anbang Insurance Group's $13.2bn bid.
According to the latest offer, shareholders of Starwood will receive $21 for every share of Starwood.
The latest offer from Marriott has considerably increased the cash it will pay to shareholders of Starwood. Its previous offer had been 0.92 shares of Marriott for every share of Starwood and $2 in cash.
DoubleTree by Hilton extended its portfolio by opening its tenth hotel in Turkey.
Located close to Muraidye Waterfalls and Nemrut Crater Lake, the new DoubleTree by Hilton Van hotel provides quick access to the city of Van.
It also features 94 guest rooms, which include 13 suites with a view of Lake Van.
The Ritz-Carlton Hotel Company announced it is planning to to open its first Reserve resort in Bermuda by 2018.
The Ritz-Carlton Reserve resort will be managed by George's Bay Hotel and George's Bay Residences, under the company's long-term management agreement.
The announcement highlights the development of Ritz-Carlton Reserve in the Caribbean and Latin America.
Chinese company Anbang Insurance Group agreed to purchase Strategic Hotels & Resorts for approximately $6.5bn.
This comes nearly three months after equity firm Blackstone Group privatised the luxury resort company for $6bn, reported Bloomberg.
Anbang is to pay $450m more than what Blackstone paid for the hotel company in December.
Anantara Hotels, Resorts and Spas announced it plans to open two luxury resorts, the Anantara Al Jabal Al Akhdar Resort and the Al Baleed Resort – Salalah, in Oman later this year.
Anantara Al Jabal Al Akhdar Resort will be in the northeastern part of Oman while Al Baleed Resort – Salalah will open in the southern province of Dhofar.
Anantara Al Jabal Al Akhdar is located in Saiq Plateau of Green Mountain.
Meliá Hotels International entered the Iranian hospitality industry with the five-star, branded Gran Meliá Ghoo Hotel.
To be located in Salman Shah by the Caspian Sea, the hotel is part of the Ghoo, Middle East Diamond project being developed by Iranian investor and Azimzadeh Carpet CEO Ahad Azim Zadeh, reported Arabianbusiness.com.
Apart from the hotel, the 180,000m² project will include a resort, retail mall, sports centre and two residential towers.
Hotel company Oberoi Group and its India-based joint venture (JV) partner Subramanya Construction & Development Company (SCDCL) entered a deal with the Maldives Government to build a luxury resort in the region.
SCDCL will make an investment towards the acquisition and development of the resort.
SCDCL chairman and MD KN Balasubramanyam said: "A luxury resort in Maldives requires expertise in design and operations of world-class standards.
"The Oberoi Group, which is rated as the best luxury hotel brand in the world, is well suited for this development.
"We look forward to working with The Oberoi Group to create more of such luxurious offerings globally and would like to say that this extraordinary project will make a major contribution to our long-term partnership."
Global conglomerate Hinduja Group acquired the Old War Office building in central London, UK, and plans to redevelop it into a five-star hotel and residential apartments.
Once occupied by Winston Churchill, the 1,100-room building is situated on an area of 580,000ft² at 57 Whitehall, near Downing Street.
The building has seven floors, which are connected by more than 3km of corridors.