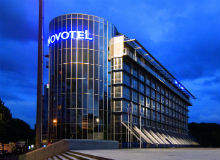 In September 2011, the French hotel group Accor announced that it would be making a number of sweeping changes across its brands. From now on, the group will focus solely on its hotel business, making it the only operator, owner and franchiser that is active in all market segments and global regions. As part of this new focus, Accor is also in the process of revitalising its brands, which include Sofitel , Mercure , Novotel and Ibis . The initiative will start with Accor's economy hotels, and is intended to meet the expectations of consumers looking for strong, distinctive and reliable branding. The group also intends to attract more franchisees to its ranks and will bring the Accor name to the forefront of its marketing strategy. The company currently has more than 4,400 hotels in 90 countries and hopes its new tagline, 'open new frontiers in hospitality', will mark the beginning of another equally successful era.
Economy drive
As part of the changes, Accor will be refreshing its brand portfolio in order to attract new customers and communicate its marketing message more effectively – starting with the group's economy hotels.
"Since refocusing on our hospitality business, we have decided to work on our brands," explains Gregoire Champetier, global chief marketing officer at Accor. "This is illustrated by the main project that launched last September for our economy segment, whereby Ibis is now a megabrand with three sections: the classic Ibis, the design economy Ibis Styles formerly All Seasons ) and ibis budget (formerly Etap Hotel).
"This new segmentation will increase the clarity, consistency and strength of our three economy brands. Along with new signage and identity, we are also working on the product itself, from the food and beverage offering, to common areas, technology and even bedding," he adds.
"The Accor brand will now be moved to the forefront of the group's marketing strategy, making it more visible to the general public."
The economy reboot will follow the example set by Accor's luxury brand Sofitel, which has in recent years successfully repositioned itself within the upscale marketplace. In 2007, a fresh vision was created for Sofitel, with a new set of standards, strong values and a revamped look. An ambitious refurbishment plan was also launched in order to upgrade its existing hotels, and more than 20 completely new properties have also been opened. Translated to Accor's economy segment, the initiative will mean new brand architecture and a revitalisation of products and services. The project is expected to be complete by early 2013 at a cost of €150m, with a return on capital employed of around 20%.
Brand new
Following the sale in 2011 of its gourmet catering arm Lenôtre to Sodexo for €75m, the company is now focusing solely on its hotel business. "The group finished its refocus on hospitality, its core business, with the sale of Lenôtre last summer," continues Champetier. "With Accor being a pure player, we thought it was time to redefine the objectives and missions of our brand. The group also has a new tagline, which reflects the company's spirit of innovation and its capacity to imagine new forms of hospitality."
The Accor brand will now be moved to the forefront of the group's marketing strategy, making it more visible to the general public. "The brand has three roles to play," he explains. "Firstly, it is a corporate brand, representing the group's fields of expertise and its pledges. Secondly, it is a transverse commercial brand, using two powerful tools, namely the online reservation website, accorhotels.com and the loyalty programme, Le Club Accorhotels. Thirdly, it is an endorsement brand, to strengthen credibility, trust and connection between Accor and its hotels. Each brand will also have a new endorsement system with the words 'by Accor' attached."
Champetier believes it is vital for the company to bolster its individual segments, particularly in today's tough marketplace. "It is important that the group's brands are well defined, and I feel that ours are," he says. "We need identifiable, strong names in order to attract more consumers and meet their new expectations. We also need to convince our partners, including franchisees and investors, to work with us. In a competitive online reservation landscape, it is essential."
Accor has also redeveloped its e-commerce platform and loyalty programme in order to help it compete with third-party distribution websites such as Expedia and LateRooms .com. Customers will be encouraged to book directly through the group's own website, with new services and exclusive promotions designed to attract repeat bookings. "Our aim is to continue to grow accorhotels.com," explains Jean-Luc Chrétien, executive vice-president, sales, distribution and loyalty. "It is already a significant player in the hotel web distribution world and we intend to grow it even further to be a true alternative to third-party websites for our hotels."
"Accor has also redeveloped its e-commerce platform and loyalty programme in order to help it compete with third-party distribution websites such as Expedia and LateRooms.com."
There are also distinct benefits for those who book using the group's e-commerce platform. "The main advantage is being with the company which manages the hotels," continues Chrétien. "We offer last room availability and guarantee to access the best rate available. We also recognise and reward the members of our loyalty programme."
Extra services are also available for guests who book direct, including e-check-in and check-out. "The first hotel for this service is on test in Berlin. This will be followed by more e-services that are exclusive to Accor web direct bookers," he adds.
A wider reach
With Accor now active in all market segments and regions, Champetier thinks the group has a distinct advantage over many of its rivals.
"It is an asset in our relationship with our partners," he considers. "They are rarely limited to investing in one type of hotel. With this wide range of brands, we are able to work with them on all of their hotel projects. It is therefore a major advantage that enhances our expansion plans."
The group's extensive reach can also be useful when it comes to encouraging repeat bookings. "It is an asset in terms of customer relations, particularly through our loyalty programme. We are able to offer our clients a solution for their every stay," says Champetier.
The group is also able to adjust its products and services to suit particular markets. "In February, we launched Mei Jue, a tailor-made upscale brand for the Chinese market. It is an adaptation of Grand Mercure," he continues. "This has been adapted to better suit our Chinese clientele's needs and expectations. Guests will be offered tai chi sessions, an extensive tea choice, and an adapted food and beverage selection."
In future, Champetier aims to continue building upon Accor's marketing success, and he hopes the company will continue to be strong, modern and innovative.
"We not only want to be market leader, we want to be leader-minded, meaning that we are perceived as having the best products," he says. "The launch of Mei Jue demonstrates our ability to have a more flexible, locally relevant brand. We know our clients are looking for hotels that are capable of understanding the diversity of their identity and expectations. With our international presence, our ambition is to offer products that are meaningful, and which celebrate local cultures, because we know that one size doesn't fit all."