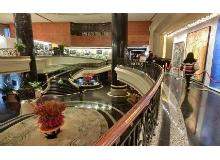 Hong Kong-based New World Development (NWD) announced the sale of three hotels to a joint venture with the Abu Dhabi Investment Authority (ADIA) for HK$18.5bn ($2.4bn).
New World's subsidiaries entered into agreements with ADIA's wholly-owned subsidiary HIP Company to establish a new joint venture (JV) company.
The JV will own Grand Hyatt Hong Kong, Renaissance Harbour View and Hyatt Regency Tsim Sha Tsui, with effect from the closing of the transaction.
Marriott International revealed its expansion plan in the Middle East and Africa (MEA) region with the addition of 80 properties and additional franchises, which will increase its portfolio to 240 properties within the next five years.
The company currently operates and franchises 164 properties in the MEA region with nine brands.
With the expansion, Marriott will increase its presence within United Arab Emirates and Saudi Arabian property markets, as more than half of the properties are expected to be located in the two regions.
Two high-end hotels, Babylon Hotel and Cristal Grand Ishtar in Baghdad were attacked by car bombs, killing at least ten people and leaving 27 injured.
Both hotels overlook Tigris River and are frequented by foreigners and wealthy Iraqis.
Associated Press cited an unnamed source saying that a car bomb was detonated in Babylon Hotel's car park.
Babylon Hotel is run by Warwick International Hotels and is located in Jadriya neighbourhood, which is close to the US Embassy. It features a swimming pool, a spa and was recently opened after a significant renovation.
Asia's first Nobu Hotel was opened at the City of Dreams Manila, Philippines by Robert de Niro and his business partners, including chef Nobu Matsuhisa and Meir Teper.
The 321-room hotel, located within the bayside casino and entertainment city, features celebrity-inspired and a 'fun-luxury' experience for its guests.
The hotel includes the Nobu Lounge and Nobu Spa and Fitness Room.
Nobu Hotel announced it will offer a special in-room menu featuring inspired cuisine exclusively for guests.
Italian financial services company UnipolSai agreed to acquire Italian hotel group Una for nearly €287m in order to diversify its investment and improve its presence within the hospitality industry.
The acquisition is being carried out through two transactions.
The business unit concerning hotel management of Una will be purchased at €27.6m, while the real estate portfolio for hotel use from Venice to Catania and Sicily will be acquired for €259m.
Legoland Hotel opened its Florida Resort, marking further expansion by making it a multi-day experience for families.
The hotel is located close to the Winter Haven theme park, and includes several features that are exclusive to Legoland Florida Resort.
The five-storey, 152-room hotel features LEGO Friends themed guest rooms, based on the product line.
Guest rooms and suites are available in four themes, which includes LEGO Friends, Pirate, Kingdom and Adventure.
US-based Starwood Hotels & Resorts Worldwide worked with Fortuna Realty Group's Morris Moinian and announced its plans for the development of Aloft hotel in New York.
The company planned to conduct the ground breaking ceremony in May and the hotel will open in October 2017.
Aloft New York Midtown will be located in New York City's Garment District on 38th Street just off 5th Avenue, which is close to some of New York's landmarks, including Bryant Park, Rockefeller Center, Empire State Building and the Times Square Broadway Theater District.
Luxury hotel chain Ritz-Carlton entered an agreement with UAE-based Al Habtoor Group to open its first luxury hotel in Budapest, one of the most popular tourist destinations in Central Europe.
The hotel, which is currently owned by Al Habtoor Group is set to be renovated in the beginning of 2016, with work expected to complete in the second quarter of 2016.
The 192-room hotel is located in the heart of Budapest and overlooks St Stephen's Basilica.