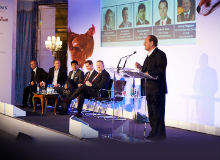 The Dorchester, Park Lane, London, was the venue for the 23rd Deloitte European Hotel Investment Conference on Wednesday 16 November. In attendance were a range of major hotel group delegates, investors, developers and analysts, who discussed the trading outlook for the continent's hospitality sector amid the latest economic uncertainty.
2011 has seen the industry enjoy robust year-to-date performances, particularly among gateway cities such as Paris and London, which saw an 11% RevPAR increase over 2010. This was substantiated by a survey conducted by Deloitte and TNS Research International among senior hospitality industry professionals ahead of the conference, which revealed that 51% believed trading in 2011 had exceeded prior expectations, while 17% felt it had remained flat. Only 12% of participants claimed that trading had been worse than expected.
However, an air of circumspection is hanging over the hospitality sector as a result of fears over a double-dip recession. In his chairman's welcome, Nick van Marken, global head – advisory, travel, hospitality and leisure at Deloitte, alluded to this renewed tide of uncertainty brought about by recent events.
"While the value of global hotel transactions in the first half of 2011 was double that achieved in the same period in 2010, the outlook remains clouded by uncertainty," he said. "We are in the midst of a global rollercoaster. Corporates are sitting on significant cash but remain reluctant to invest."
These sentiments were echoed in the subsequent CEO session featuring panellists Hubert Joly, president and CEO of Carlson and chairman of the board, the Rezidor Hotel Group, and Richard Solomons, CEO of InterContinental Hotels Group (IHG). Solomons spoke on the advantages of owners partnering with established global players such as IHG, which he likened to "a big boat protecting our owners in the current storm".
Funding and expansion
Next followed a debate on development in which funding and portfolio expansion remained the central themes. While the general consensus is that obtaining bank funding within the hospitality sector will continue to be challenging, there is a hope that within the next five years the industry will see increased investment in luxury hotel assets as a result of high-net-worth individuals, sovereign wealth funds and private equity.
"We are set to see more real estate equity participation through 'asset-right' business models," said Puneet Chhatwal, executive vice-president and chief development officer of the Rezidor Hotel Group. "I also don't believe we have seen the end of traditional ways of financing. Insurance companies are building teams. There's a lot of private equity that will come into the market, too."
Chhatwal also advocated the asset-light approach adopted by hotel companies such as Rezidor. "There has to be some kind of balance. Asset-light does not mean you are asset-zero," he said.
"We are set to see more real estate equity participation through 'asset-right' business models."
This was corroborated by Philippe Baretaud, Accor's senior vice-president and head of development of EMEA, who added: "There is no one model. It is not a pure asset-light model which will drive deals in the future."
While Baretaud also cited mezzanine financing – a hybrid of debt and equity financing – as a way of striking a balance and facilitating the right deal for hotel brands, Patrick Fitzgibbon, senior vice-president of development in Europe and Africa, Hilton Worldwide, said companies could continue to bolster their portfolios through leveraging their balance sheets.
"While there is a general acceptance that a good hotel owner needs a high-quality asset manager to add value, hotels can also use their balance sheets to drive consolidation," he said.
Marriott and Starwood are also turning their attentions to conversions to free up funds for capital expenditure. This was expounded by Bart Carnahan, senior vice-president of acquisitions and development of EMEA, Starwood Hotels and Resorts Worldwide.
"New build development finance is becoming more and more complicated," he said. "For that reason, Starwood is focusing more on conversions because there is more financing available."
As 2011 draws to a close, it would appear that an air of cautious optimism among operators is set to infuse the European hotel industry in 2012.
---
This article was first published in our sister publication Hotel Management International.
---